After a week of very cold weather, today is a gift like no other. We've been busy enjoying it to the fullest. Will had one of our old tractors way over at one of our rented hayfields. While loading a big round bale, it just plain quit and wouldn't start. As it was getting dark, Will came home. Then it got cold and working on it was out of the question, especially because it's a diesel. So with the warm day, Will drove over there, tools in the truck.
I'll admit I prayed a lot for God to send diesel mechanic angels to help out. And when I drove out to mail some Christmas cards, there came the tractor with a round bale on the front spears! Thank you! Thank you!
I did extra chores this morning. I fixed the chicken feeder, which had come loose from the chain it had been hung on, cleaned the goat pen and fluffed up their new bedding. Meanwhile, Will took the scoop shovel and went out to clean the heavy snow off our big hoop house. (Friends of ours had their big, new high tunnel collapse during that first two feet of snow we got early in the winter.) So far, the 6 mil greenhouse plastic is holding up very well; this is its second winter.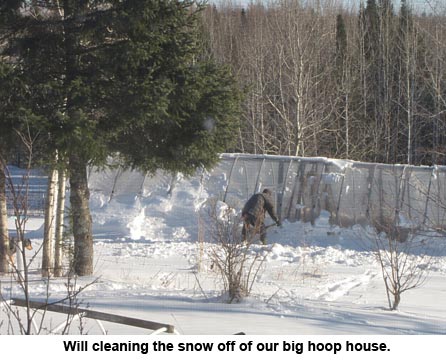 We're looking at the radar map and cringing. They're calling for a heavy, nasty winter storm for Christmas Day here. But we'll wait and see. Often the weather swings south of us and we don't get what is predicted.
We finally got our owl puzzle finished and are missing one piece. Our cat, Mittens, LOVES to pick up small things and trot off with them or else take a paw and shove them onto the floor. And Ashley's dog, Cooper, will eat just about anything. So we're not sure where the missing piece went. But I've had that happen before and am just going to cut out a similarly colored piece to glue in that spot. You'll never see it when the puzzle is glued to the plywood.
Will and I wish each and every one of you a very Merry Christmas and happy holiday season! May the new year bring nothing but joy and contentment. — Jackie