Due to a big ice/sleet storm which deposited ½ inch of ice in some locations and more than two inches of sleet at our house, only our son, David, his girlfriend, Ashley, and Javid came to join us for Christmas dinner. (The power was out in many locations, making us feel kind of smug as we just tossed another log on the fire and enjoyed our Christmas tree lights.) I ran into a slight snag when I went to set the table, however. We still had our owl puzzle on the table and, with it being so large, we couldn't move it without breaking it up. I solved the problem by covering it up with a holiday tablecloth and a lace over-cloth. It looked great and you'd never know there was a puzzle under it.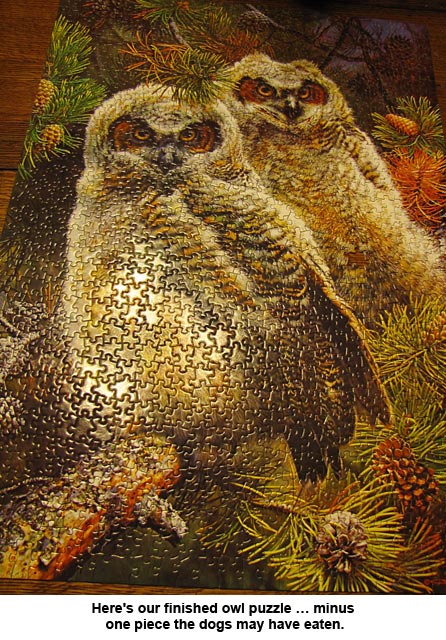 It took half an hour the next day to chip the sleet off the windshield of our Subaru, after the defrosters had run for 15 minutes. Wow, that was a lot of ice!
Thanks to all of you for your Christmas wishes, cards, and wonderful letters. We enjoyed every single one of them!
Our 20-year-old wheelbarrow, which has seen a lot of use, finally had a handle break off. I suggested buying another handle, but ever-handy Will said he'd just make one from a piece of ash. He had cut several lengths for handles of various tools and had one already in the storage building. So, taking the drawknife out, he quickly fashioned a replacement handle. In less than an hour, he had the old handle removed and the new one in place. Believe me, it's a whole lot easier to haul in firewood with two handles rather than one!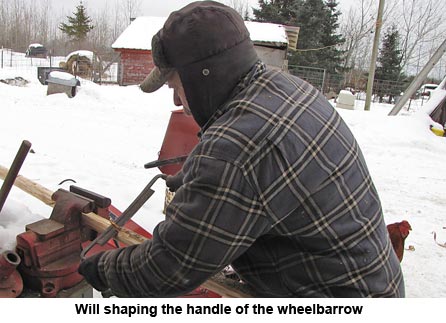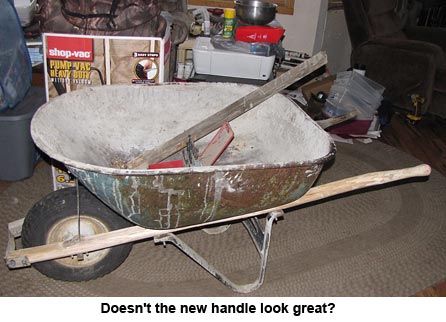 Our biggest Christmas gift was not one that comes in a box. Our mother wild turkey showed up on Christmas Eve! Now she's back in the yard with the other turkeys. One of her "kids", a tom, showed up the same day, but must have decided Mom was nuts to come to civilization. I surprised him in the storage building when I was getting goat feed and he flapped and flew way up on a beam. That was the last I saw of him, but he may be back. After all, he found out where the grain is stored.
I'd like to wish all of you a very Happy New Year! May the coming year bring joy, peace, and a bountiful harvest to all. — Jackie