We had been noticing a new logging site about 10 miles south of us where there were several large piles of scrap logs left over. Luckily, David noticed a sign with the logger's name and phone number on it. He called him and asked for permission to go in and take firewood. The man said yes.
So on his way home from Virginia (the town, not state!), David drove in and loaded up a medium-sized load. He didn't dare load more heavily as his truck's frame is pretty rusty. He and Will unloaded it.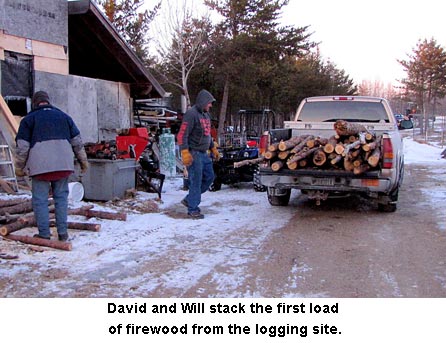 The next day, Will took our old Chevy truck, "Old Blue," over there and loaded up a real big load. Then on Sunday, he went back for another load. I helped unload at home and he went back for still another load. And with the sun shining brightly and temps approaching twenty degrees, Will (and Hondo) went back for more wood. We know there won't be many more days because the temps will warm up on Thursday and the site will become impassable, even with a four-wheel-drive truck. So we're hurrying as much as Will's bad back will stand. Yep, we have woods on our land. But by getting this free wood, we're saving our own wood to use later on.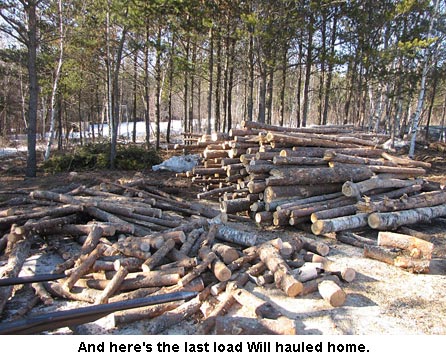 Some of the poles are tamarack and will make good fence posts so we've set them aside for fencing projects this spring. Talk about a wonderful windfall! All it cost was one phone call.
Tomorrow I begin planting tomato seeds! I went through my box of seeds and we have a LOT of varieties of tomatoes. How exciting! We won't even talk about beans. — Jackie