This is our "second" farm motto! (The first is "Mo' poo poo.") The company where David works is starting to cut their own bolts (square logs) that they then use to manufacture milled logs in different diameters and profiles. Last week, David helped saw the first logs on the mill and noticed there were leftover thick slabs. These were "waste" so he brought home as many as his half-ton pickup would haul. On Friday, after work, Will and I took our ¾-ton Chevy truck to the mill with our three axle equipment trailer to get a load. (The slabs are green and VERY heavy.) David was able to load the trailer with the company front end loader.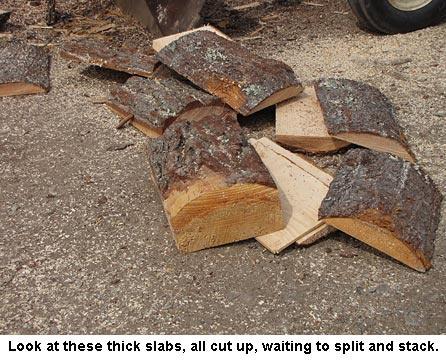 We drove home carefully as we had a big and heavy load and the roads are extra bumpy due to frost heaves because of winter freezing. Then Will sorted the slabs out; some are thick enough for him to saw lumber from using our portable bandsaw mill. The slabs that can't be sawn into lumber are still plenty thick on the butt ends. So we've been cutting, splitting, and stacking this additional windfall.
Another bonus for us is that a neighbor works in the iron mines. Every couple of years they replace the belts on the conveyors. These belts are about ¼-inch thick and three feet wide and come cut and rolled in 60-foot lengths. He asked Will if we could use them for anything. They'll make permanent mulch in the berry patch between rows of grapes and raspberries, which always get too weedy. Now we'll only have to weed between plants — much more manageable! We now have four rolls with more coming.
Over the weekend, David and Ashley helped me put together the vinyl garden arbor that a friend gave me when she moved. We were helping her move things when I spotted it lying in the weeds. "You want that?" she asked. I said I sure did, so we dis-assembled it and took it home. I've got just the spot for it this spring and it's all ready to go now. I could never afford to buy one.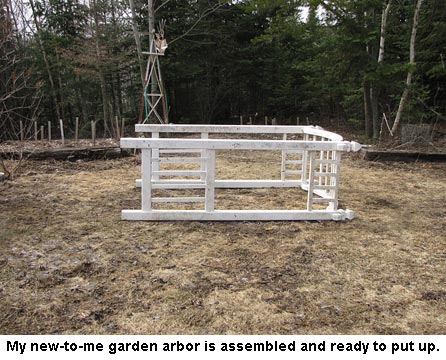 So we strike while the iron is hot, before someone else steps in and beats us to the bounty.
Our migratory birds are arriving daily. Today I saw a red-winged blackbird, a pair of wood ducks, and yesterday we saw the first turkey vulture. Okay, so the vulture wasn't "pretty" but it was a sign of spring. The ice is about melted off the beaver ponds and my tulips are starting to poke through the dirt. How exciting!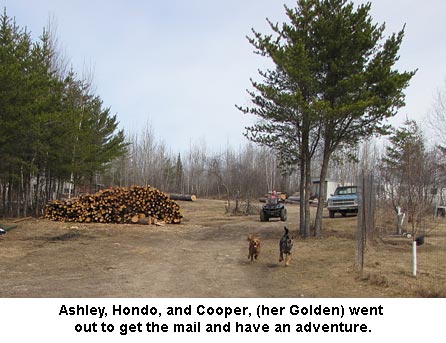 Now I've got to get back to transplanting tomatoes, a job I'll be at for several days. — Jackie