Just as soon as Will finished the siding on our storage barn, we got it stained. Then Will stained the wood rack he'd built next to the south wall of the storage barn. He and David had been sawing up some of the wood they'd brought home from the logging site. So we all got busy and hauled it to the new rack and started stacking. That went great. Then we split up some very big pine rounds from a saw log Will had been trying to get ready to run through the band saw mill. They were HEAVY! But we got two trailer loads from just those four rounds.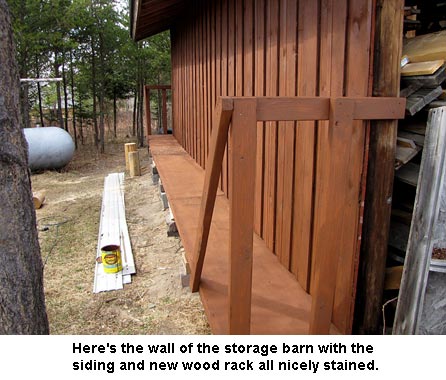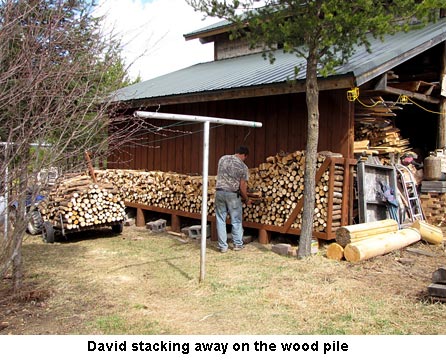 Finally, all the wood that would fit on the rack was stacked neatly. All in all, the new rack holds a full cord of wood and we think it looks so nice, protected from rain by the roof overhang.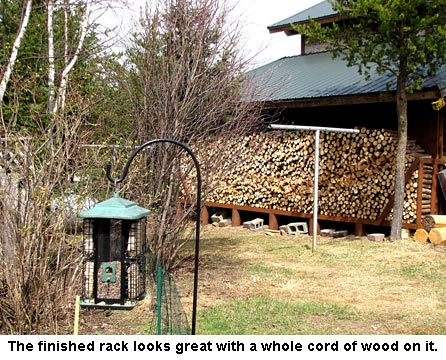 Meanwhile, I'm continuing to transplant tomatoes and a few peppers. The earlier transplants are doing very well and will soon be moved out onto our enclosed porch to continue growing slower in much cooler temperatures. The porch is pretty much unheated except for solar gain from the big floor to ceiling windows. (I can open the door to our greenhouse if the temps dip too low.)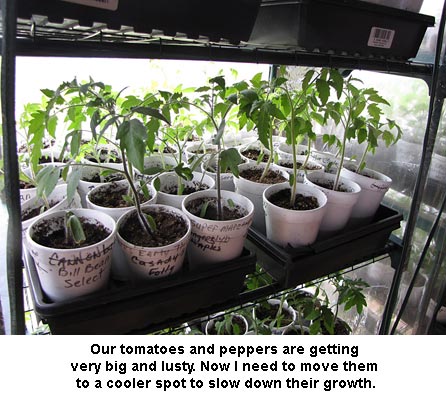 I'd like to take this opportunity to thank all of you who have supported our homestead growth by buying seeds from our Seed Treasures business. Every sale has contributed much to getting more done around the place: Without you, we couldn't be doing as much as we have been. Thanks from the bottoms of our hearts!
Will is busy clearing another spot for more garden. Next to the training ring barn is a gentle slope, treed with young jackpines. The soil is mostly sand but the area is convenient to water from the new well and we have plenty of manure to enrich that sand. We need more room so we can better isolate different crops to grow even more pure, open-pollinated seed. I can't wait until it's cleared and level. (And we can use the waste rock and sand to improve our very bumpy driveway and to make concrete for the new barn. Another win-win situation for sure!)
I hope you all had a wonderful Easter. We did, even though my oldest son's, wife, Kelly had to work so they couldn't come. David drove to town and brought Javid out so we had a nice dinner, some fun, and enjoyed the day. And we didn't even have any snow. Often, here in northern Minnesota, there's snow on Easter, so having spring-like weather was a huge blessing to us. We even got to play with Ashley's four ducklings. For now they live in a plastic tote in the bedroom but are darned messy. So David brings them down into a duck corral he put together for some R & R while he cleans their tote and puts in new wood shavings. Javid really enjoyed watching them play in the fresh grass and in their little water dish.
Our birds have been joined by purple finches, pine grosbeaks, and a few grackles. Grackles are kind of bullies but are sure pretty with their shining blue-black feathers. Two days ago, our spring peepers joined the wood frogs in singing their little hearts out. They sound like thousands of jingle bells! Such a pretty night song, we just had to open our windows so we could go to sleep listening to them.
One of our readers wanted some photos of our hoop house so here they are: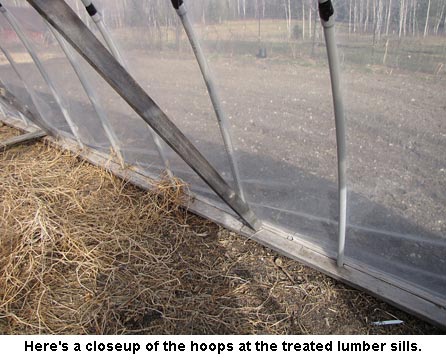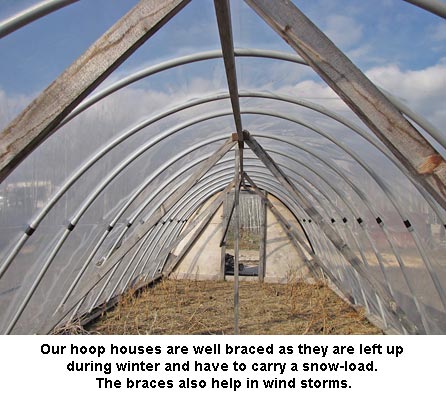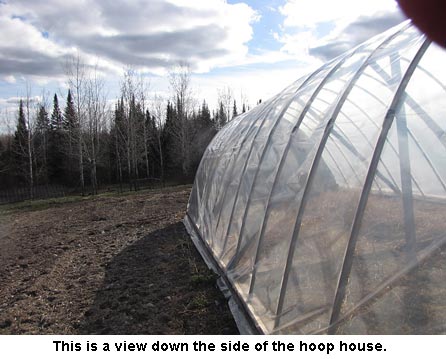 — Jackie