Yes, we need it to perk up the pastures and hayfields, but it sure is hard to do outside work when it's raining off and on all day … all week. But just before this rainy period struck, Will got busy and spread manure on our north garden and the old pig pen garden, which we now call the "central garden" just because it sounds nicer. Luckily, he only had two breakdowns with the old spreader. All those parts he put on last year sure helped. (Last year it broke down nearly every time he spread manure!) And that wasn't fun as he had to unload what was left by hand.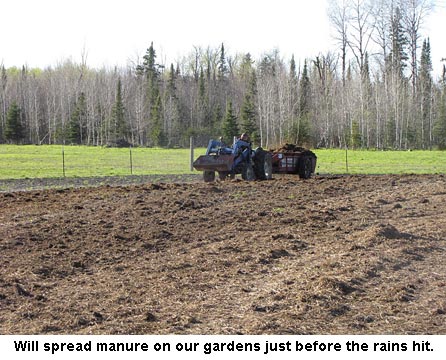 He had just finished all of that when the rain began. Luckily, he'd also spread some manure on the small garden next to the house and tilled it in. So I began planting. First in were some of the fancy daylilies I'd bought on Daylily Auction during the winter months. They'll make a border for that garden, facing the house. Then I drove in some steel T-posts and zip-tied 1½ stock panels to them as a trellis for the peas. I planted Alderman (or Tall Telephone) peas, an old variety I always used to plant, which climbs easily to 6 feet. They don't blow over in rain and windstorms so they last nicely into summer. I also planted some Mammoth Melting sugar peas on an end trellis and will be planting some morning glories on some end trellises. Just because they're pretty.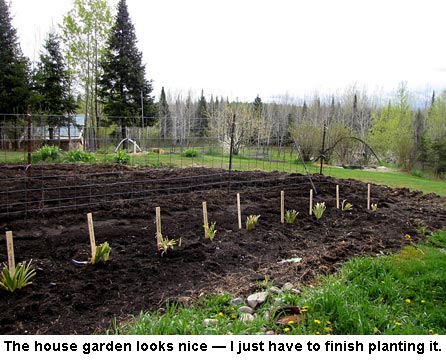 We keep our bird feeders full, year around and, boy, are we getting some pretty visitors. We've got lots of Rose-breasted Grosbeaks, Goldfinches, Purple finches, several song sparrows, as well as Orioles and many more common birds. The Grosbeaks are eating some of the grape jelly I put out for the Orioles. But because they're so pretty, I don't mind at all.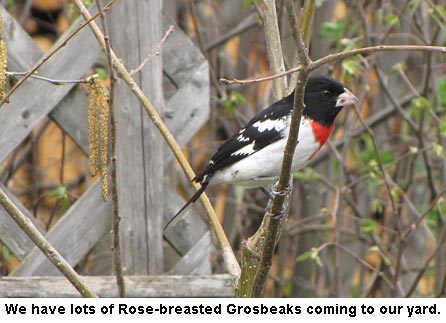 We got the big hoop house (which Will split in two halves) all fixed up and will be planting peppers in them by Wednesday. (We're in for a hard frost Tuesday night so we are waiting … just to be safe.) It looks like we'll be planting our first tomatoes today; when I got home from mailing seeds, Will had rows marked out and was busy digging holes for them. Of course we'll use Wall O' Waters to protect them from that darned frost.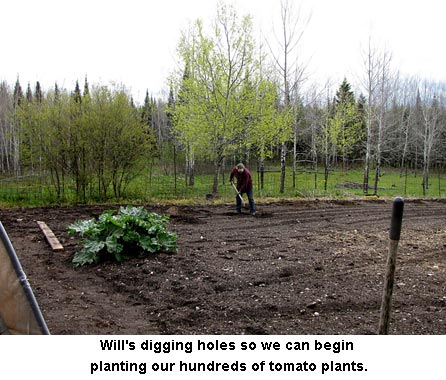 Well, gotta run! Talk to you soon, folks. — Jackie