We did, although the days leading up to it were pretty busy. On Monday, Will and I traveled to Bagley, Minnesota, to visit Jim and Bernis at their farm, Honeyberry USA. They raise and sell many varieties of berries, chiefly many kinds of honeyberries along with hardy cherries and others, coupled with their U-Pick farm.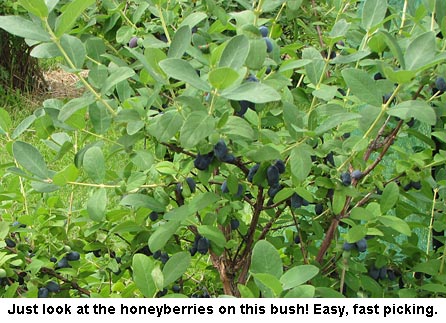 We really love honeyberries, which look like a large, elongated blueberry, growing on upright bushes about three feet tall. They excel in jam and we were out to restock our depleted honeyberry jam. (Of course, it wouldn't have been depleted but for Will generously giving jars to many visitors…)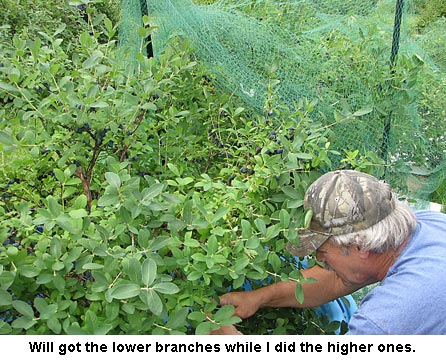 Will and I picked while we visited with Bernis as she escorted pickers to their own sections of the netted bushes. Like us, they have hungry cedar waxwings and have to net to get berries for themselves. Without nets, the birds get most of the berries. We also got to sample many different varieties and we chose our very favorites so next spring we could buy a few new bushes to add to our growing orchard. We ended up with almost 30 pounds of berries!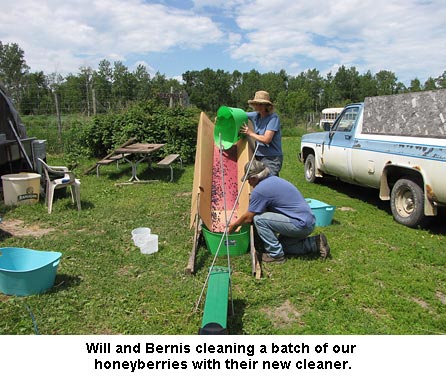 Guess who gets to make jam now? I did five batches yesterday, netting 22 half-pints. But today the temperatures shot up to the high 80s and I'm not doing jam until evening. The berries are in the fridges and seem to be holding well. But I have to keep at it so they don't start to spoil.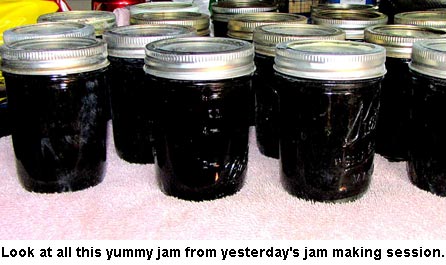 We were impressed with Bernis and Jim's berry cleaner. They have a cardboard trough on a slant with a heavy duty leaf blower facing it. As berries are poured slowly down the chute, the blower blows leaves and debris away leaving clean berries. Very nice and the berries keep much better than if they were rinsed in water. While we were there a friend of theirs was remaking the chute with plastic. The advantages are that it can be washed between cleanings and will last much longer. Very innovative! — Jackie