Okay, I'll admit it's not really that hot, compared to the heat in the South. But for Northern Minnesota, it's been hot and muggy at times. Luckily, the garden loves it and is doing very well. So are the weeds, which we are slowly getting a handle on. The blankety-blank ground squirrels ate nearly all the leaves off our melons in the second hoop house but Will thinks one plant is still alive. We've waged war on the squirrels with Mittens and the dogs killing seven in the last three days. Hopefully, one of the seven was our melon-eating culprit.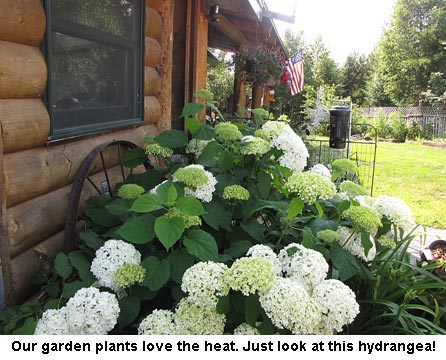 Friends of ours have a greenhouse/garden shop in Cook called The Watering Can. We sell them our pumpkins and fancy gourds and squash in the fall and they make us a great deal on their leftover peppers. Luckily, Diane and Gina grew several of the heirloom peppers we grow so we are planting the east hoop house in peppers as it's too late to start melons again. You learn to roll with the punches when you homestead!
Will cut hay yesterday and hopes it doesn't rain before he bales it tomorrow. Today is hot (85° F) with a small breeze so the hay should dry well.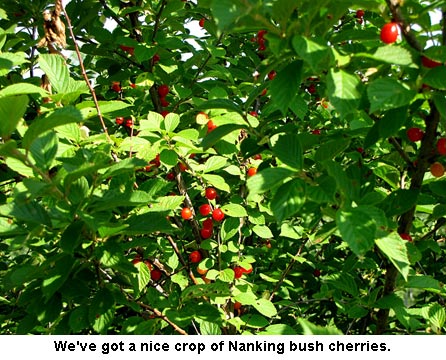 We're getting a nice batch of pie cherries from our Crimson Passion and Evans Bali trees (both Zone 2) For the first time in seven years, we are getting fruit from our Nanking bush cherries. We're going to pick this evening as the darned Cedar Waxwings already cleaned out one Nanking bush of lots of ripe cherries.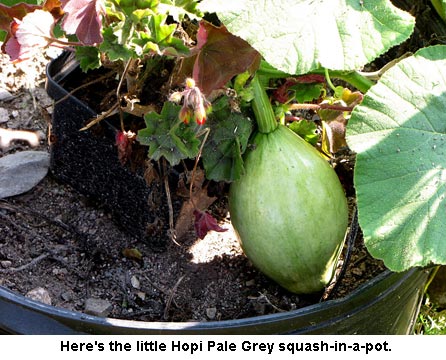 Early this spring I was sorting out dried Hopi Pale Grey squash seeds to sell and shoved the nastiest-looking seed in a pot, just to see if it would sprout. Surprise! It did. And I didn't have the heart to kill it so we let it grow. It now sits out in front of the house and has two decent-sized squash growing from the little vine. Those squash sure want to procreate and save the variety. — Jackie