Our water pump which supplies water pressure to the house has been going for quite a while. The pressure switch is wearing out. And as my son Bill works for Oak Lake RV and Campground, servicing many RVs daily, he had a pile of "broken" 12-volt water pumps in his garage which he'd saved from the garbage Dumpster. All had problems but could be fixed. So I called him and he not only said to come get some pumps but come down for a barbecue and ride on their pontoon boat.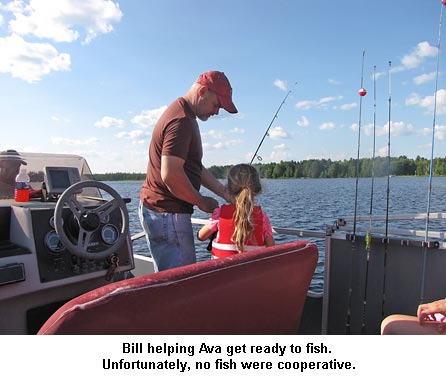 So we did both yesterday. How enjoyable to combine work with pleasure. I got to fly a kite with grandson, Mason, and watch grandaughter, Ava, learn to troll for Northern Pike. Will was the official "I've got weeds on my lure!" remover while Bill drove us around the lake. We were the only boat on the lake and we enjoyed the breeze and seeing loons and turtles sunning themselves on logs.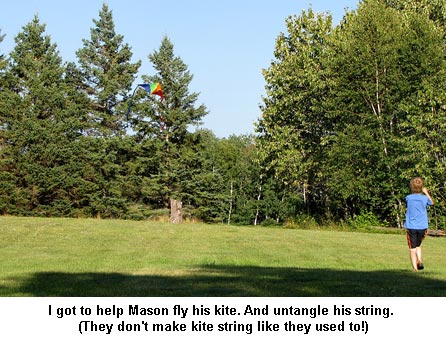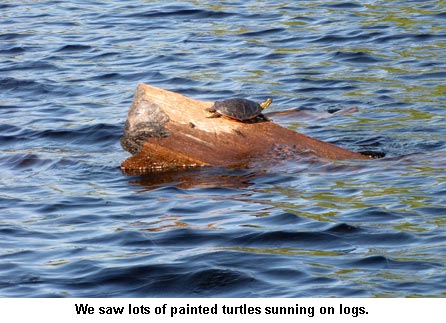 Today, it's back at it. Will's hauling big round bales home from the hayfields while Ashley and I work at weeding and mulching. The gardens are doing well. We've eaten our first ripe tomatoes and the beans and peas are ripe. What fun to graze through the garden! The onions are starting to have their tops fall over. Wow, that sounds like fall! The bulbs are big and solid. The potatoes on the north and central gardens aren't doing so hot. I'm sure we'll have potatoes but we let the weeds get thick on those rows. So we've got to get busy and cultivate and hand weed so they get hilled. But the tomatoes, pumpkins, corn, and squash out there look nice. I planted Good Mother Stallard pole beans among the Seneca Round Nose corn and both are doing well. As Seneca Round Nose is such a lusty corn, it should easily support the beans.
Our Bear Island Chippewa corn in the main garden is tall and tasseled out well so, God willing, we'll have a great crop of this early flour corn.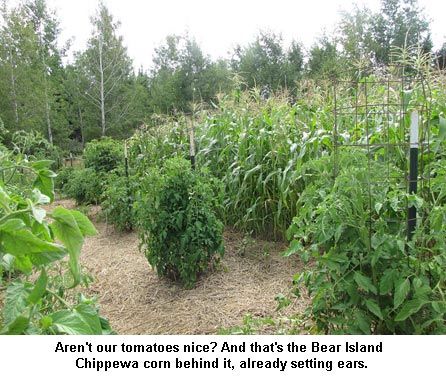 I put up the last of the cherry jam and then did a batch of red raspberry jam. For the first time, I used the berry screen on my Victorio tomato strainer. I wanted to remove the seeds as both Will and I have trouble with those little hard buggers. Let me tell you, I'll never do that again! While the strainer works GREAT for tomatoes, it does NOT for berries. What a bunch of hard work for not much. I ended up dumping the whole mess into my wire sieve and pressing the pulp through that.
As nectarines don't grow here, I bought several pounds of out-of-state fruit from the market. This will give us a big batch of nectarine jam, which we all love. The Hansen's Bush Cherries are ripening, as well as the black raspberries, so I see more jam in the future!
Now I've got to clean out the pantry. We carried out the last of last year's potato crop and a few surviving shallots. Now I need to rearrange the floor storage and scrub the floor in preparation for the fall harvest.
Wow, there's always something to do on a homestead, isn't there? I laugh when I hear someone say "I'm so BORED…"! — Jackie