It's a boy … and a beautiful girl. Their mom, Shadow, has always given us a single buck kid, for years. So when I went out to feed this morning I noticed she'd dug a few "nests" in the straw. I finished up and grabbed the camera and a few birthing supplies and went quickly back to the goat barn. She was then starting serious labor. Unfortunately, as she pushed, only the head and one front foot were visible. Oh oh. I hollered for Will to come help me but then the kid started breathing, a sign the umbilical cord had broken inside the doe. So I couldn't push him back enough to reach for the front leg. I quickly slid my hand in and, luckily, I was able to reach a knee with a finger and popped it up and straightened the leg in the birth canal.
The kid then slid out nicely and both Mom and I cleaned him (yes, HIM) up. But after awhile, Shadow started pawing a nest. Another kid??? Shadow?? I went into the house to wash up and when I got back, a simply gorgeous black kid with a white snowflake pattern had just hit the straw. Luckily I still had a dry towel so I hurried and toweled off her head so she could breathe. Shadow cleaned her up and by then, the buckling was on his feet.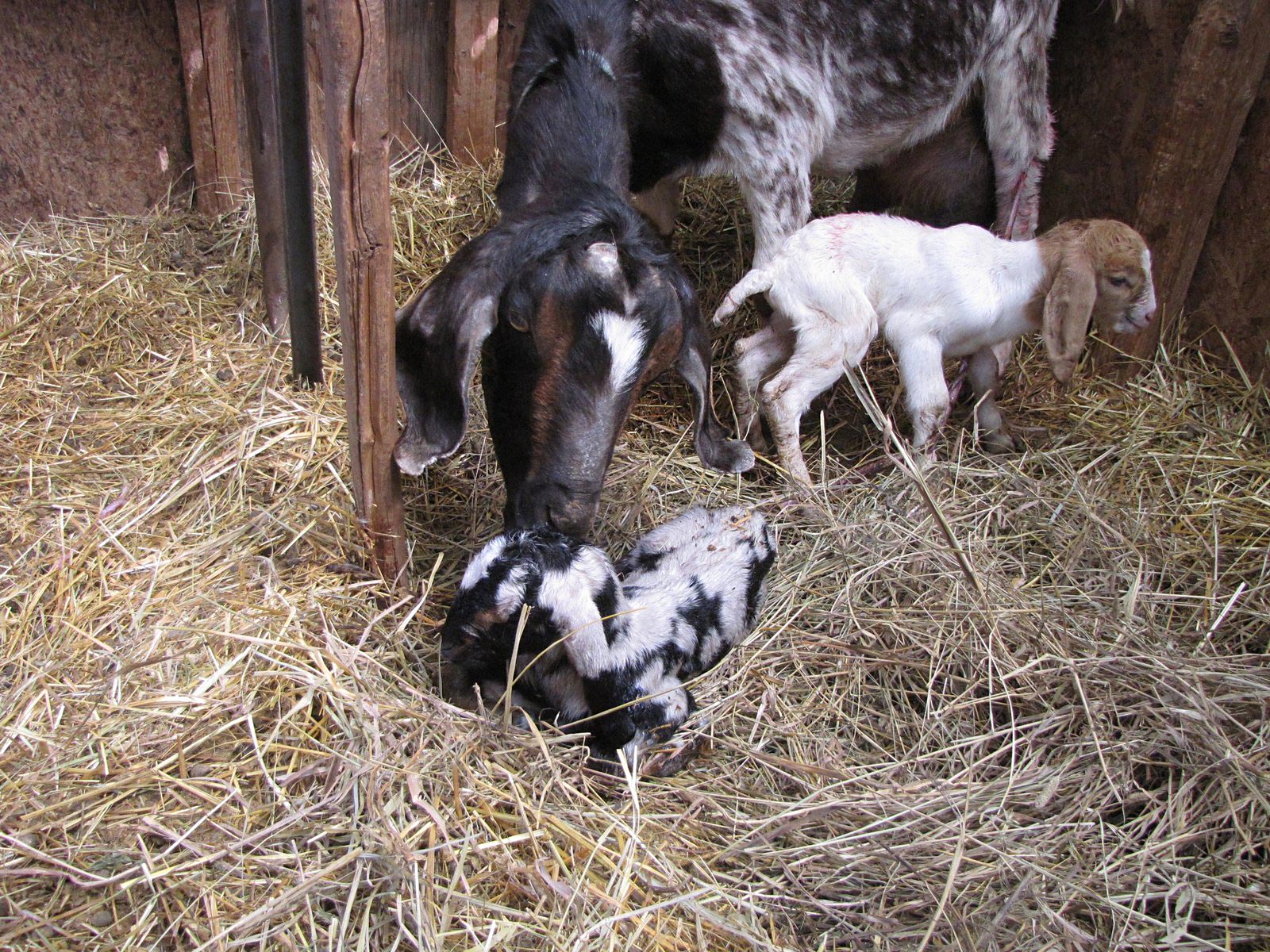 Shadow is a huge milker and has a huge bag, unfortunately this makes it hard for newborn kids to find the teats so we had to put her on the milking stand. I milked out a quart or so into a bucket (just in case), then brought the kids, one at a time, up to help them drink. Both sucked well. We'll repeat again this evening and hopefully after a few days the kids will have figured out where to look for milk. (If you'd like more information on goat birthing, check out my article, Goat birthing and raising kids in the Nineteenth Year Anthology.)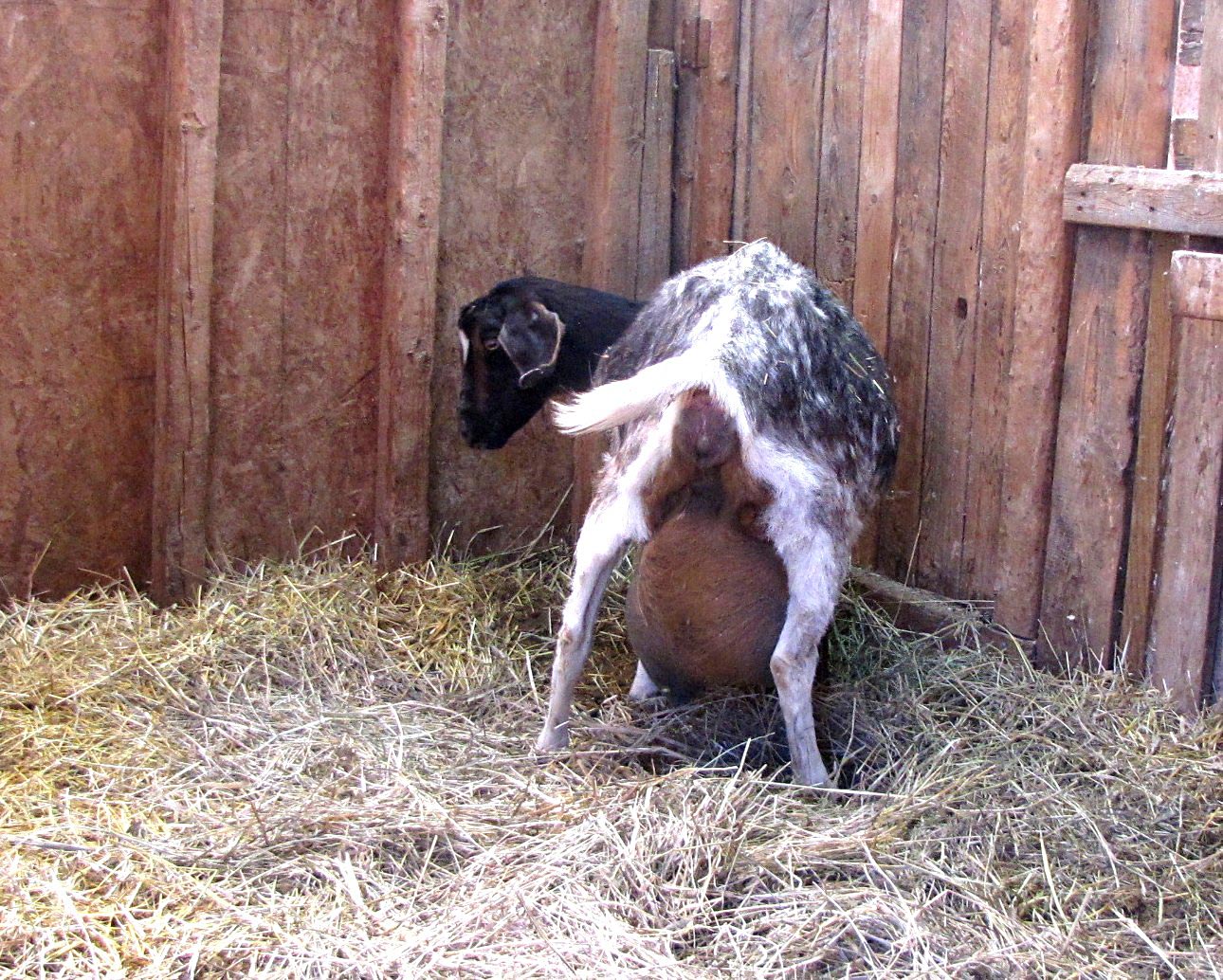 Our weather's been absolutely wonderful so we've gotten a lot done outside, starting with the discovery that our house water line had thawed! Yea! No more dragging hoses for us. We'll do more work on that line this summer.
We bought some pipe gates and stock panels, so yesterday I got busy and hung a 12-foot gate in the opening to our backyard and the garden. Before we had this temporary 2×4″, 6-foot-high welded wire fence kind of twisted together in the middle to keep animals out. What a pain; temporary lasted four years! Now we have a nice gate which swings wide and also chains shut so no more deer or cows shoving their way into the backyard and garden.
We've been working daily in the garden, pulling T-posts, stakes, and bean trellises as the posts quit being held in the ground by frost. Slowly, the garden is getting cleared for spreading composted manure and tilling. Will brought the riding lawnmower up from the barn where it was stored for winter. I need to go out into the garden and berry patch and mow the dead stalks in the asparagus beds so they are clean for regrowth.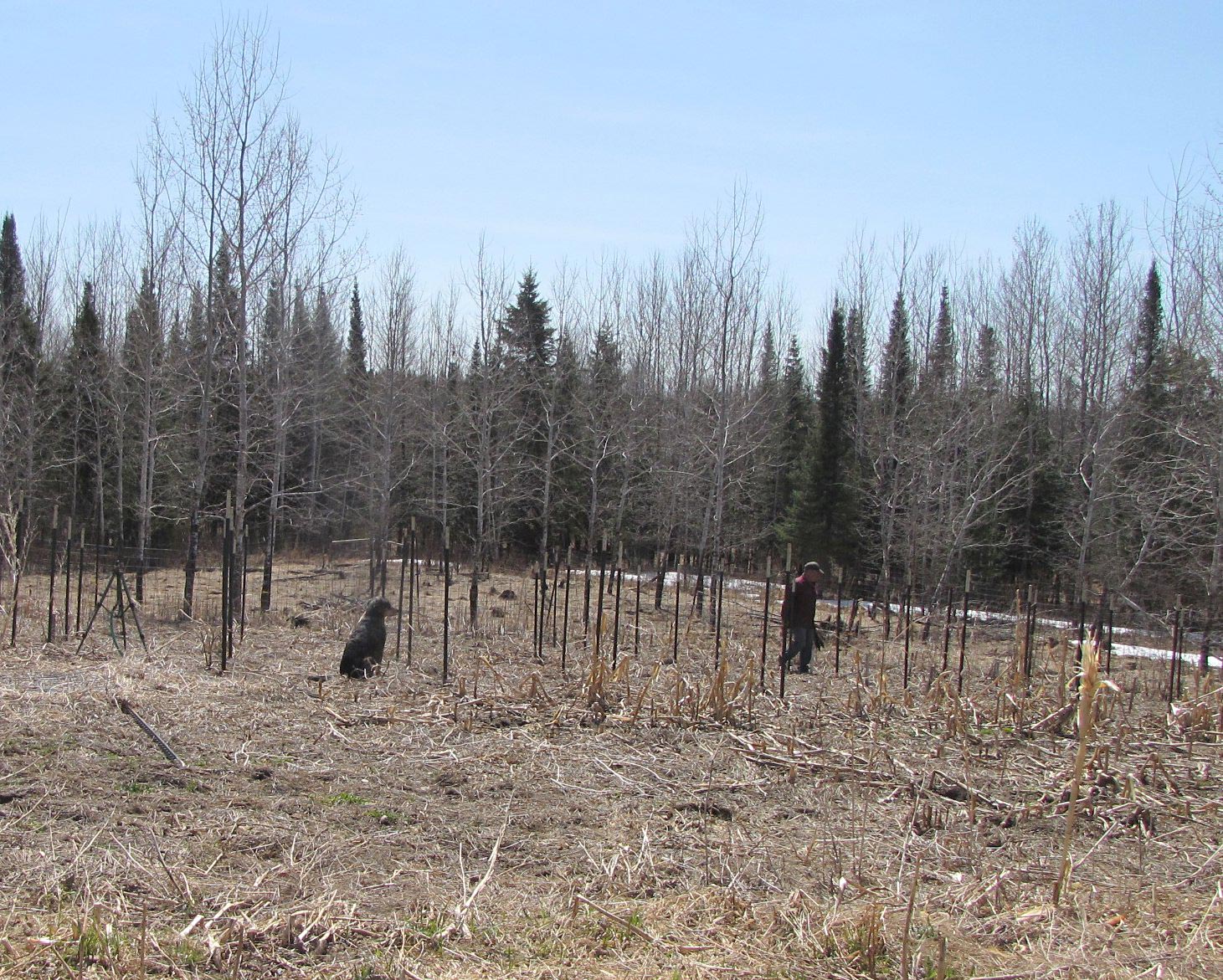 I checked the orchard yesterday and all the trees look to be in nice shape with very little, or no, winter damage. I hope this year we don't have that late spring frost which kills the fruit blossoms. — Jackie