After quite a lot of planning, Will, with Alisha's help, started building his new corral and cow shelter. In the past, if we were going to get bad weather (we LIVE by the weather radio!) we had to run the cattle into the training ring so they could get shelter in the barn there. Flashlights, blowing snow, middle of the night and so on … Will also didn't like the fact that the cattle and horses would go out onto the spring pasture and trample the wet soil harming the plant roots which made regrowth slower. He wants to keep them contained in a smaller area so they can eat round bales in comfort while the pasture grows in the spring. It also makes gathering their manure into compost piles easier as they're in a smaller area. It is NOT going to be a yucky feedlot, but a couple of acres with trees to the south and west. They got started by drilling quite a few fence post holes with our new post hole auger (our big purchase this spring) mounted on the big tractor. But because the ground is white clay, tamping in the posts is difficult. So Will hauled sand from our hill behind the barn to fill the holes with. That worked very well and the posts are solid.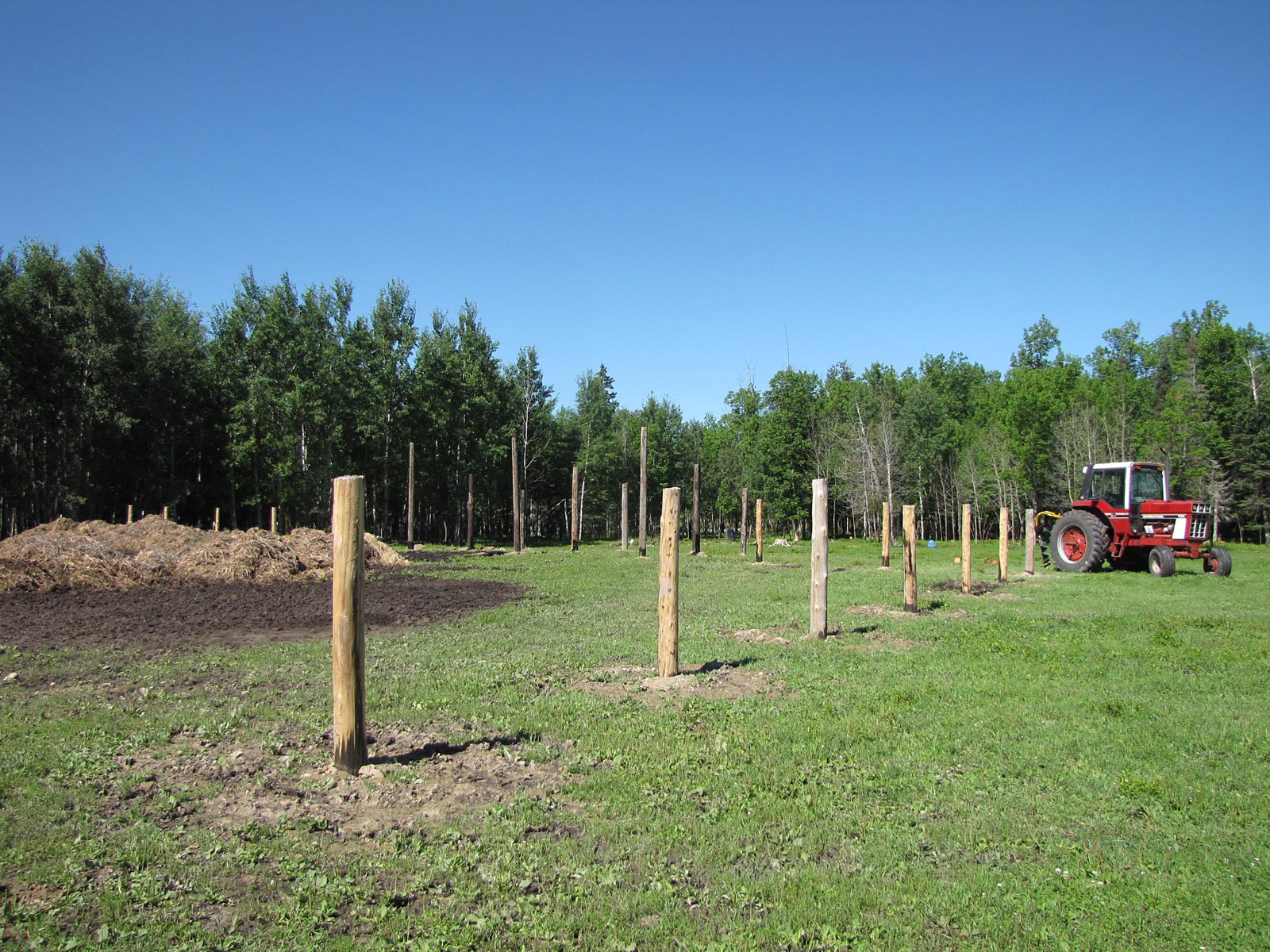 Then he hauled several long used power poles we'd gathered over time onto the pasture and they set those in the shed holes with another tractor's bucket and chain to do the lifting. Both Will and Alisha were really sore and tired after all of the poles were in the ground. Will showed Alisha how he squared up the building's footprint before drilling the holes so she could see how it was done for her own future homestead plans.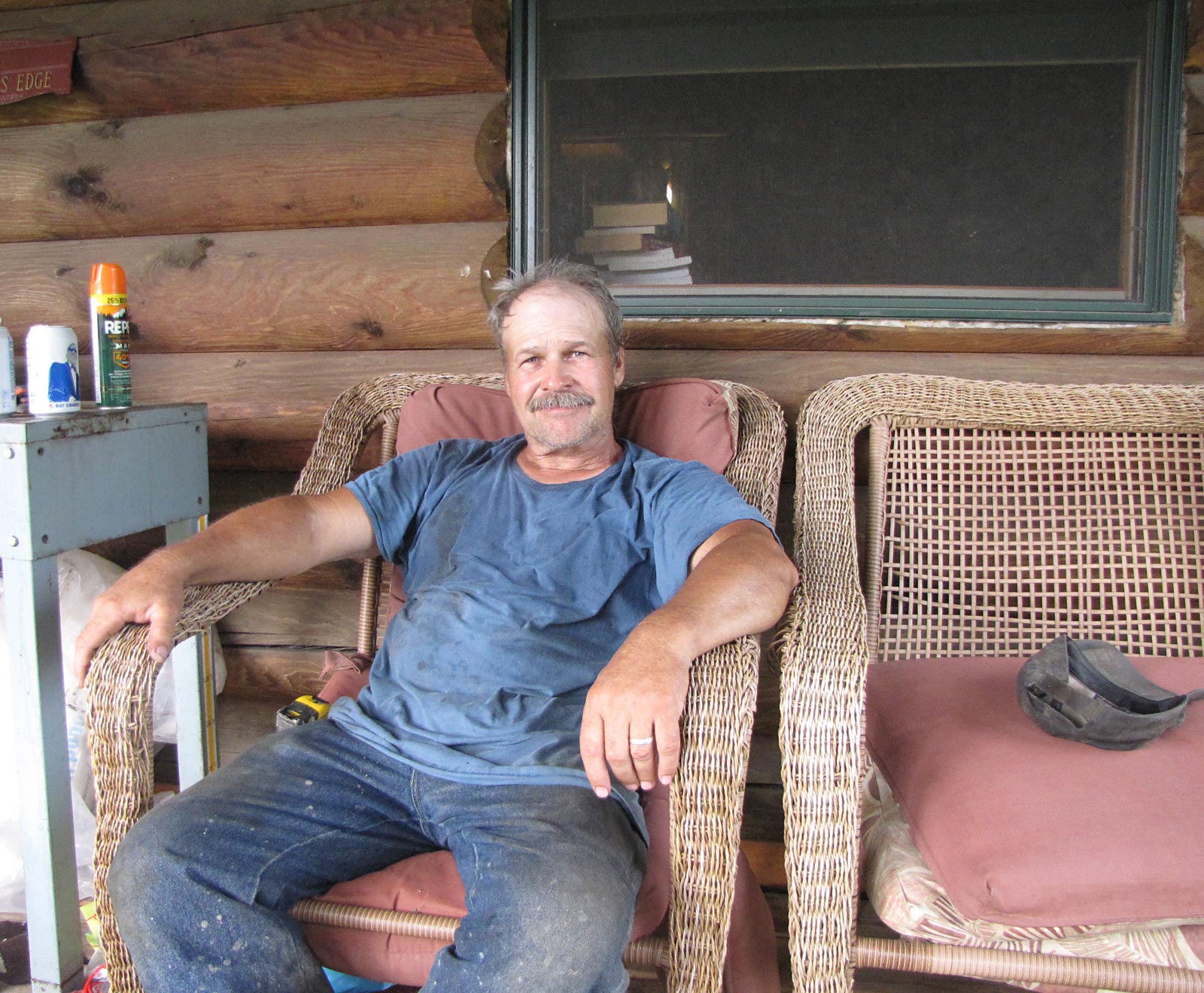 Meanwhile, I was weeding and tilling with our big TroyBilt out on the North garden. After all the rains we've been getting, the clay soil out there is pretty wet so I couldn't get it all. But as rain was again forecast for Sunday, Will took time off (ha ha) to hook the tractor's tiller on and he tilled around the edges and between the rows of squash and pumpkins. After it was all tilled as well as possible, Alisha and I mulched around the plants after hand weeding. We got more than half of the garden done and were pooped out. Then it rained most of Sunday so we got our day of rest.
Ashley wanted to learn to make soap and Alisha was gung ho too. So they set about gathering materials and supplies. Luckily, I have a lot of lye stockpiled for just that purpose so that essential ingredient was at hand as well as canned lard. I explained it would take a lot of stirring but they went ahead. All turned out well and they were very excited about the end result. I helped out by explaining what was happening and what to do next; what "trace" meant (when the thickening liquid soap thickens to the point a drizzled line from a spoon will stay on top of the mixture) and when to pour it into the molds. It took an hour and half to stir to trace. It didn't help that it was 85° F in the house! Finally I got a big bowl of very cold water to set the soap bowl in and trace was quickly reached. Today they'll cut the bars and set it out on pantry shelves to cure and dry. It will have to be flipped over several times to dry thoroughly for several weeks. Yea — A new skill learned!
Our main garden is fantastic! The corn is now chest high, which seems impossible as it was thigh high only a few days ago! There are little beans on the vines as well as blossoms on the Bliss Triumph potatoes. Wow, the garden really likes the weather we've had so far this year.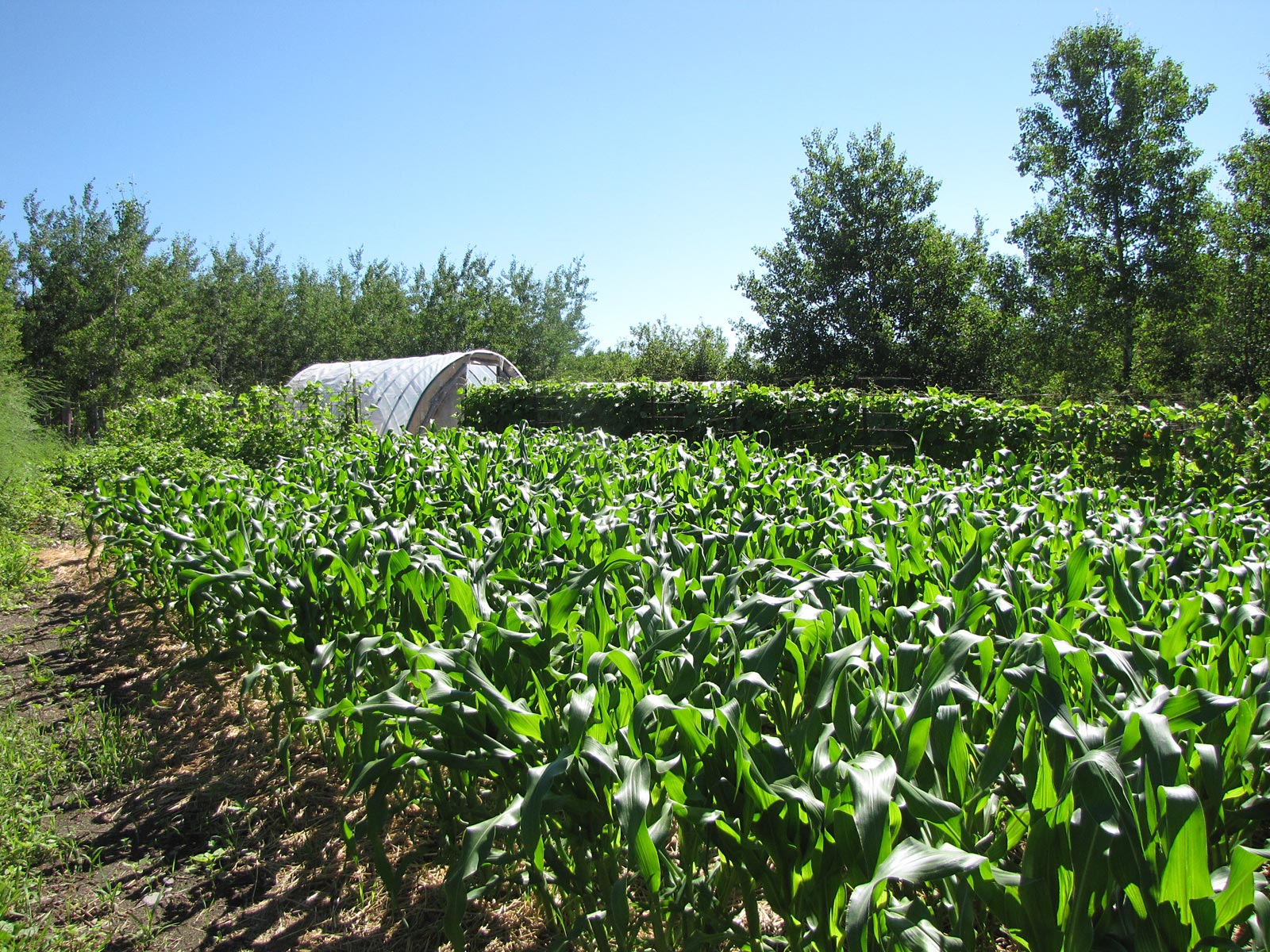 I went out to check on our Central garden and found our horses and mule standing in the shade of trees next to the fence, lazily swishing flies. They wondered if I had something to eat then went back to horse naps. Unfortunately, a cow had gotten Will's Central garden fence worked loose in one corner and had wandered in the wet soil, munching and trampling some corn and sunflowers. Oh oh! Luckily, she didn't eat much and HAD gotten back out … probably when her belly was full. So now Will's down putting clips on the stock panels — not just tying a "temporary" wire to each end. That's what happens when you move on from a temporary task to another one. Cows are SO smart.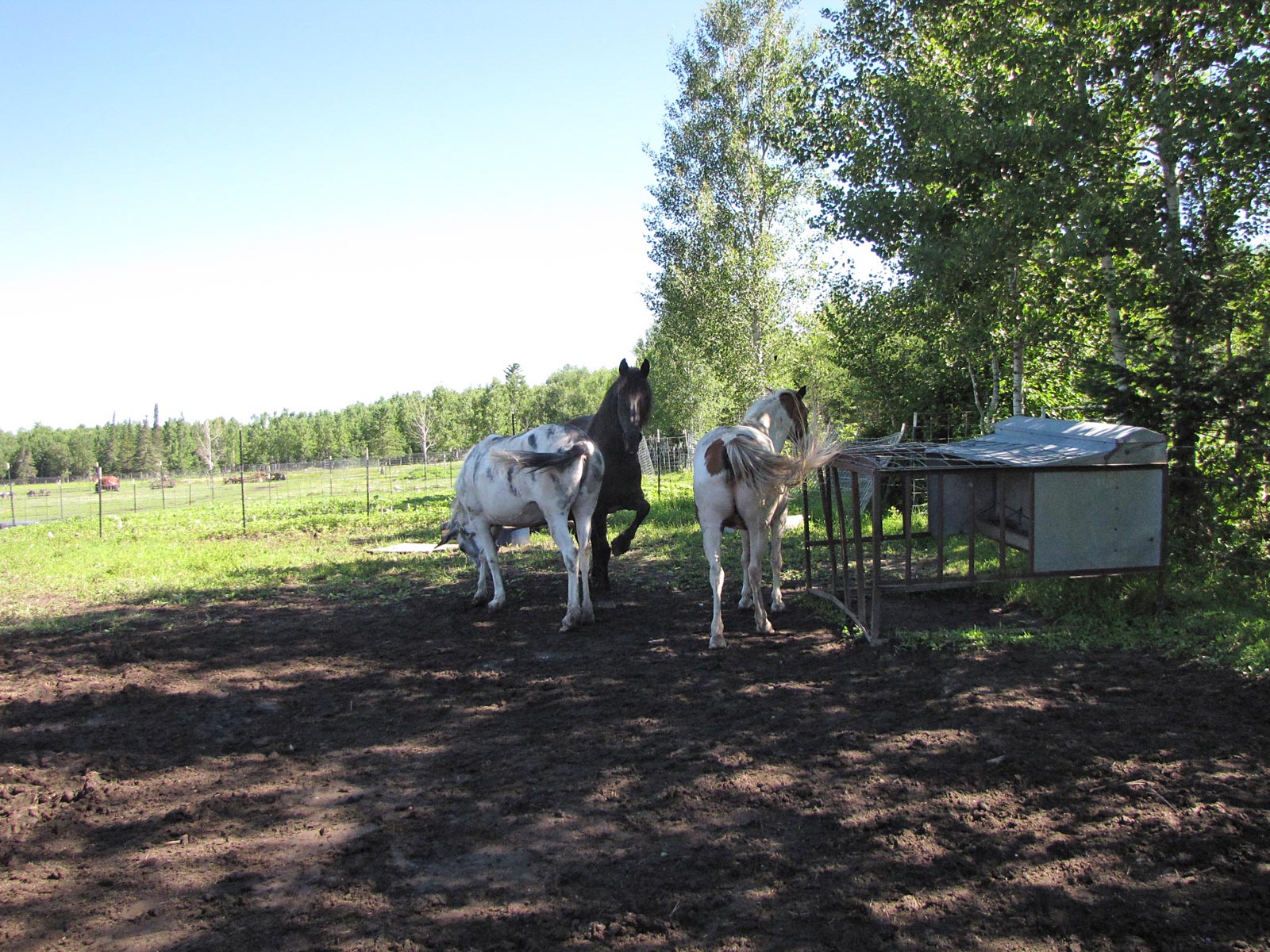 — Jackie