Will and I are continuing to rush around every day, pulling in ripe vegetables, taking the seeds from some crops like peppers, tomatoes, and melons and shelling dry beans in preparation for winter. We've been making great progress, although it never seems like we get enough done each day. Fall rains have begun, so we have to work around that, watching the weather constantly. On dry days, we hurriedly pick dry beans and corn, and gather up tomatoes so on those wet days we can sit on the porch and take the seeds out of tomatoes, prepare them for canning, shell dry beans, and tie up ropes of corn to finish drying in the house. (If we don't, the "cute" chipmunks make short work of it!)
Over the weekend, more work was done on David's cabin. Even though it misted rain on Saturday and poured Saturday night during a huge thunder storm, Sunday dawned sunny and HOT! (Who ever thought we'd see 87° F in mid-September? This is Northern Minnesota, after all.)To make it easier to work, as well as safer, David built a scaffold, using extra 16-foot rafters and some OSB. What a wonderful idea! It saved plenty of time, made work easier and everyone was safer, to boot. Now nearly all the rafters are up and David's going to try to get some OSB on the roof, come next weekend. Here's hoping for nice weather and sunshine.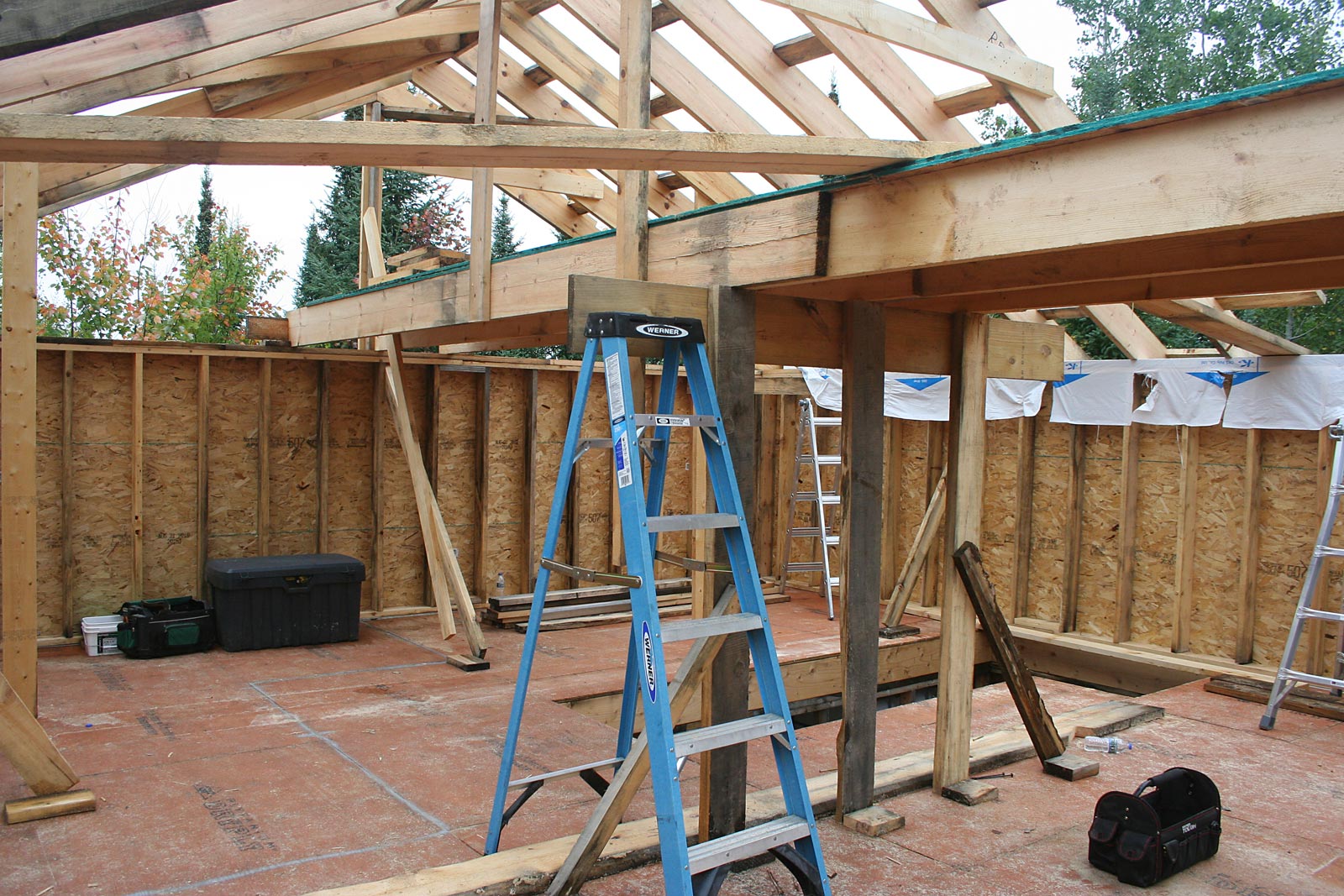 David is tickled with the huge shipping crate he got at work. He added a set of hinges to one side to make a door and now they are hauling stuff from their storage unit home. That's going to save them some money down the road.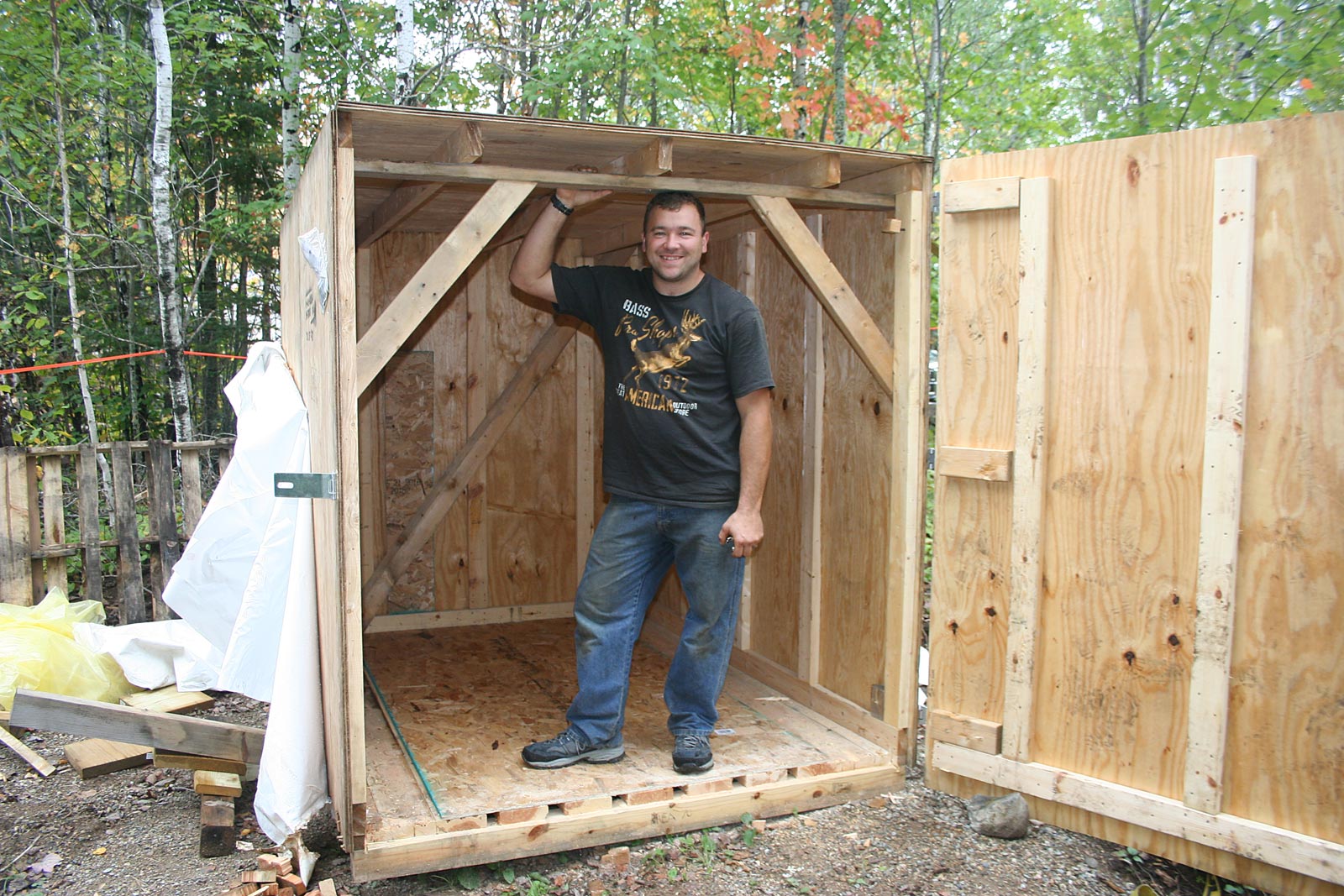 Javid is continuing to heal from his pressure sore but has been transferred to Golden Valley, more than 200 miles south, for continuing his I.V. antibiotics and rehab. That sucks as it's too far to buzz down for a visit. But we are able to talk every day and that helps. We're all waiting for the day he's released to come back to Cook!
Will's trying to clean up all the crops on the west end of the North garden so he can get the leftover debris chopped and tilled under. Before winter hits, he wants to get a good covering of manure there, as it really needs it. Where the pumpkins on the East end looked fantastic due to lots of manure, the west end didn't get manured and the wispy, short corn stalks sure show it. But the rest of the gardens look great, although the Central garden is very weedy. However, it did produce well and hopefully next year we will have less rain so we can till it more frequently!
We were simply thrilled with our melons this year. They were planted outside, not in the hoop houses, and went on to produce lots of big, ripe melons. We were especially proud of our Oka muskmelons. Many weighed four pounds and were oh, so sweet. In fact, I cubed three of them, after removing the seeds to save and rind. So we will be enjoying juicy muskmelon for dessert tonight.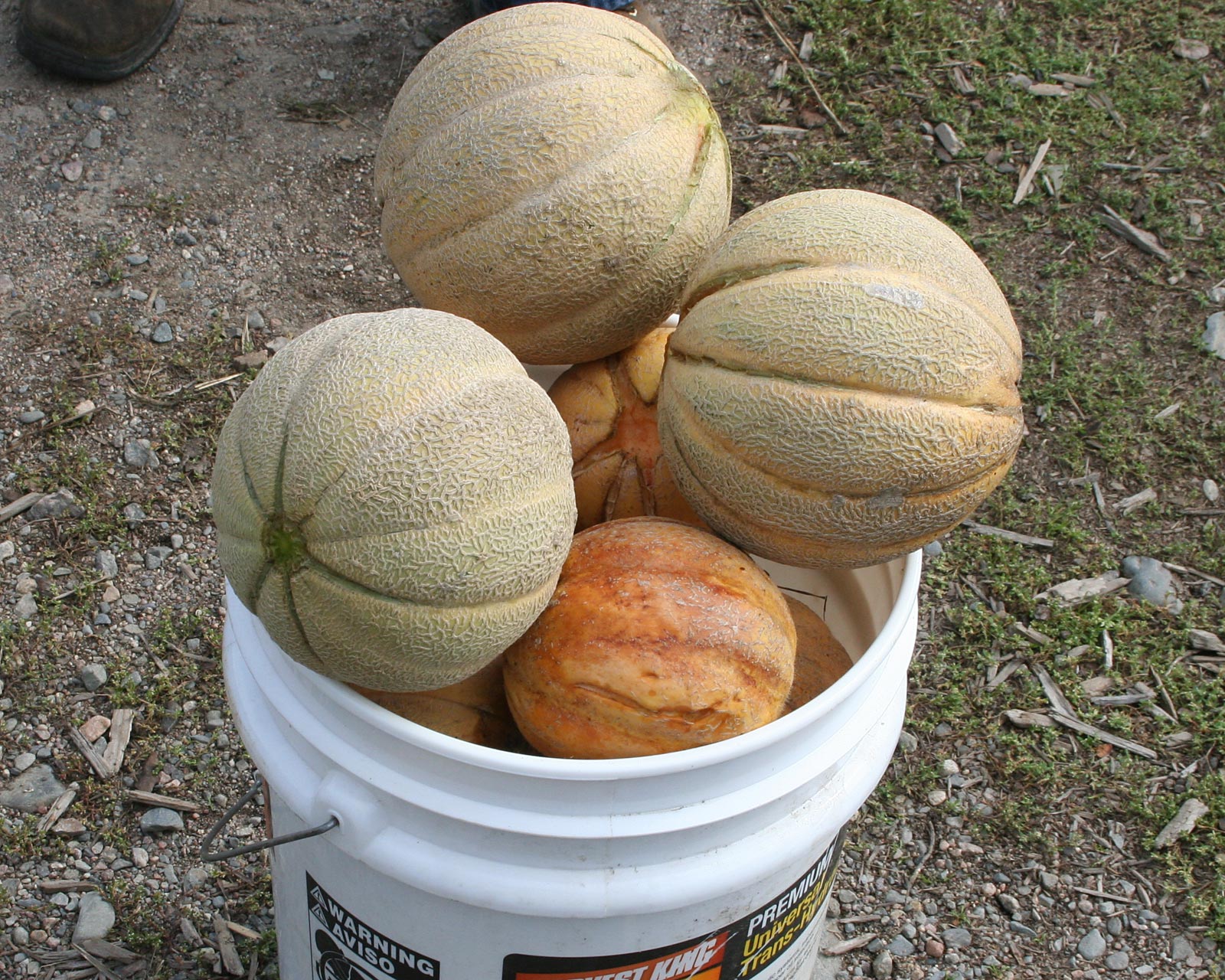 Of course, we always try new crops and one of our favorites this year was Papa's Red, a gorgeous red flour corn we tried. On the short plants, in the Sand garden, we got lots of nice, long ears of varying red coloration. Many were bright red! I'm thinking I'll try grinding some as it will make a very pretty cornmeal. Then there is Brad's Atomic Grape tomato! These small wonders not only taste great but seem to have every color in the rainbow on the outside. And they are super-productive too. We love this new tomato from tomato guru, Brad Gates of Wild Boar Farms.
We're praying the nice weather sticks around, although we really don't want 87 degrees again! We still have a ton of stuff to bring in. — Jackie