According to the weather forecast, we were in for a week of rain. So Will hooked up the triple axle equipment trailer and headed for Homestead Mills to pick up five 1,500 pound plastic bag totes of grain we'd spoken for. We were offered a very good price on this mixed grain (corn and oats) as one of their bins had been leaking into the next one, unknown to them. In short order, Will was back and started unloading the totes with our Oliver tractor's pallet forks. Three went fine. Then one slid off the trailer and ripped open. So he unloaded the last tote and was dumping it into our barge box wagon, which he had pulled out of the barn. But he raised the bucket too high by a few inches and both hydraulic cylinders came apart! Bad words! Bad words! It was getting late in the day and the rain was coming. The bucket had smashed down on the sides of the wagon, crushing one side pretty well. Luckily, we were able to raise the bucket with our Ford tractor's bucket. And Will managed to get the cylinders back together. Whew! Then he had to shovel the spilled grain into the Ford's bucket and dump that into the wagon's box. But he got it done and shoved the wagon back into the barn, under cover. It's nice to have all that feed, nice and dry. But boy, what a struggle.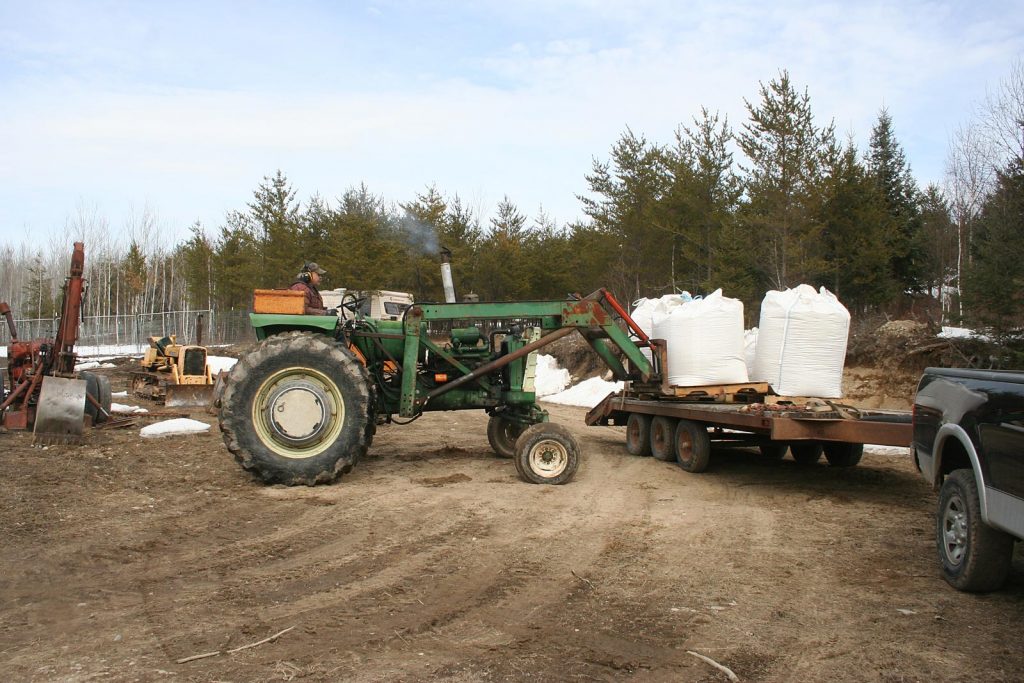 David and Ashley moved home so he could begin working on his cabin once again. They brought a fiberglass 100 gallon watering tank with them, full of the 20 baby chicks and 2 baby ducks Ashley had bought so we could replace our coyote-killed flock of hens. Now they're in the house as it's too cold yet to go outdoors.
Yesterday we moved our left-over roosters from the little coop to the duck house temporarily (until we can butcher them) so the chicks can be housed in that coop. There was two years worth of poop in there to clean out and two windows which needed replacing. David and Ashley took turns shoveling poop, dumping the wheelbarrows onto our little planting patch on the other side of the chicken yard. That'll grow some very nice squash this year!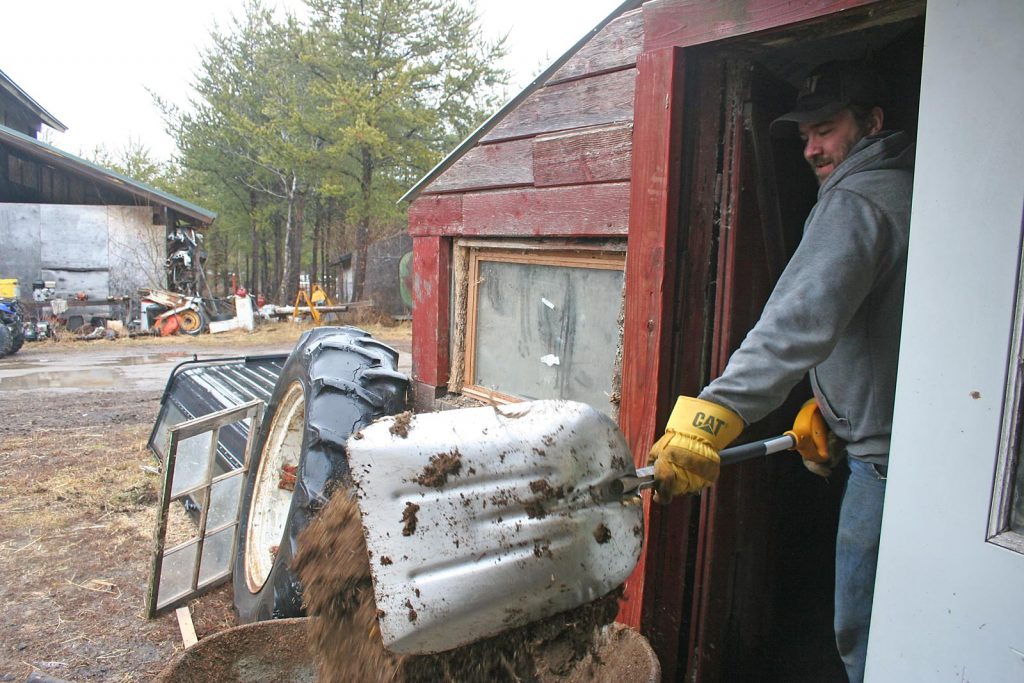 David then replaced the windows with some very nice ones I'd gotten at the dump, and I swept the cobwebs and dust down and washed the windows. All that was left to do was bed the coop with nice, clean, good-smelling pine shavings. Done deal! (If you'd like to learn more about chickens, check out BHM's Chickens a beginner's handbook.) I had to buy a hook for the door today. We were planning on moving them in today as they're a month old and well feathered out. But now they're calling for a snow storm and 20 degrees at night. So I think they'll be house "pets" awhile longer. Yep, they do stink … But that's homestead life, isn't it? — Jackie