I'm sure you've all had those days, but our Saturday was a humdinger. We'd been hard at work all day. Will was working on our new pasture fence and I was harvesting beans and tomatoes. Then, late in the afternoon we got the call; a neighbor was calling to inform us that two of our yearling cattle and two calves were over at their place, trying to get in with their cattle! I phoned David, who was up on the roof of his cabin, and we took off for the neighbors' three miles away via road, a mile as the crow flies. The neighbors had been trying to get our cattle in their corral but had no luck. All of us — the neighbor, his wife, Will, Alisha, and I managed to gently herd the older cattle into their corral. No big problem, but the darned young calves managed to crawl under their fence and get in with their cattle and bull. To top it all off, their lot was nearly knee deep in manure and mud, due to all the rain we've been having. Now, try to separate out two young calves (red) from a dozen other red calves and their moms, and keep an eye on their big bull while hopping around in the muck. David and I had on tennis shoes to boot — no time to change earlier. We finally got the calves together, out into another lot, and almost got them in the corral with the yearlings. Until one of the yearlings tried to get out and the calves bolted. Yep, back into the lot with the cattle. We got them back into the pasture and corralled into a small area. David managed to rope the biggest one, but the rope also snared a front leg, and in that position, you don't have much control. That calf weighs about 300 pounds of muscle! It ended up with the youngest calf breaking out through the side fence, Will, David, and the neighbor getting knocked down in the mud, but David managing to get the rope off the leg and just around the calf's neck. They dragged and pushed the calf all the way around to the corral and into it. Whew!
By then it was dark! Working with a flashlight, they managed to corral the youngest calf between rows of big round bales and David got a rope on him. He was smaller and the rope was just around his neck, so it was short work getting him to the corral. Then Will and David went home to get our truck and stock trailer. We hauled the wayward cattle home and unloaded them into the winter cow corral where the other cows were called and the gates shut. Will hauled a round bale of hay to the cows with the tractor with no headlights. David drove the four wheeler behind to give visibility. Finally, after 10;30, we headed for the house, a bunch of very tired, muddy cowboys! David called first shower as he was filthy. Will, not far behind as he'd lost a boot in the neighbor's corral and fell, headlong, trying to get back into it. Not a pretty sight but we all couldn't help laughing…
Over Sunday and Monday, David's brother Bill came up to help him with his cabin, getting it weather tight for winter. They got the sides of the dormers sheeted with OSB and covered with house wrap. Then they ran house wrap all around the OSB on the sides of the cabin. Luckily, both days were sunny and warm. A bit warm for David, who was on the roof a lot. And the roof is covered with black roof wrap. He took off his shirt early and got a nice sunburn. A part Cherokee, he is now an official "red skin."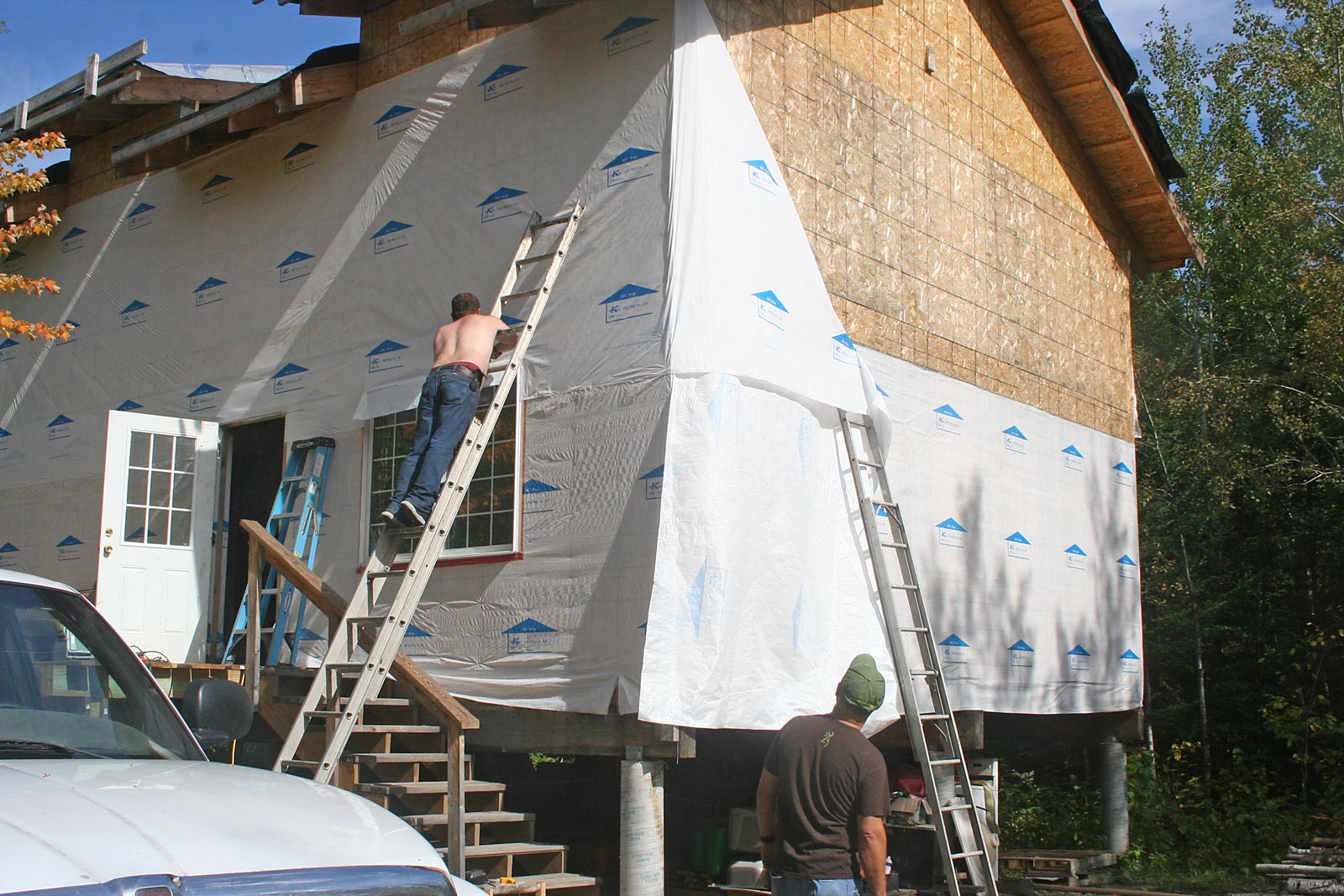 I've been harvesting more tomatoes for seed. And today I picked one of my favorites, Dances With Smurfs cherry tomatoes. They are so pretty — black shoulders and reddish orange bottoms. And when you take off the stem and calyx, there is a perfect light star on each one! They taste really great too. I have to restrain myself when the first ones come ripe or I'll pig out.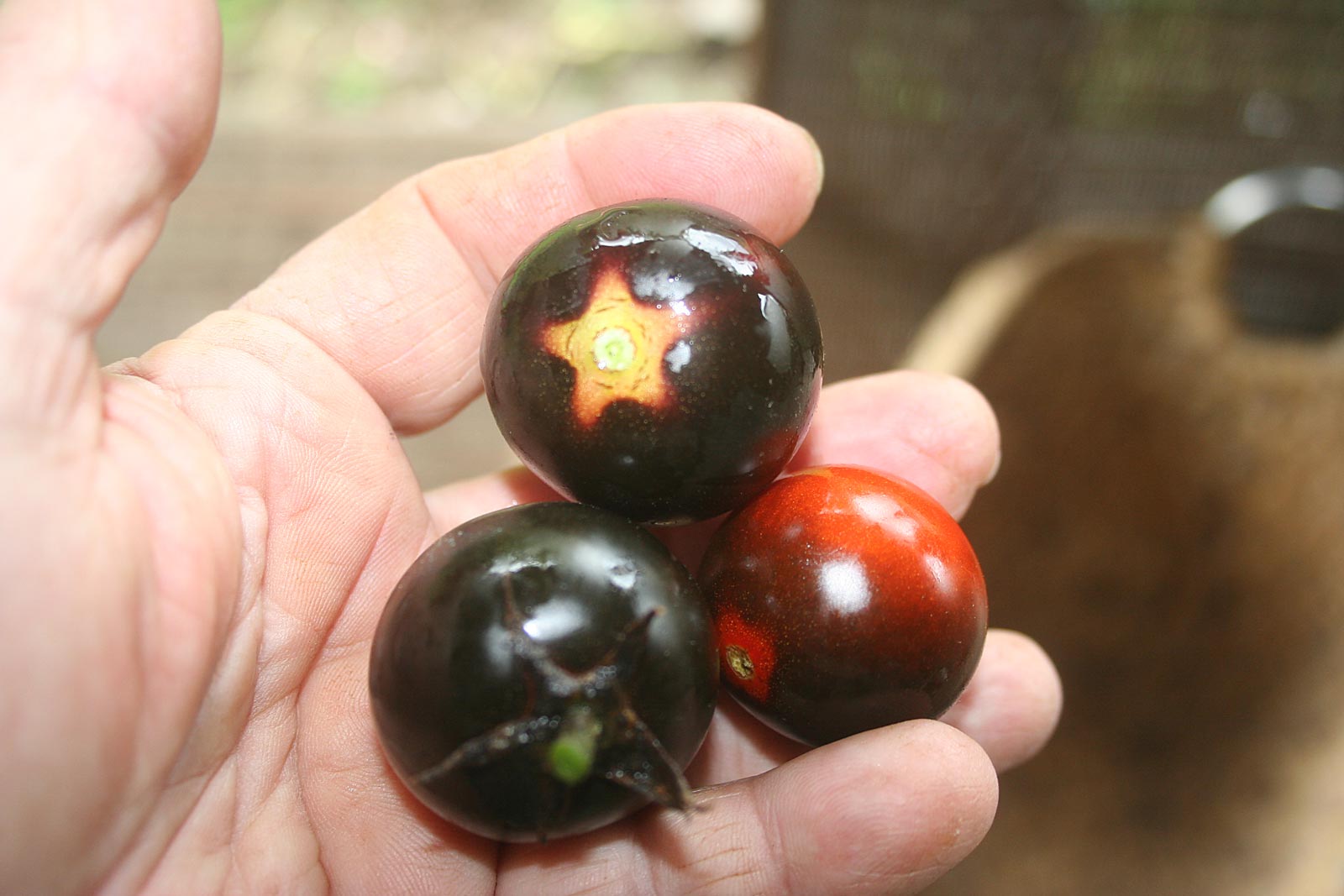 Today we are recovering from all the excitement. And it is raining … Again. — Jackie