It took a long time as I made four batches of jerky (different flavors) and diced the rest up for stewing meat. I got so much venison canned that I had to rearrange my pantry! That's a good thing, though. Not that it needed sorting a bit…(If you'd like some tips on canning your own meat, check out my article, You can safely and easily can your own meat in Issue #105 of BHM, the Eighteenth Year Anthology or my book Growing and Canning Your Own Food, available through BHM and Self-Reliance Magazines.)
Bad news — my faithful old Maytag wringer washer that I've had for 30 years finally bit the dust. The gearbox just wore out. Of course I didn't find that out until I went to wash a big load of clothes. I'd been busy canning, and those dirty clothes just sort of piled up until "later." Luckily, we had another Maytag wringer washer in the storage barn that I'd picked up at the dump some 14 years ago, figuring a spare might come in handy some day. Well it did! Will wheeled it in through the snow, all the way into the living room, where he set about to check it out. Yep, the motor and transmission worked great! But the wringer wouldn't engage. We looked it all over and commented on the four foot long ¼-inch tube that led to the bottom of the wringer housing. Hmmm… I've had several wringer washers and Mom also had two and none ever had that. After much pulling things apart, Will finally discovered that the tube connected to a plunger in the housing. Evidently that was a safety thing. Missing was a foot pedal with a bellows or air bladder that when stepped on would send air up the tube and the plunger would engage the wringer. When you stepped off, the wringer would stop. After disconnecting everything, Will got the wringer working normally.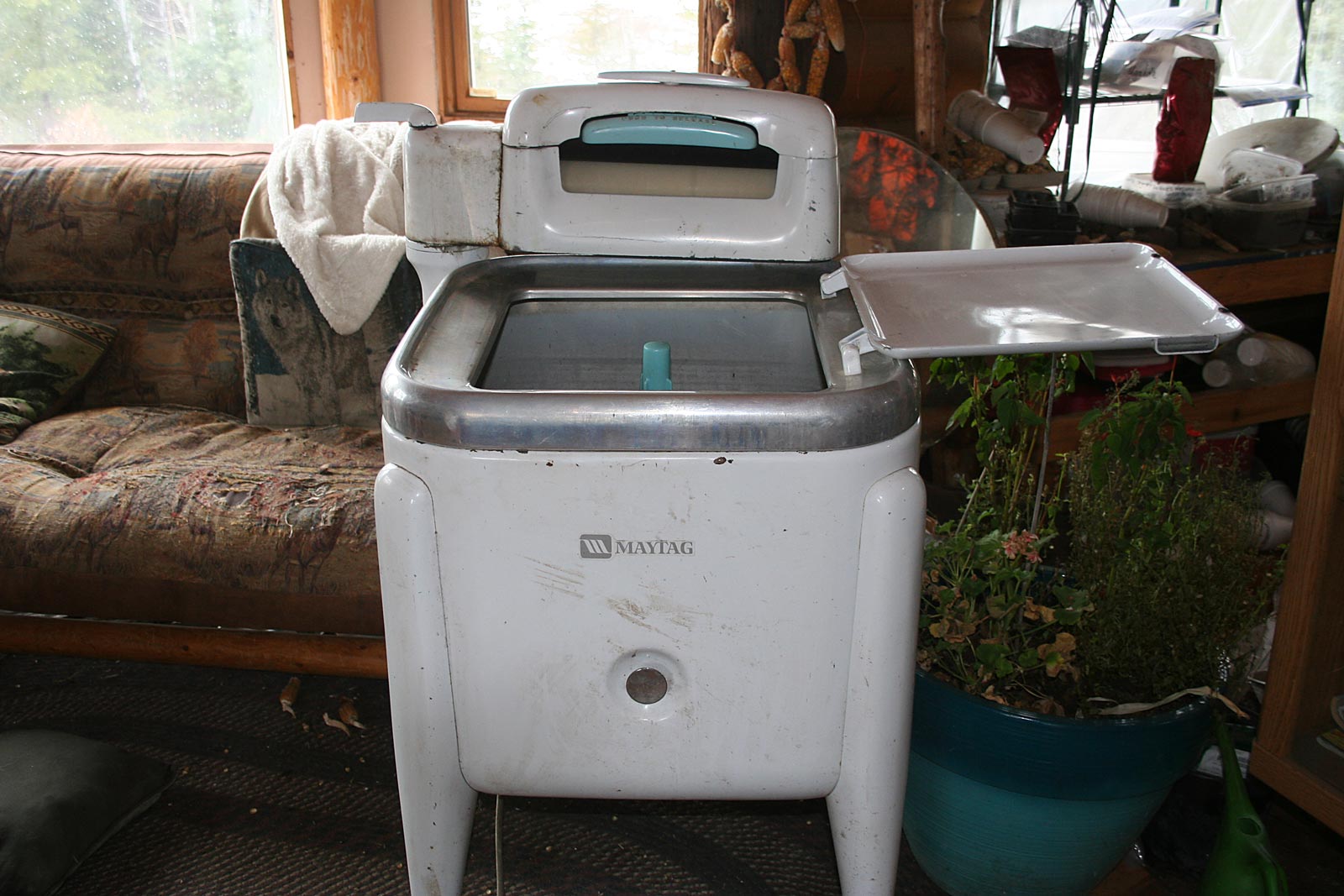 The old machine had been leaking transmission grease, so we had a horrible chore cleaning up the filthy floor in my laundry room. It took hours and a can of Citrol to remove the worst of the grease, bit by bit as it is flammable and we didn't want a fire! With both the washer and rinse tub out of the laundry room, it gave me a chance to also wash the walls and window behind them. So today, everything it ready to put back into place. It takes so little to make a homesteader happy!
And of course, I'm getting ready for the big family doings for Thanksgiving. Everybody has their favorite foods that I must cook. So today I begin both baking and cleaning up my canning mess from the venison. Luckily, the weather's been nicer and some of the eight inches of snow that fell from the latest storm is melting — that's encouraging. — Jackie