On Friday I picked another big basket full of Provider and Strike green beans. Holy cow are these ever productive! This was the fourth picking on that row, and I ended up with 15 pints and three quarts, plus a nice batch for supper. Providers are a little thicker, meatier, and easy to pull off the vines where Strikes are more slender and a little more productive but you do have to pull them carefully, using two hands, one to hold the vine and the other to pull bunches of beans as the stems connecting the bean to the vine is tough. I sure hate to pull up a bean vine!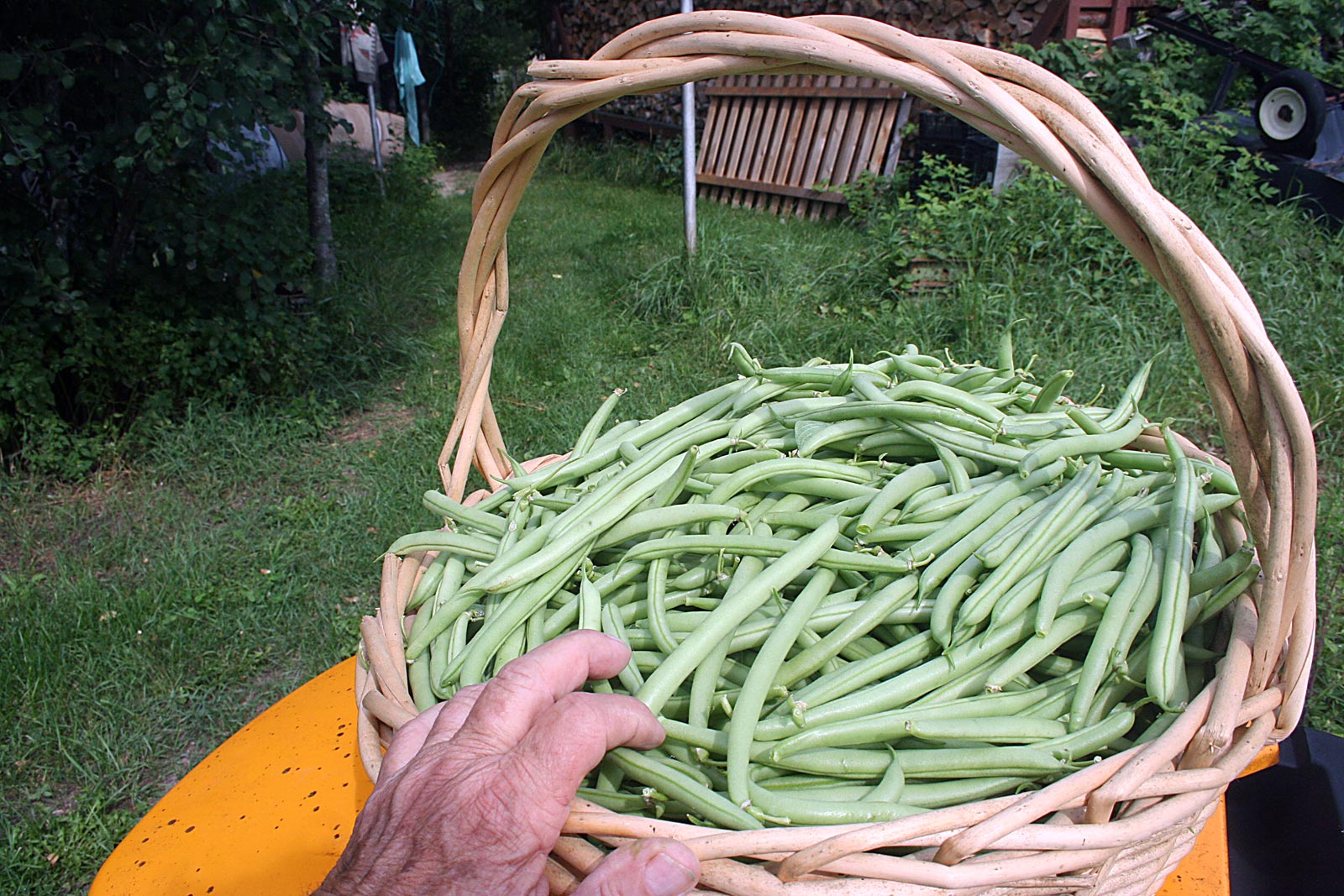 Will and Blake picked a big, full crate of Norland apples yesterday plus four gallons of chokecherries. And there are lots more chokecherries too. It's a good year for those trees! Yesterday I used my Mehu Liisa steam juicer to harvest two quarts of chokecherry juice from two gallons of chokecherries and today I'll juice more. I plan on canning up two quarts and making various cherry jelly from the other two. One we love is the chokecherry juice boiled with several jalapeno halves to give the juice a little kick. Then I remove the jalapenos and continue making the jelly. It's a good "different" jelly. Then I'll make both jelly and syrup. (Chokecherries sometimes simply refuse to set up as jelly, but I don't worry; it's great syrup over pancakes and waffles not to mention ice cream!) I've got to get my apple peeler out when I get the chokecherries juicing to start in on those apples. I'll can up a lot of plain apple slices for pies and baking plus I want to do a bunch of slices with cinnamon red hots dissolved in the syrup, again for something different. No, I'm not making applesauce out of these apples. We've got a Trailman crab apple tree that's simply loaded, which will be ripe in about a week. That's where I'll get both juice and more applesauce.
Yesterday I dug the Bliss Triumph potatoes I had planted in the old stock tank next to our front yard. The vines had died, and I didn't want them to begin growing again when the fall rains came. I was happy with the results, considering how hot and dry our summer had been. (Plants in containers suffer stress more when it's hot as the heat affects the roots more than if they're planted in the ground.) I got a bunch of nice, perfect potatoes I plan on using to plant as seed potatoes in the tank again as well as in the field for us to eat. They were very expensive so I sure don't want to ever buy them again … if I could even find them!
Our pole beans are joining the bush beans in production. The Crawford beans are so huge and long it's hard to believe. We about drool every time we go to check them as they taste so very good. The others are coming on strong too. The purple Carminats are loaded with super long, French fillet type beans. Some folks have thought they were red noodle beans, they're so long this year.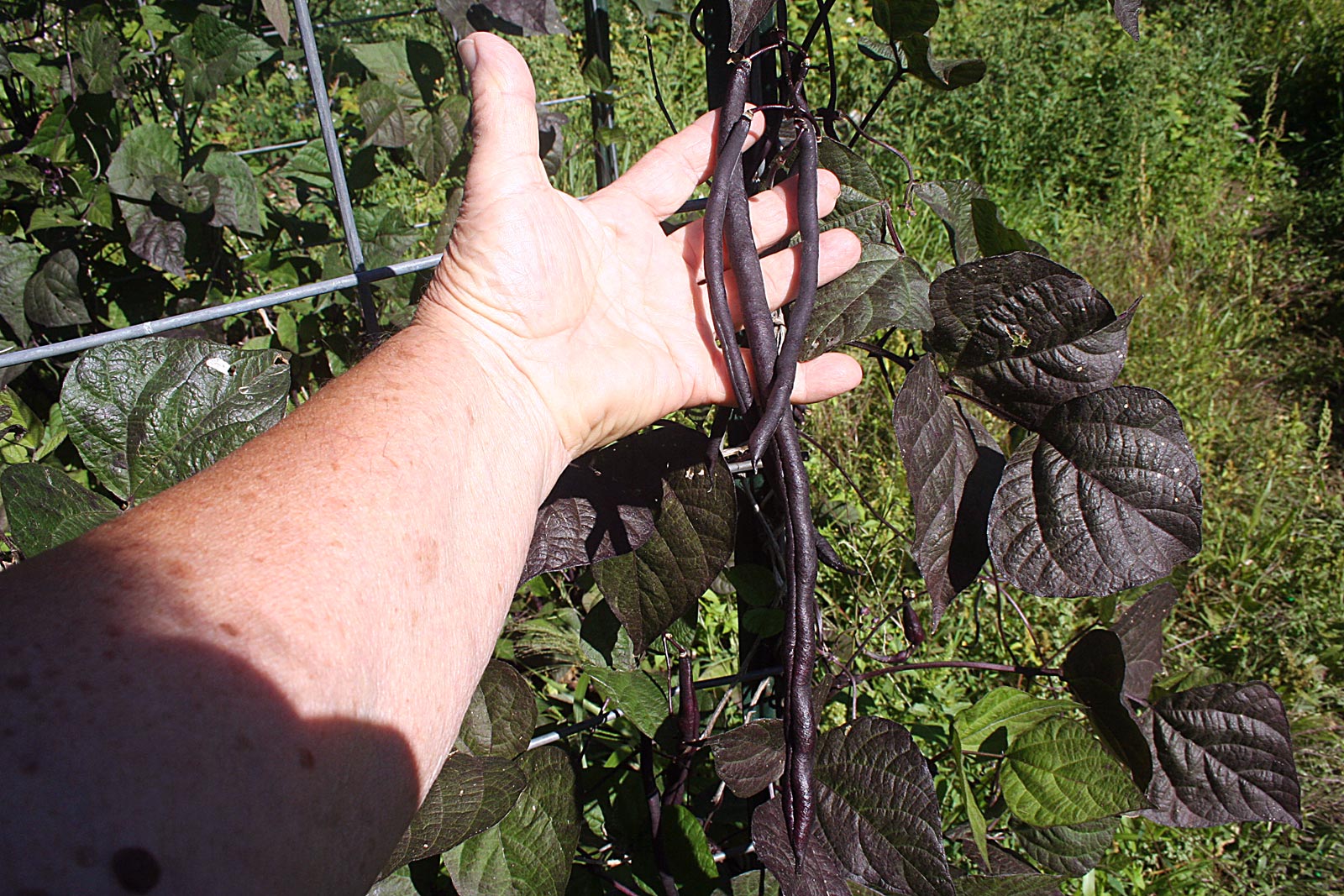 After fencing those darned deer out of the Sand garden, we had one spot next to the barn that didn't get extra fence as we didn't think they'd go right next to the barn. Wrong! We lost another watermelon and several tomatoes. Will added another stock panel above that 10-foot spot. Now if they crawl through the corral planks … I wouldn't put it past them!
I've got to tell you about the Brugmansia I bought from Logee's this spring. Brugmansias are related to Datura and eventually grow about 8 feet tall and become loaded with huge, trumpet-shaped, fragrant flowers. I have three and the first is starting to bloom. So pretty with pink blooms and weird "tails" coming off the edges. Of course, they aren't hardy here so I'll be bringing them in to overwinter but I think it's worth it.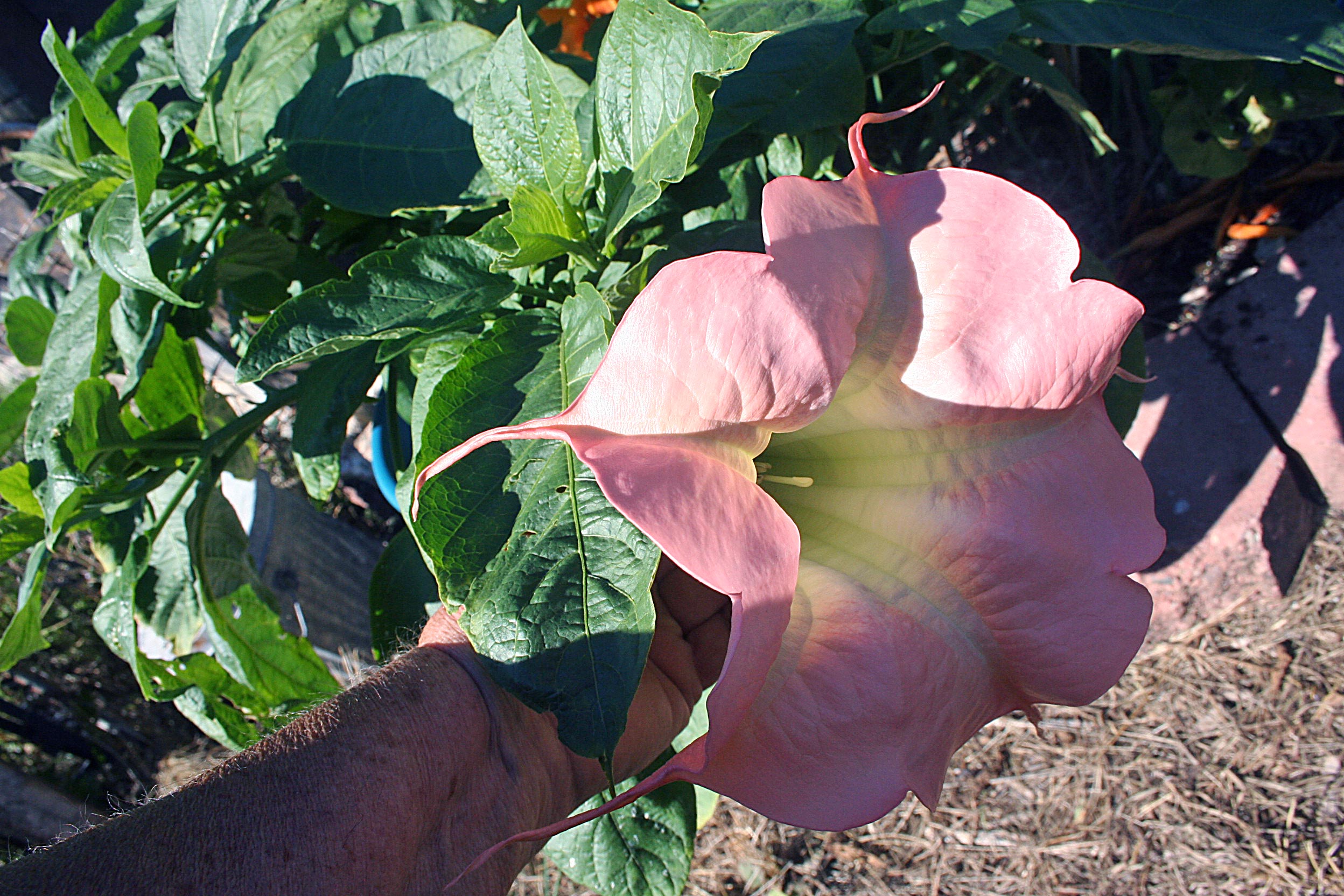 My son, Bill and his family, had an exciting day recently. There was a tornado warning in their area and the black clouds piled up and the wind roared so badly they went into the bathroom, which is in the center of their log home. (They don't have a basement.) The house creaked and wind roared but when it was all over, no serious damage was done to the house. The woods? Another story, with oak trees snapped off and uprooted. Bill works in Moose Lake for Oak Lake RV, and when he went to work there was lots of damage; trailers smashed together and blown about. He's going to be doing insurance forms for weeks! But at least nobody was hurt. — Jackie