Luckily, we did have two days' warning before the expected frost last night. So, on Sunday, Will and I harvested tomatoes to save for seed, ripe tomatoes, green tomatoes, and tomatoes to use for canning various tomato foods. This year was the worst gardening year, overall, that we've ever had! But we still had a pretty good haul. The melons, especially, were very nice. We had huge Sweet Dakota Rose watermelon, which we rate as A+ in flavor, and lots of very nice Bozeman watermelons that, because of their thicker rind, I love for making watermelon pickles — a holiday meal would not be the same without them!
When at our friend, Dara's, harvesting Bear Island Chippewa she'd grown for us, we also picked the remaining Monte Gusto yellow pole beans. We just couldn't let them freeze. So when I got home, I roped up the corn to dry and then canned up nine pints of wonderful beans. They were so long I had to cut them in half to fit into pint jars!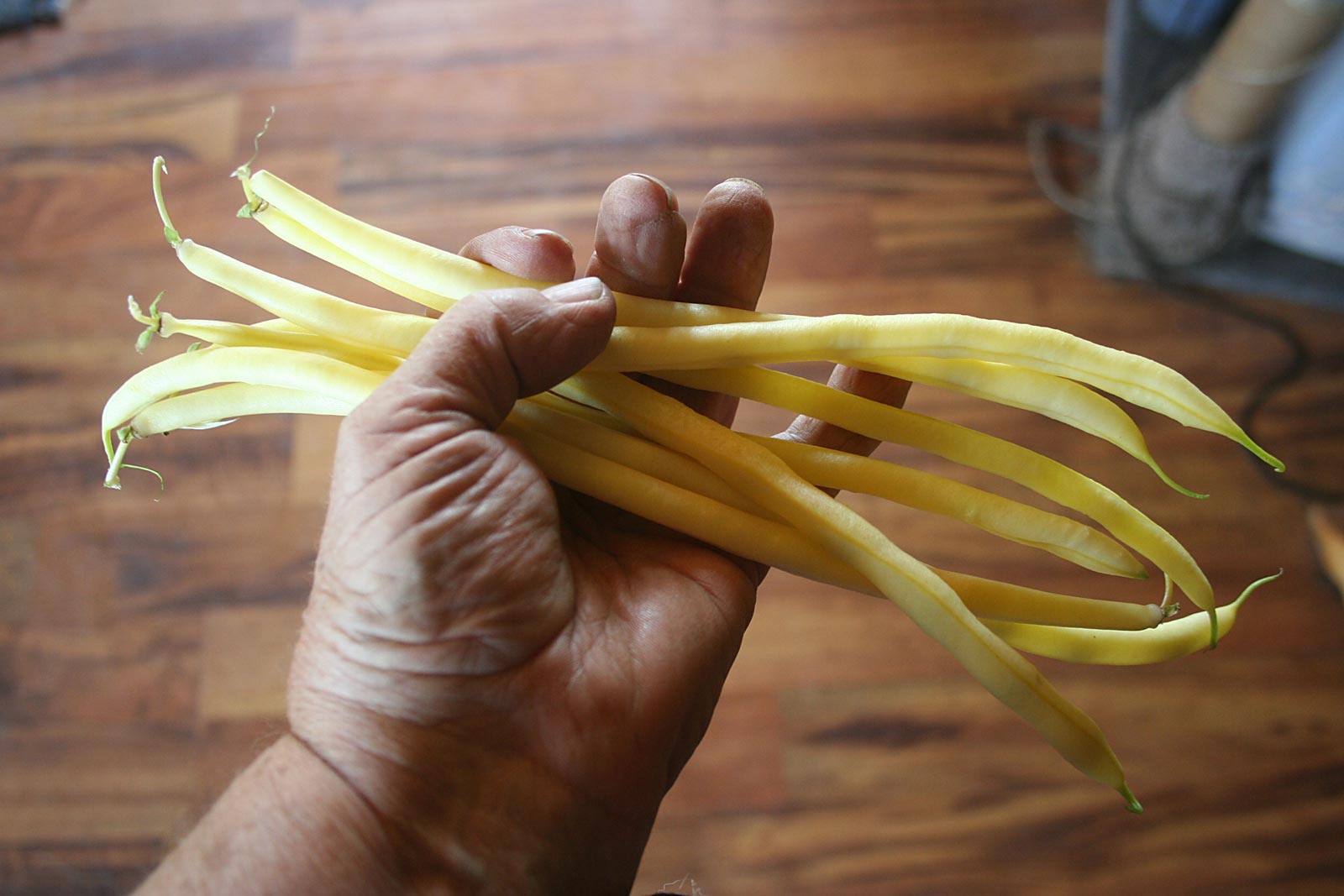 Our squash and pumpkins were all over the place in productivity this year. Of course, having the cows getting in and eating a whole bunch — especially our beloved Hopi Pale Grey squash — had a lot to do with that! In the Main garden, where we didn't have cows this year, we had tons of wonderful, huge Borchart's Wonder squash, our second favorite squash. And then we had lots of Olinka naked seeded pumpkins. But we only harvested two Gueramon Martinique squash. They got buried by the Borchart and Olinka vines and thus, got shaded out. But at least we'll have enough to save for our own seed for next year!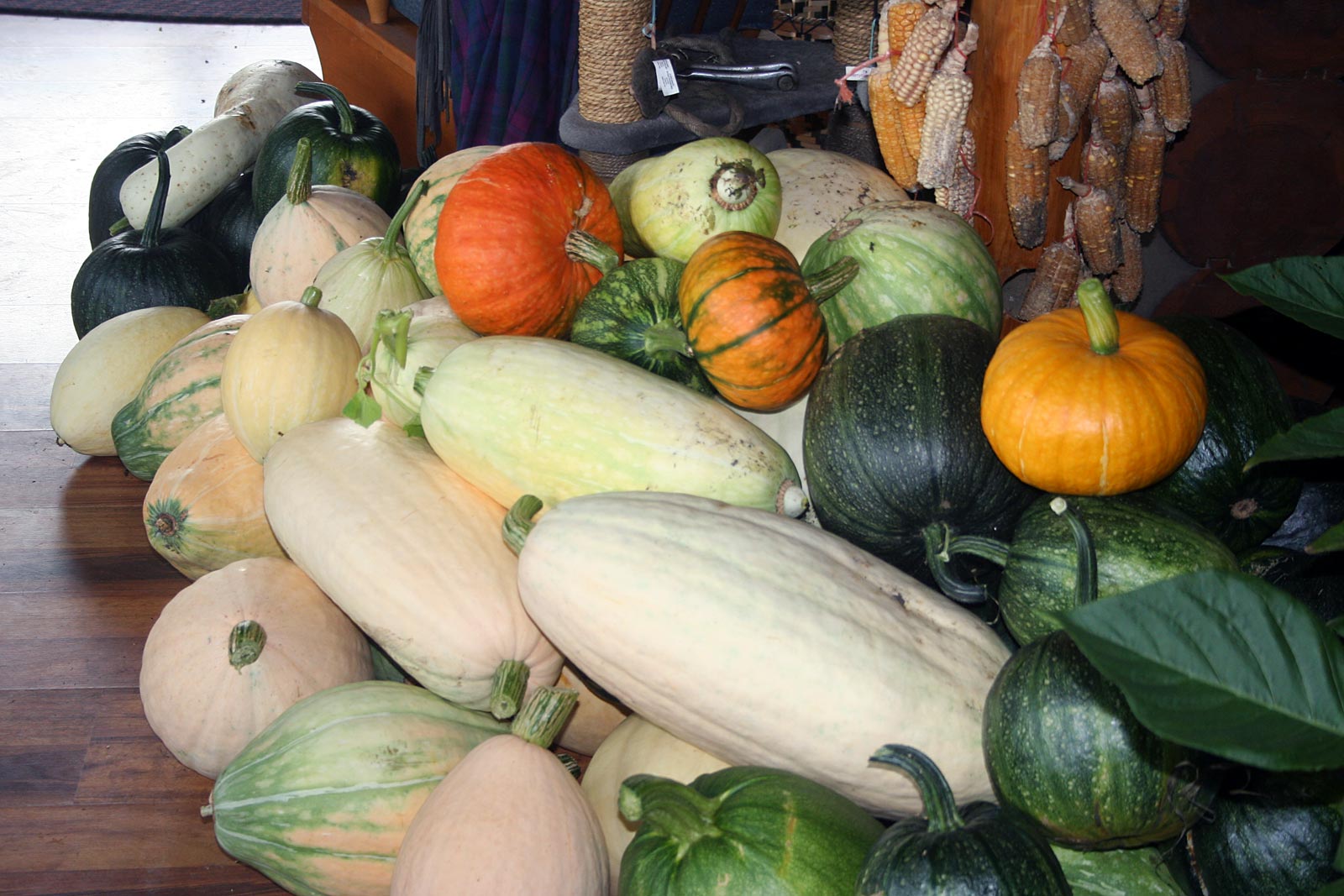 Our seed-saving gardener/friend, Dara, grew some other squash for us so we could save pure seed. They were a white cushaw, Illinois, grown by Abraham Lincoln's parents, more Olinka and North Morning Moon, a squash she developed out of Hopi Pale Grey and Marina de Chioggia lines. So today, Will and I went over to their place and brought home a car loaded down.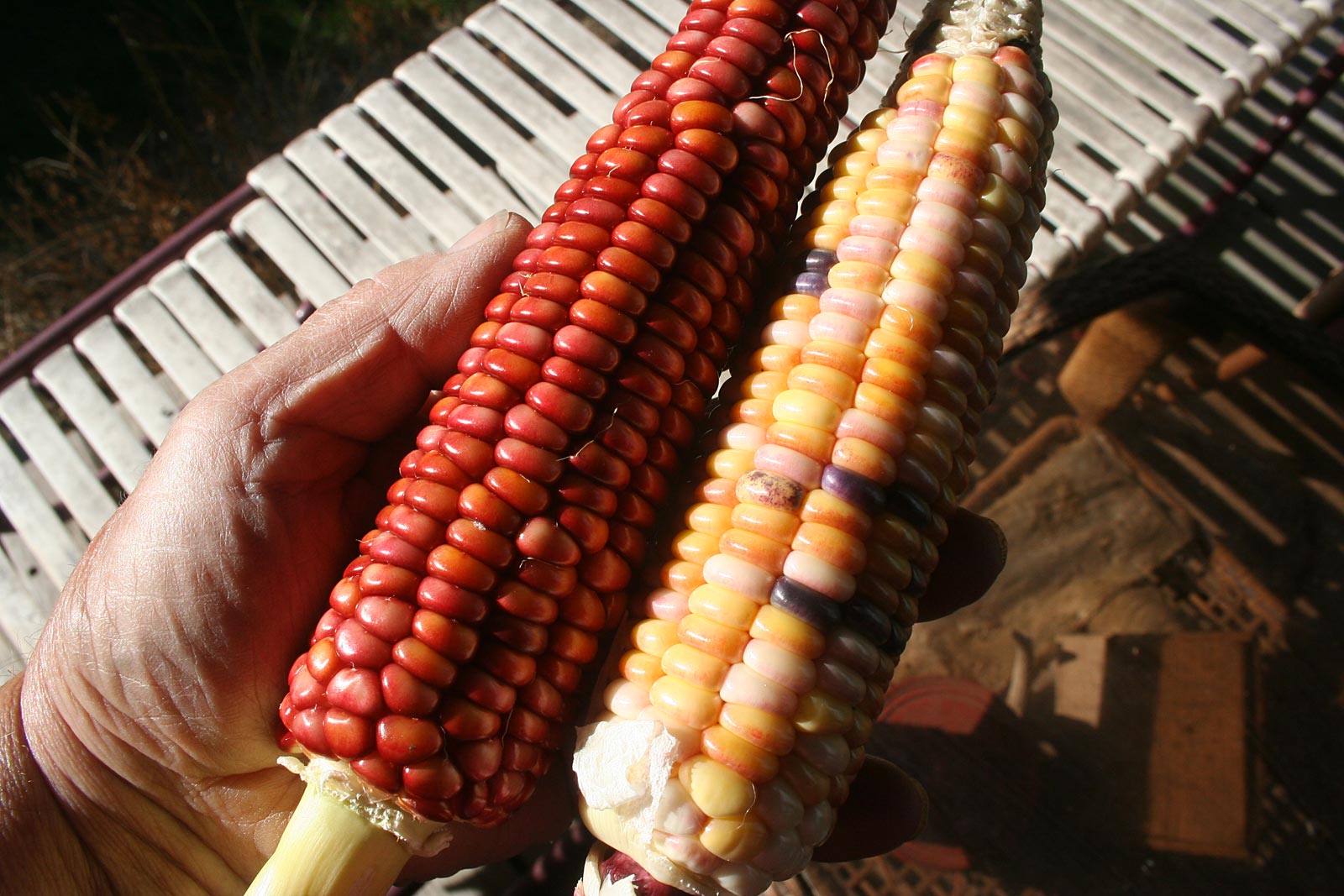 Yesterday, Will was hauling hay and I was busy trying to cover and save what I could before last night's forecast frost. But it wasn't going too well. My bad knee was really sore and so was my foot, only to get worse and worse as the day went on, due to all that walking and carrying. I was covering the Oka muskmelons and the pole beans in the House and Main gardens after going to town and buying several big tarps. And then, a car drove in — David and his girlfriend, Elizabeth! They had come from a Labor Day campout down at brother Bill's, to help. I almost kissed them both soundly. So we tarped and tarped. Then David enclosed the two hoop houses where our not-so-good this year peppers are housed. (Maybe we'll get some warm weather after the frosts …) And we harvested the Main garden's squash crop, then tarped some beans. Finally, we were done. Or at least I was done! I just couldn't walk any more. So Will, home from hauling hay, helped David tarp the pole beans in the Central garden with a huge tarp Will had borrowed from his friend, Daryl.
It was almost evening, so we only had to haul in the potted, frost-sensitive plants and call it quits.
Then we didn't get frost! But that's okay. They are forecasting it for tonight and tomorrow night. (Please God, let it pass too!) Meanwhile, I've got lots of tomatoes I need to quickly take seed from and dry tomatoes to put into containers. Oh, and I dropped one Theron's Winter squash so I need to get seed out of that too, as it split in half. Whew! — Jackie