By Randy Young
Photos by Callie Blanks
Issue #158 • March/April, 2016
Sausage balls are great, period. They've got sausage, cheese, and biscuit, all in one bite. What's not to like? I've made them for every family gathering for years. I have constantly tried new things to make them better and better until I finally arrived at this, the perfect recipe.
First, some background. I love hot stuff. In fact, I am actually the last reigning McCulloch County Texas Jalapeño-Eating Champion. Still have the trophy. So it was inevitable that I would want to add these delicacies to my sausage ball recipe. I also like my sausage balls to be crispy on the outside with a distinct biscuity texture, but soft and full of flavor on the inside. I found one trick that very few others have used and then discovered, on my own, a secret ingredient that no one has ever tried before now: sausage gravy mix. Trust me, it is perfect.
I understand that people's tastes are different, so feel free to customize my recipe to your discriminating taste.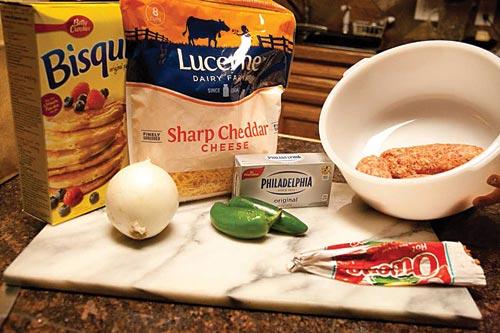 Ingredients
You need one pound of sausage. Not just any sausage. It must be the hot version. My personal favorite is Owens Hot Country Style Premium sausage in the red and white wrapper.
Next, pick out some fresh jalapeños. For one batch, I use about two medium or large peppers, or three smaller ones. Don't worry about the spicy heat, we'll take care of that later. Grab a nice white onion as well.
Find some sharp cheddar cheese. Be sure you can shred it very finely. You will need four cups (about a pound) of shredded cheese. While you are in the dairy aisle, snag a package of cream cheese. It really adds a nice texture and taste to the insides of the Fireballs.
You will also need a couple of cups of Bisquick biscuit mix.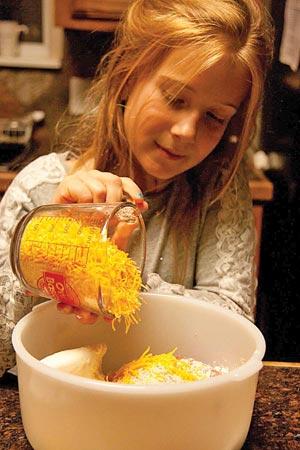 Now for the secret weapon — get a package of sausage-flavored country gravy mix and you are ready to begin. If your taste buds can tolerate the overload, have some garlic salt, coarse black pepper, and red pepper flakes on hand, too.
The secret recipe
Cut the stem end of the peppers off and split them lengthwise. Be sure the peppers are dry from washing and do not run water over them as you work on them or you will be crying from the resulting vapors!
Take a spoon and carefully remove the seeds and white membranes. These contain the vast majority of the heat in the pepper. If you are a pepper-a-holic like me, you can use the whole peppers, but be forewarned that if you do, only one in 100 people will be able to tolerate them.
Now take about ¼ of the onion and chop it and the peppers very finely. In a large mixing bowl, put the sausage, four cups (give or take) of the cheddar cheese, 4 ounces of cream cheese, the onions and peppers, 2½ cups of Bisquick, and one packet of the secret ingredient, sausage gravy mix.
Now for the physical part. You will need to knead it all together. I usually squeeze the dough through my fingers, turn it over, and press it into the remaining baking mix, repeating until all the mix is incorporated and the mixture is consistent throughout. It is hard work. Your forearms will be tired.
Lightly oil a couple of baking sheets and begin rolling out round balls. I like mine on the smaller side of ¾ to 1 inch in size, so they get done inside just as the outsides begin to get nice and brown. Too big, and the outsides get crusty while the insides are not quite done. If you happen to make that error, a microwave session can salvage them somewhat.
Preheat the oven to 375° F and bake for about 18-20 minutes or until they have a nice, even brown color. If you fill two baking sheets, I recommend that you swap the upper and lower positions about halfway through baking to be sure they get done evenly.
When you take the sheets out, run a spatula under the balls to separate them from the cookie sheet and they will not stick. If you let them cool, it will be harder to get them loose.
I like to eat mine warm, but some folks like them at room temperature, or even straight out of the fridge.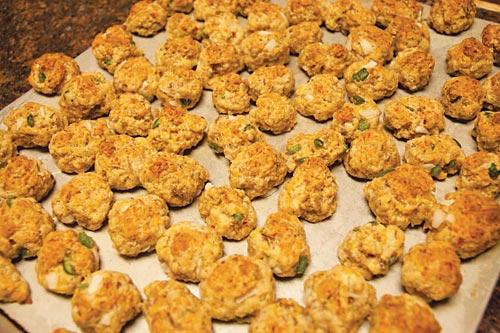 Additional options:
• Add the seeds and membranes to make the Fireballs really hot.
• Try mixed cheeses like mozzarella and cheddar instead of the sharp cheddar.
• Add a dash of chili powder or a sprinkle of ranch dressing to the mix.
• Instead of balls, make Randy's Firecrackers by rolling 3x¼-inch sticks.
• Freeze the mix and save it for later.
• Refrigerate the mix and cook quick, fresh breakfast snacks in the microwave.
Eventually, you will learn to make double batches of Texas Fireballs so you can hide a bunch for yourself.