My long awaited apple fell off the tree and the goats ate it!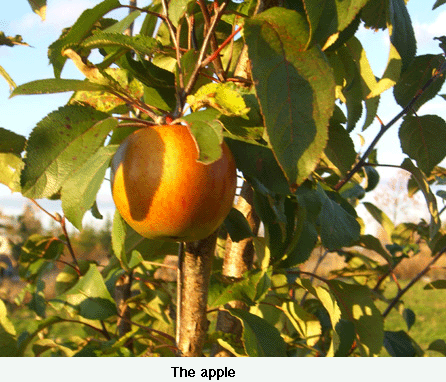 Yep, that lone apple in our beautiful orchard disappeared. I checked it yesterday and it was fine. I even debated on picking it and eating it. It was ripe. But I decided to let it stay on the tree for a few more days. I'd been watching it and drooling over it all summer. First there were five apples, but one by one, the wind took 'em down before they were ripe. Then there was just one beautiful Fireside apple hanging there, calling to me. Eat me…eat me…
Then this morning, I went out to feed the goats and I couldn't see the apple on the tree. I was a little concerned, but figured I probably just missed it among the leaves. But when I fed the meat chickens, I went in the orchard and looked. IT WAS GONE! Desperately, I looked around on the ground. Even in the wire cage around the tree trunk. No apple. No deer tracks either.
Then I remembered the wind we'd had during the night. It had to have blown the apple off and it rolled down the slope…right up to the goat pen. And, of course, some goat spotted that luscious treat and had a great breakfast. I almost went around smelling goat breath to see who got it! I was that desperate. Sigh. Oh well…maybe next year. At least the trees know how to make apples now. See, you're not the only one who has a disappointment in the gardening department!
Readers' Questions:
Feeding goats, storing fuels
In the "Economic Squeeze" issue, you said your goats have hay available all day, what do you put it in and how do you keep them from wasting too much of the hay? What kind of grain do you supply for them? I didn't want to give them the medicated feed because I intend on milking the does eventually. What kind of dewormer do you recommend?
Also if I'm not mistaken I read a little about fuel storage in one of your articles. How do you store gas and other fuels safely and correctly?
Lisa Barger
Nashville, Tennessee
I feed all my hay outside my stock panel fences, so the goats have to reach through to eat the hay; no poop, no waste. Of course, this only works with dehorned goats, which all of mine are. I feed my goats a 16% horse sweet feed. It has no medication whatsoever. We use our milk to drink, make cheeses, yogurt and ice cream from and don't want antibiotic residues, either! I run fecal exams on my goats twice a year, spring and fall. We've been pretty lucky; I've only had to worm them a few times with fenbendazole and Ivermectin. I believe that the reason we have so few problems with worms is I check twice a year and both the feed and water are OUT of the pens, so there is no fecal contamination.
I store my gas in plastic 6 gallon jugs with a few ounces of Stabil added to keep it from getting "old", which makes carburetors varnish up and get gunky. I'd like to have a farm-style gas barrel on legs, but so far, I haven't been able to work it into the budget. I would like to have more fuel stored. Just in case. All fuel should be stored out of the sun and away from any source of spark or flame.
For instance, I don't store my gas or kerosene in the generator shed or home. Because it's in plastic it can just go outside, on the north side of our generator shed; it's handy, yet safe out there. Underground storage tanks were popular prior to the Y2K, but they are expensive and that much fuel is hard to keep fresh, even with Stabil. — Jackie
Learning to use a pressure canner
I am a beginner in gardening. Although my grandma raised me on a farm I was not paying attention to the canning of the foods. I was regulated to shelling or snapping. I have a pressure canner here at the house but I am very very afraid to use it. I have never used a pressure cooker. How do I start learning how to use this thing? Or is blanching and freezing veggies enough?
Jonica Kelly
Randallstown, Maryland
Don't be afraid of the pressure canner. They are VERY easy to learn to use, don't explode and are the easiest way to put up food that lasts for years and years. I understand your fear, though, we've all heard the "stories" of canners blowing holes in the kitchen ceiling. Pressure canners have a safety valve that lets off steam, should the pressure get too high…usually from someone going out of the house or into another room and NOT watching what's going on in the kitchen. You must monitor the canner all the time while you are using it. But you can be washing dishes, making dinner or whatever…as long as you are there to keep watch over it while you are canning. Do you have a friend or relative that could come over and can up a pint or two of food with you, showing you the ropes, so to speak. You could even can store bought produce, such as green beans…just to get the hang of it. Once you find out how easy it is, you'll quickly gain confidence and be canning up a storm. And I'll be right here to help you out. The best of luck! Go girl! — Jackie
Canning pepperoni and bologna
How do you can pepperoni and bologna? I was searching your archives for hours but haven't found it. I have been a fan of yours for years and love the blog. As you said we never stop canning. There is something to can almost everyday. Even now that I'm in a mobility chair I have still found a way to keep on canning (with the hubby's help) We work harder now that we have retired than we did when we were both working and raising 5 boys ! I love my Backwoods Home Magazine and look through them over and over!
Judith Mimranek
Live Oak, Florida
Pepperoni is real easy to can. I can the slices by just putting them in the half pint jars, with no liquid, and process the jars at 10 pounds pressure for 75 minutes. The bologna I can is homemade. I can that in pint jars. But because it is so dense a product, I put the open, bologna filled jars into a roasting pan with water up to the shoulders and heat it on the stove until a meat thermometer in the center of a piece of bologna, in a center jar, reaches 170 degrees. Then clean off jar rims and put on hot, previously simmered lids and process for 75 minutes at 10 pounds pressure in a pressure canner. — Jackie
Dehydrated butter
If anyone can answer this question, you can. Do you know of any recipes for making your own dehydrated butter or margarine? If not, can you recommend a good source? I'd also be interested in a good source of dehydrated eggs, since you don't recommend making them yourself.
Jack Kavanaugh
Groton, Connecticut
Sorry Jack, I don't. I buy mine from Emergency Essentials (BePrepared.com). They also have dehydrated eggs that are very good. I'm sure that other companies that carry emergency preparedness supplies would have these products too. — Jackie
Cold packing potatoes
Can I "cold pack" potatoes? The book that came with my pressure canner (1982) gives directions for it, but my Ball Blue book only gives directions for hot packing them. I'd like to have them stay more firm, even though I'm canning in quart jars.
Jamie Shelton
Monterey, Tennessee
It's best to boil your potatoes before you pack them. With cubed potatoes, you can boil them for only 2 minutes; just enough to heat them thoroughly. For whole small potatoes or large pieces, you need to heat them more thoroughly, so that the centers get hot enough before they're packed. In the past, people packed them cold and poured boiling water into the jar. This usually worked fine for the diced potatoes, but folks ran into trouble with the larger ones spoiling during storage. It's best to boil 'em. I "cheat" and can a lot of new potatoes with the skin on. The skin helps hold the potatoes together, keeping them from getting too soft. I do boil these, too. — Jackie
Storing Hopi Pale Grey squash
This year I planted seeds for Hopi Pale Grey Squash (I got them from Baker Creek) and I now have a dozen squash left, after we've eaten the two earliest to mature. I remember you said you kept yours on the floor in your kitchen. I can't keep these in the kitchen, so I have to choose another spot. What is the best for them? Warm or cool, definitely dry air, or okay if a there is slightly moist air, or? The texture and taste of this squash is really good.
Joan Farmer
Pomona, California
I'm happy you like Hopi Pale Greys! I think they're the best all around squash, not to mention how long they store…up to 2 years!!! They will keep just about anywhere. Now I have them in my cool pantry, in plastic bins. But I've stored them in the kitchen, under the bed and in the clothes closet; they are not fussy! Enjoy. And be sure to save seeds! — Jackie
Making sauerkraut
I really enjoy your site here and your articles in the magazine. My question is about sauerkraut. I haven't made it in a long time until now and I'm following the recipe in the Ball blue book. It states to ferment until the bubbling stops which should take 3-6 weeks and then process in a boiling water bath. I'm past week 2. Does 6 weeks seem like a long time for a vegetable to sit out at room temp? It smells like its getting closer to sauerkraut but still kind of "ripe".There's bubbles in the bowl when I stir it so I assume its still fermenting. Any hints?
Katherine Jordahl
Fergus Falls, Minnesota
Keeping sauerkraut in a crock for 6 weeks isn't a problem, as it is fermented. As long as it is completely covered with brine and a weight to hold it submerged, it will stay fine. Do be sure you remove the scum daily, as if you don't, it can taint the taste of the kraut. — Jackie
Best pressure canner
I'm wanting to get a new pressure canner. I used to have a Mirro and it was awful. I'd rather not pay tons of bucks if possible. Is a Presto better than Mirro? I guess the best I've seen is the All American–which I'd love–but just wish I could find it for less. What do you think of presto? Have you used one?
Mary Thompson
Charlotte, North Carolina
I have a newer Presto and have used a Mirro, as well, with good results. I'm sure that, like everything else, once in awhile, you get a lemon…in most any brand. My huge canner is like an All American, but was originally made for a hospital autoclave to sterilize dressings and instruments. Mine was bought new, in the box at a State Hospital auction for $50, and I've used it every year for over 30 years now! As I've often said, I prefer the dial gauge to a weighted gauge, in a canner, but really don't have a "favorite" brand. I also prefer a gasket-less closure to the top, as it's one less thing that you will need to replace in the future. — Jackie
Preserving Jerusalem Artichokes
Thanks Jackie for being such great inspiration to your readers! I have greatly expanded my food preservation efforts because of your encouragement. It's always great to start the day with one of your new blog entries. I'm hoping you can answer a question about Jerusalem Artichokes. I planted them for the first time this year, and the harvest is huge! We enjoy the flavor and would like to do so this winter if we can save them. Can you suggest the best method for preserving them? The ones already dug are getting soft after just one week, so I'm assuming they won't keep like potatoes.
Wendy Hause
Gregory, Michigan
Thanks for the kind words, Wendy. Jerusalem Artichokes don't keep long after they are dug. But you can harvest them all winter long by stacking straw bales over your row or bed, then pulling them up to access the area to dig them. The straw keeps them from freezing in the ground and the chokes stay nice and crisp all winter long. Seeing you have already harvested yours, you can put some up as pickles. I'll bet you never heard of that, right? Well they're not too common, but are good. Here's a recipe:
8 quarts Jerusalem artichokes
vinegar to cover them
2 cups salt
4 Tbsp. turmeric
1 gallon vinegar
2 Tbsp. turmeric
1 box mixed pickling spices, tied in a spice bag
6 cups sugar
dried red peppers, if desired
sliced onions.
Wash and cut artichokes. Pack in a large crock or enamel pot. Cover with vinegar. Add 2 cups salt and 4 Tbsp. turmeric. Soak for 24 hours.
The next day, make spiced vinegar by combining in a large saucepan, 1 gallon vinegar, 6 cups sugar, 2 Tbsp. turmeric and pickling spices in a spice bag bring mixture to a boil. Meanwhile, drain artichokes. Pack in pint jars, add sliced onions and a red pepper, if desired. Cover with boiling spiced vinegar to within 1/4 inch of the top of the jar. Process the jars for 10 minutes in a boiling water bath. — Jackie
Canning apple cider
I have been given a quantity of apple cider, and since I'm only one person, I'd like to save the bounty. Is it easy to can? Can I use a hot water bath, or does it have to be pressure-canned? Thank you for your wealth of knowledge and wonderful, positive attitude!
Susan Womersley
Petersburgh, New York
YES! You can certainly can your apple cider. Congratulations! And it's easy, too. Just heat your cider in a large kettle to 190 degrees. Don't boil. Just keep it at that temperature for 5 minutes. Then pour it into hot jars, leaving 1/4 inch head room. Process for 10 minutes in a boiling water bath. Enjoy! — Jackie
Using citric acid
Do you recommend using citric acid to increase acidity when canning low-acid foods? I have used it when canning roasted red peppers (with roasted garlic) in half-pint jelly jars. I use a pressure canner as well, but was wondering if processing times are different, and if you actually recommend it.
Also — do you still offer the Hopi Pale Grey seeds? You've piqued my curiosity on it!
Howard Tuckey
Lisle, New York
No, there is no need to add citric acid to low acid foods canned in a pressure canner. Just follow your canning manual directions, which don't call for it, either. Citric acid is added to tomatoes and tomato products that are water bath canned to ensure that the tomatoes are high enough in acid to be safely processed in a water bath canner. Other options are vinegar and lemon juice. Or just use old fashioned, high acid tomatoes!
I've got plenty of Hopi Pale Grey seeds. If you'd like some, let me know. No cost, but keep them pure and share your seeds with someone else. — Jackie
Making applesauce
You have mentioned cooking down your applesauce in the oven. That sounds like a real time saver to me. Would you, please, share the recipe that you use; what spices and flavorings you put in ?
Borah McEnulty
Priest River, Idaho
I just put my puree or chopped apples in my large roasting pan, without sugar or spices, then cook at a low temperature until they are reduced and as thick as I want. THEN I add cinnamon and a dash of cloves, along with sugar to taste. Cook it just a little longer, stirring it well, then it's ready for the hot jars and water bath canner. — Jackie