The goat barn is painted (before winter!) and beauty is expecting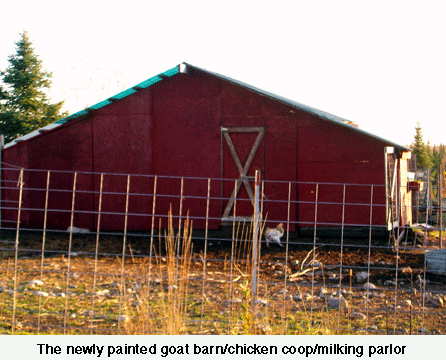 I finally finished painting the goat barn/chicken coop. And boy does it look nice! You've got to remember what it used to look like, with donkey-eaten holes in the old OSB and raggedy blue plastic tarp hanging from the ridge, where it used to cover the gable end. And now the old chicken coop is empty, because I built the new one, I have a remodeling project. I'm turning it into a milking parlor! How wonderful. Soon I won't have to milk with sleet and blizzards blowing down my neck! Wow.
Oh, and I got my first egg from the new chickens yesterday. How do I know it was the new chickens? Because it was brown. The only brown egg layers I had before were two banty hens, that laid little banty eggs. This one was extra large. My other "old" hens are all aracaunas, and they lay green, blue and pink eggs. So it was definitely a new girl. And today I got another. My new nest box is working!
I forgot to tell you that Beauty, our jenny donkey, is expecting a foal. You remember when we had Moose castrated this spring? I guess it was a little too late. OOps. I didn't even know IT happened. So, of course, I don't have a foaling date. But Beauty is getting a round, round belly. On to plan B, making Ladyhawk's old stall in the goat barn a foaling stall in case Beauty foals during the winter. I sure hope not. We are real excited to have a baby coming, though.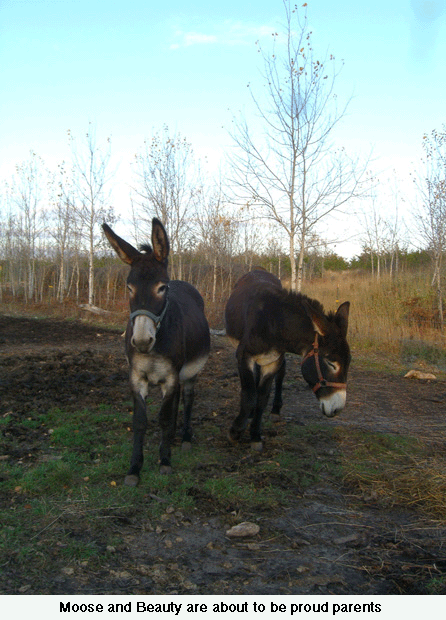 Readers' Questions:
Canning vegetable oil
I would like to purchase a 35lb container of vegetable oil from Sam's Club, and am wondering if I can divide it up into quart jars and can it. Do you know and if so how would I do it? Pressure canner?
Jane Simonson
Idaho Falls, Idaho
This is one thing I haven't canned, nor can I find any information on it. Sorry. I've kept vegetable oil a long time in my pantry, but once opened, it will sooner or later, go rancid. It doesn't "spoil," but you can't stand the taste/smell. — Jackie
Trading seeds for sauce
We would like to have some of your Hopi Pale Grey Seeds to try next summer in our garden. We have access to some free #10 dented cans of tomato products, mainly sauce. Would you be interested in some?
Pam Foster
Richfield, Minnesota
I'll mail your seeds tomorrow, Pam. Yes. I certainly would be interested in some cans of tomato products! I'll e-mail you. — Jackie
Homesteading in Alaska
I know from your articles that you did not recommend Alaska as a future homestead, but I don't remember why. Could you enlighten me? We are desperate to get out of California and would appreciate any info you could pass along.
Kay Williams
Placerville, California
Jackie,
Kay should check out our properties here in Northern Nevada before going out into the frontier of Alaska. There are tons of remote properties, former ranches, etc. up here and they are a lot easier to get to than Alaska. AND the winters are no where as harsh. We found 32 acres and are anxiously awaiting the day we can build our homestead. — P
Blemished tomatoes
We had to bring in all our tomatoes before the first hard frost, and they were all still green. They've been spread out on blankets in the garage and have ripened nicely. My question is about canning them. My book says don't use any with blemishes, but they mostly all have that. the skin isn't the greatest looking. I was hoping to just use my Roma mill and make them into quarts of sauce base, but should I be concerned that they aren't pristine?
Many have gone bad, and I've tossed them out. Really, I just want to store what I can, in whatever form I can, so the harvest isn't wasted.
The types are mainly roma, some "big boy" that are small. I don't think any are hybrids, but they all got mixed up. I have probably 70 lbs total, including still green ones.
Kevin Long
Elizabeth, Colorado
Those late tomatoes do often have "blemishes." I just cut out the bad spots, PROVIDED that the "bad" spots haven't rotted, which spreads into the interior of the tomato. When you don't know the variety you are canning, be sure to add the vinegar or lemon juice advised in the canning manuals so that the acid level is sufficient for water bath processing. — Jackie
Are tough chickens worth butchering?
My question is about butchering "jungle fowl" chickens. My neighbor had ordered a bunch of exotic chickens which interbred. She moved and gave me 20 of them. They are so tough that my neighbor who taught me how to butcher them gave up. They have quit laying and I don't want to winter them. They are small and the meat is tough. Is it worth the trouble or should I feed the coyotes?
Michael Fink
Cougar, Washington
Sure they're worth it! I'd skin them when butchering, then cool the carcasses overnight. Quarter the birds, then simmer them in a big stockpot until the meat is falling off the bone. These tough guys, I usually can up with the broth. The canning helps tenderize the meat; I've never had tough chicken that way. (Sorry coyotes!) — Jackie