You don't need harvest season for lots of canning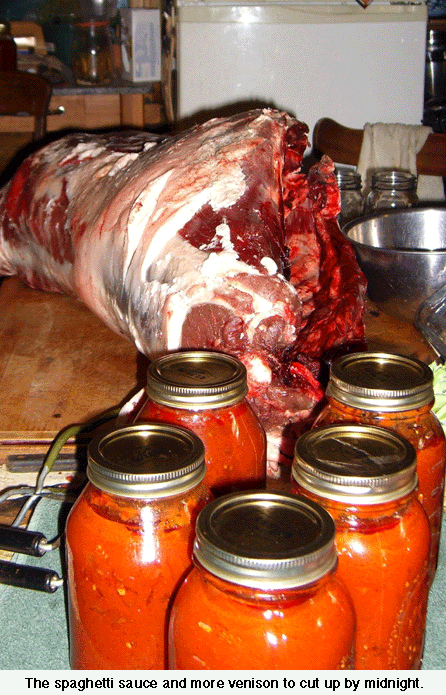 I've been hugely busy lately. But it's a good busy. A great new friend, Pam, from the Twin Cities area, recently gifted me with a whole bunch of slightly dented #10 cans from a local warehouse. They can't sell them because they're dented and they end up in the dumpster! What a sin. So she came up to visit with a friend, and they brought the cans. There were a lot of tomato products, sliced mushrooms and sliced ripe olives. So with the venison we harvested, I was soon busily canning the most terrific spaghetti sauce! It has tomato paste, ground tomatoes, tomato sauce, ripe black olives, mushrooms, garlic and, of course, ground venison. While that was cooking and canning up, I also canned the rest of the can of ripe olives I'd opened. Boy did I ever have to search for processing times! As olives are a LOW acid fruit, they can not be canned in a water bath canner. Finally, I found a site from the University of California on processing and home canning olives. They are processed at 11 pounds for 60 minutes. Whew! I was so glad. But because my spaghetti sauce had meat in it, that got processed for 90 minutes (quarts) and the olives held their shape/texture just fine.
Besides the spaghetti sauce, etc. I also was busy cutting up venison and canning that, too. Because I have to take care of Mom I don't know if I'll get to hunt yet or not. David's been hunting, but not doing so well this year. We are allowed FIVE deer this year, as they are reproducing too rapidly and lots of folks have wrecked cars because of hitting them. Today he passed by on a spring fawn. It takes just as much work to process a small deer as a large one, and we're hoping for another large one. Two will be real good; three would be great! There's all those meatball recipes I'd like to can up, too…Ahhh, life in the big woods.
Readers' Questions:
Storing vacuum sealed foods
I have one of those vacuum seal machines and wanted to know if I could use it for long term storage of food items like brown rice, beans, dog food, etc? If I can, how long can I store different food items in a vacuum sealed bag? Is there a reference that shows the length of time for the various food items?
Nancy Crowley
Los Lunas, New Mexico
There isn't any reference that I know of. Your dry foods, such as rice, beans, popcorn, etc. will store nearly indefinitely in your vacuum bags. They also do, placed in any airtight, dry, insect proof container. Dog food is a processed food with fat added. The preservatives will protect it from going stale, but I'm not sure how long it will last in vacuum sealed bags; you'll just have to experiment and see. — Jackie
Buying a canner
You answered my question about canning chili in the magazine. Now we want to buy a canner. many years ago you wrote an article on the pros and cons, etc., when picking one out. I looked and could not find it, do you know what issue it was? I have a Lehman's catalog with one that sounds great. It has no gasket, sides one quarter inch thick, cast aluminum, over pressure plug as a backup. Also should we only buy jars instead of using spaghetti or honey jars that say Ball etc.? should I just look canners up on line or are there certain catalogs that sell them? Any new things we should look for?
Jane Lippincott
Wynnewood, Pennsylvania
Yes, the canners that Lehman's have are very good; they're like my old, old huge canner, and that's lasted me for more than 30 years, with extremely heavy use. The only repair was a replaced dial gauge that was broken when we moved. Not bad! I prefer a dial gauge canner because you can see right now what's going on as far as pressure goes, and correct the heat under the canner. And, as I've said, I like the gasket-less canners for the simple reason that it's one less thing to wear out and you need to buy later on down the road. All modern canners that I'm familiar with are fine for home canning; I'd not be against any one of them. Be sure you pick up a good canning manual and read it every time you can a certain food. I still do, just to be certain. I've used any jar that a modern, two piece lid will screw down on tightly. I've used pasta sauce jars, mayonnaise jars, salsa jars and even Postum jars. I know that a lot of people, including experts say that you shouldn't use them, but I've done it all my life and have not had any more jars break that were "alternative" jars than Ball or Kerr. Jars usually break because of a small crack you didn't see before filling the jar, placing hot food in cold jars or vice versa, having jars rest on the bottom of the canner instead of on a rack or folded kitchen towel (boiling water bath canner) or having a cold breeze hit hot jars, right out of the canner. Lots of luck with your home canning! If I can help you along the way, just ask. — Jackie
Pumpkin butter
I have a question regarding the pumpkin butter. Due to our heat, I have cooked down four Halloween pumpkins before they went bad and want to make your pumpkin butter. On hand I only have some brown sugar ( not a lot) white sugar and a jar of sorghum syrup. Can I substitute? If so how much to what? Also I have bottled lemon juice not lemons. Is this possible to do now or should I just freeze it all till next month when I get my next check?
Diana Curry
Spring Hill, Florida
If you have some molasses, you can "make" your own brown sugar by adding a few drops to the needed substitute amount of white sugar. Otherwise, yes, you can freeze your puree 'till next month and it should be fine. — Jackie
Seeds for Hopi Pale Gray squash
I had no luck trying to grow the pale gray Hopi squash last year. I purchased the seeds from a vendor you suggested. While I had poor luck with all my crops, and the seeds may have been fine, I really was not happy with the seeds. You have promised at least one reader some seeds. Could you possibly sell me some known good seeds for next years garden. I will be glad to pay what ever you think is fair.
Dan Jones
Chickamauga, Georgia
Your seeds are in the mail tomorrow, Dan. I'm sorry you didn't have good luck last year. Some years are just like that: I couldn't get rutabagas to grow at all, after 3 plantings with 3 different packages of seed from three different sources! Aliens from outer space, I think! I hope you have great growing this year. Remember to isolate this squash by 1 mile from other C. maxima squash so you can keep and share pure seed with others. No charge. — Jackie
Canning pasta
I was able to buy many packages of pasta for pennies using double and triple coupons combined with sale at our grocery store. I have put these kinds of dry goods into my freezer for fresh keeping but my freezer is packed. I want to be able to put other things in the freezer so I would like to know if it is possible to can up the pasta, elbow mac and spaghetti using the same methods as you gave for nuts. Could I water bath or pressure can the pasta to preserve the shelf life and clear the freezer?
Can't wait for the book you are going to print on canning. You could presell that thing and make a small fortune you know. EVERYONE would pre-order at least one copy if not more. We all await it with great anticipation.
Gwen Koskinen
Celina, Texas
You don't need to can up your pasta. If you store it in an airtight container that is insect, rodent, and dampness proof, it will be fine for years and years, just the way it is. I've got some of mine in one of my retired popcorn tins and more in the original bags, in a new garbage can. (I've had some for 10 years and it tastes just like I bought it yesterday.)
I'm hoping everyone likes the book I'm working on. I'm trying so hard to make it very user-friendly so that it's easy to find the food you want to can and exact instructions are with each food; no hopping here and there. After I get Mom to bed at night, I hit the computer for several hours. It's coming. — Jackie
Thanks for inspiration
No questions this time! Just thanks for continuing to be so inspiring. We put in a cash offer on a 1/2 built home in South Carolina today, it's on some land–not alot but still close enough to my husband's job he can drive. I will have to quit my job but there will be PLENTY to do on the house should our offer be accepted! Very exciting!
Mary Thompson
Charlotte, North Carolina
You're right. It IS exciting news. You're on your way to a new adventure. We're cheering for you! — Jackie
Hawaiian meatballs
I have canned for years and have really enjoyed it, since you came on the horizon, it has become fun and a new challenge everyday. Thank you. Can I can the following recipe for Hawaiian Meatballs?
1 4 ounce can pineapple tidbits
1 pound hamburger
1 egg
2 slices fresh bread-crumbled
1 tablespoon minced onion
1 teaspoon salt
1/8 teaspoon cloves
2 tablespoons reserved pineapple juice
2/3 cup pineapple juice
1 cup ketchup
2/3 cup brown sugar
Mix hamburger, egg, bread crumbs, onions, salt, cloves, and 2 Tbsp. pineapple juice. Make into meatballs formed around a pineapple tidbit. Bake meatballs in oven, until done. Make sauce out of pineapple juice, ketchup and brown sugar. Pour over meatballs and simmer.
This is a holiday favorite of ours and having it on the self would make it a lot easier, in rushed times.
Linda Fisher
Klamath, California
There's no reason you couldn't can your favorite meatball recipe. Why don't you can up a batch and see how you like them? I'd do a smaller batch first to make sure you like the way they turn out. You will, of course, process pints of your meatball recipe for 75 minutes at 10 pounds pressure and quarts for 90 minutes, taking normal altitude adjustments necessary (see your canning manual for directions if you live over 1,000 feet). Let us know how they turned out! — Jackie