We are truly thankful this year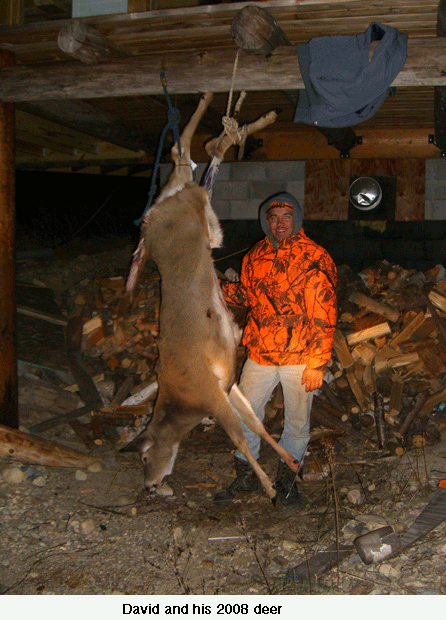 We all have our health, and with my previous bout with a scary cancer and David's wrestle with flesh eating bacteria 18 months ago, that's something to be thankful of! Mom is doing well, nearly 93. Our house is coming along great. The garden was productive and I've canned a whole lot of food from it. My sons, Bill and David each shot a nice deer for us, so I've been canning venison and venison products like spaghetti sauce, taco meat, meatballs, etc. for two weeks. I love the hunt, hate the killing, but really, really appreciate all that meat; free of chemicals, free of preservatives, free of unclean handling in commercial meat packing plants.
But best of all, I'm truly thankful and grateful to have a wonderful man in my life to share all of this with. It will only be a little after Christmas when Will flies to Minnesota to join us permanently.
I feel truly blessed.
Readers' Questions:
Canning clam chowder and smoking venison
Is it possible to pressure can clam chowder? Also, do you have a recipe to smoke venison back strap?
Mari Ashworth
Elk, Washington
You can home can the clams in a salted, seasoned brine, but because clam chowder has milk in it, I just don't like the way it cans up. I prefer to just can the clams (if you're LUCKY enough to live where you can get them) alone, then just put the chowder together as you want to fix it. It only takes a few minutes with the canned clams.
You can venison backstrap the same way you do other meats. First you use a dry rub on the cleaned backstrap. You can use your own mixture. The USDA recommends the following: 1 lb pickling salt, 1/4 lb brown sugar and 1/2 oz saltpeter. You can also buy many different dry cure rubs at sports shops that stock wild game cooking supplies. You rub this mixture into the meat well. Place the meat in a clean, dry container, up on a rack so that the meat doesn't stand in the brine that is drawn from the meat. Keep the meat refrigerated during curing. Re-rub in 6 days. It will take a backstrap about 27 days to fully absorb the cure. Then it is ready for smoking. You will want a "sweet," cool smoke, using fruit wood, mesquite, alder, maple, etc. NEVER use pine or fir or your meat will taste like turpentine! The ideal smoking temperature is between 80 and 90 degrees. You will probably smoke your backstrap about 48 hours. This can be all at once, or most conveniently, 12 hours smoking, then a rest, then another, etc., until finished. Curing and smoking meat is an art, and it does take practice to get it perfect. So be patient and keep practicing. — Jackie
Living without electricity
I live without running water and without power except for an extension cord. We have an outhouse and are digging the new hole now, do you live without power of any type? I have my wood cook stove, and a wood heater, and I am now hoping to get the propane stove going to cook in summer as I near died from heat this year. I am a single mom with 2 older kids at home, we hunt, garden, and do all. Jackie, I know we will survive through the times ahead, but how do I go without power completely? How do you?
Sheryl Meissner
Bluffton, Alberta, Canada
We are over a mile from the nearest power line. We get our power right now from a generator that we run about every other night for a few hours so I can boot up the computer. We have four golf cart deep cycle batteries with a charge controller and 1,500 watt inverter. Our system is pretty simple. When the generator runs, it automatically charges the batteries. When it is off, I switch to the inverter, so we have lights (CFLs). The batteries are also charged when I switch on the generator to pump water for the animals. At the same time, water is pumped into our two 300 gallon storage tanks in the basement. Our house water is provided by a little, cheap, 12 volt pump, run off a plain old trolling motor (deep cycle), which is charged by a small battery charger when the generator is running. Thus, we have water pressure in the house so we can even take a shower as well as a bath, wash clothes and other things that having water pressure is darned nice. This will be helped in the future by adding solar panels and a wind generator, as funds allow. All this did not happen at once. When I get a few dollars ahead, I buy something that will make our lives better; the golf cart batteries, an inverter, the extra water storage tank, etc. Now we are developing a spring down below the house so we will have water without running the generator, if necessary. We have lived without any power, and it's definitely possible. Didn't our ancestors? What we did was use lanterns sparingly and go to bed very early in the winter, so winter became a time of rest. As the days lengthened, we got about much more. We found plenty of entertainment for those long winter days that didn't require electricity; reading, working puzzles as a family, crafts, making building plans, baking, etc. I really enjoyed that time and don't fear the possibility of going without power in the future. Right now, our biggest needs for power are my work (computer), writing, and drawing water from our well. At our very remote homestead in Montana, we had a good spring which gravity fed to the house. We had water inside from a frost free hydrant, but were too broke to go further and install a hot water heater, etc. And I did my writing on a plain old manual typewriter, which I could do again, if necessary. Living without electricity can be challenging when you're used to having it, but it's definitely do-able. Just look at the Amish. — Jackie