April fool on us; we got a foot of snow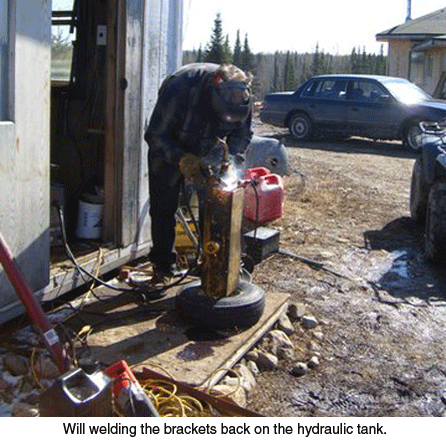 Just two days ago, we were putting our bulldozer back together. Will found a few other things that needed fixing, and was doing that before the radiator went back on. The hydraulic tank had two broken mounts and was dangling by the hoses and there were four bolts out of the belly pan, which was what made the fan go through the radiator in the first place; the body flexed too much on uneven ground. So he was welding away in sunny fortyish weather. But that weather was not to last.
Yesterday it started snowing. And snowing. And snowing. We had brought our two donkeys, Beauty (who is very pregnant) and her partner, Moose, up to the barn because we knew the storm was coming and didn't want her foaling in the snow. Here, she has a big stall and no big horses to pester her and possibly hurt the baby.
This morning, we woke up to a foot of snow…and it snowed all day, too. Luckily, it was 35 degrees and the snow packed down so tonight, we only have about six inches. It won't last, but wow what an April Fools joke on us!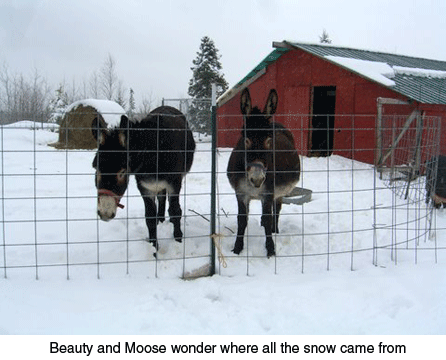 Readers' Questions:
Saving seeds
This will be my 3rd year planting a nice big garden (and looking for more odd spots to add to it). The 1st year I bought seedlings and cheap Wal-Mart 10 cent seed packs. The second year I grew my own seedlings with the majority of my seeds coming from Wal-Mart, again the 10 cent packs (now up to 20 cents this year). I have ordered the seed catalogs you recommended and have ordered the essentials, heirloom, of course, and look forward to ordering more as funds allow. My question is this: I would love to save my own seeds and want to keep them pure, can I plant my heirloom round tomatoes alongside hybrid paste and cherry and still have a pure round heirloom seed to save? And can this be applied to other veggies as well? I would like to plant a variety of seed and don't have the acres or miles required to keep things pure. So I was wondering if I only planted one heirloom, of each variety, each season, alongside their hybrid versions will they remain pure? Hope I asked that right.
Dawn Norcross
Orion, Illinois
Some plants, like tomatoes and beans pretty much self-pollinate. That is, they don't "visit their neighbors" too much, via wind or insects. I still don't plant them right next to each other when I want to save seeds. You are pretty safe if you plant tomatoes several feet away from another variety. It doesn't matter if they are hybrid or not, they can cross. Fussier crops are corn, peppers, squash, and melons. To save seeds from these, it's best to only grow one variety each year. With squash it's easier, as there are four main species of squash, Cucurbita maxima (like Hopi Pale Grey, hubbard, etc.), C. pepo (many pumpkins and summer squash), C. argyrosperma (cushaws) and moschata (sweet potato squash, some pumpkins). They won't usually cross so I can grow five different squash, saving the seeds. Corn is more difficult; it's one variety if you want to save seeds — or get into hand pollination and bagging the ears to prevent cross pollination. Same with peppers and melons (although watermelon won't cross with muskmelon — different species). It sounds complicated, but it's really not. Go to the library and pick up a book on seed saving. You'll have fun! — Jackie
Canning crab
I don't know if you are familiar with the Maryland blue crab, a heavenly sea creature if there was one, but I was curious if the meat could be canned. I've canned the broth from boiling the shells, but was unsure about the meat. Any suggestions?
Amanda Kemp
Felton, Delaware
Yes, you can home can crab. Add 1/4 cup lemon juice and 2 Tbsp. salt to a gallon of boiling water. Keep hot. Remove the shells and rinse the meat with several changes of fresh water. Boil 20 minutes in the hot brine. Drain, remove the meat from body and claws. Rinse in cool brine made of 2 Tbsp. salt, 2 cups lemon juice or distilled vinegar to 1 gallon of cool water. Gently squeeze the meat to remove excess liquid. Pack crab meat into hot half pint or pint jars, leaving 1 inch of headspace. Add 1/2 tsp. citric acid to each half pint or 1 tsp. to each pint. Cover with boiling water, leaving 1 inch of headspace. Remove air bubbles. Wipe jar rim, place hot, previously simmered lid on jar and screw ring down firmly tight. Process half pints and pints for 80 minutes at 10 pounds pressure (unless you live at an altitude above 1,000 feet and must adjust your pressure to suit your altitude; consult your canning manual for directions). — Jackie
Making cheese from goat milk
Do you make cheese with your extra goat's milk? If so, what kind? We are in "retirement" and need something to do, so we are putting together a Grade A goat dairy and looking at starting with soft cheeses then building up to the aged ones. We love the chevre and I make cheesecakes with it – YUM. Just was wondering if you do anything with cheese.
Margie Buchwalter
Palmer, Alaska
Yes, I do make cheeses from my goat milk. I make many kinds; mozzarella, cheddar, cottage cheese, asiago, chevre, feta, and others when I have time. Come to think of it, time is my biggest problem…I never have enough! — Jackie
Heating addition
Thank you for answering my insulation question. My next question regards the heating of the addition. It will be a master bedroom and a bedroom for our handicap daughter with a handicap accessible bathroom. I am not bringing the plumbing out into the addition for it is on pillars and I am concerned about frozen pipes so it will be made into a handicap accessible bathroom. I would like your thought about heating. I don't want to bring the duct work out into the addition (30′ X 24′) because of the difficulty of tying into the existing heating duct work. What would you suggest? I love your tube insulation piece and your fire at the end but my husband said that it would be too dirty for the bedroom. Our coal and wood burner is in the basement and it is a mess down their with the ashes and all. I was thinking of venting gas logs (gas logs that are non vented are not recommended for bedrooms but are allowed in our state in your home) I was also considering the outdoor furnace but have yet to find one that doesn't heat water also. Help, I am starting to consider my options early, I know, but it will be winter again before you know it. I also wish there was some way that I could make the addition solar. I was thinking it would be possible because there would be nothing with a large load at all except maybe a TV or lap top. What do you think?
Michelle Chapin
Fresno, Ohio
To keep our plumbing in my new laundry room from freezing, we ran them up the corner of our existing bathroom, behind trim, into the new addition, on the ceiling, where the pipe ran across the ceiling, into a closet, across inside the closet, hidden from view, into the laundry room. No plumbing under the floor or on an outside wall to prevent freezing on -40 nights! To hide the water line across the ceiling, Will cleverly hollowed out a faux log ceiling beam and it fit over the line; you'd never guess! You might consider something like that.
For heat, you can get outdoor wood boilers that do not heat your hot water…but it IS cheap hot water for the house! A bonus, so to speak. My son, Bill, has one that he has had for four years now, and he is just hooking it to the hot water for the house, as he didn't have time, before. Or you can use your idea of vented gas logs in a "fireplace" for heat. Unvented in a bedroom is NOT a good idea. The gas fireplace is pretty and provides heat. We have a regular vented propane heater in Mom's bedroom, which also heats the rest of the house, if needed. It isn't pretty, but it does do the job.
As for the solar, as always, it's a good idea, but solar does get costly. However, right now there are tax breaks for solar installation that might help. Check out some of Jeff Yago's past articles for more decision making planning. — Jackie
List of canning times
I have read all the issues we've gotten and I haven't seen this in any of them. I've seen some of them covered but not all of them. I need a complete list of pressure canning times and pounds of pressure for all vegetables, beans and meats, for quarts and pints/half pints. I want to start canning my own recipes–soups, stews, etc. and some of the vegetables and beans in your columns have not been covered. I really trust your knowledge, so I would like a list, so I know which vegetable needs the longest time, in my recipes.
Brenda McClure
Rockwood, Tennessee
You can find this information in my new book, to be released soon, or if you need it NOW, you can pick up a Ball Blue Book that has nearly all this information, at most local stores that carry canning supplies. This list would be so long and take so much time, I can't do it on the blog; sorry. — Jackie
Storing food in paint buckets
Would the plastic 5-gallon paint buckets that you find at Home Depot (the orange ones) with lids be okay to store food in?
Lynne White
Lacombe, Louisiana
I would assume so, and wouldn't be afraid to use them. However I get my buckets from Super One grocery stores, at the bakery, for $2 each for bucket and lid, and I know they are food safe for sure. — Jackie
Apple trees and acidifying soil
We're putting in some fruit trees this year. I was wondering, if you could only grow one apple variety for both baking (pies, crisps) and sauce, which variety would you choose. I was considering Granny Smith but wondered if you liked another better.
Also, do you know of any natural ways to improve (acidify) the soil for blueberry plants?
Angela Billings
Stronghurst, Illinois
Granny Smith is a great choice. But I'm so jealous of you being in a zone where you can have any apple you want! I love Fuji, Pink Lady, Wolf River, and Fireside, too. Decisions, decisions!
You can acidify your soil for your blueberries by adding peat to the soil during planting and as a mulch later on, as the plants grow. — Jackie
Growing peach trees from pits
How can I start peach trees from pits. I have a tree that has the best free stone fruit and would love to have more.
Robert Hale
Germantown, Ohio
Yes, you can start peaches from pits, but as most modern peaches are grafted, you may or may not get a tree exactly like yours. To plant your pits, either plant them in the garden in the fall, then overwinter them in the garden or put them in a damp paper towel, enclosed in a zip-lock bag, in the fridge from December till spring, as they must receive cold treatment in order to germinate. Have fun! — Jackie
Canning French onion soup
Can French onion soup be canned? I have a 50 pound sack of onions, that was "A GOOD BUY." I am drying some and then what else can you with them. Thank you for your Inspiration.
Linda Fisher
Klamath, California
Yes, you can home can French onion soup. Depending on your recipe, you'll be processing the onion part for 25 minutes for pints or 30 minutes for quarts at 10 pounds pressure. Most French onion recipes have a beef broth base. Beef broth is processed for 5 minutes less, so you're okay with the onion times. Don't pack in too many onions to get rid of them; you don't want a dense product for safety's sake.
I'd try to dry a bunch of them. They are so very handy for just about everything. I use the blender and whiz some into flakes, some into chunks and some into powder. And I use the end product nearly every day. What a buy! — Jackie
Goats not eating
I have two nubians a week from kidding. I bought two new bags of wet cob (from the same place I always get it) brought them home and they both refuse to eat it. The little pigs were woofing down a pound and a half a day, two feedings. They don't show any signs of poor health or discomfort. And they are eating their alfalfa grass hay (third cutting really nice stuff) eagerly. I thought maybe it had more molasses than they were used to, so will try dry cob. What do you think about these little buggers?
Dinah Jo Brosius
Battle Ground, Washington
My guess is that there was something about the feed they didn't like. The extra molasses may have done it, or maybe there is another new ingredient they find unappetizing. My goats refused one bag of feed and later on I found a dog had peed on it! Can I blame them? Try the dry cob. If they still won't eat grain, you might have your vet out as there are kidding time metabolic problems that could be occurring. — Jackie
Head start homesteading
We adore your writings and your fortitude! Here's an unusual scenario about which I'd appreciate your sage advice.
Family members have purchased a 40+ acre homestead of fenced field, meadow, and forest. The catch is that they have another four years overseas committed to Uncle Sam. (Fortunately not in the Sandbox.)
Given the timeframe, what should be planted there now to prepare for their arrival in a few years? I want to give their homestead a good head start, but the only things I could think of are the orchards and asparagus.
The homestead is about your latitude and zone. Another twist is that given the 8 hour drive there, I'd like to check on things only once per year. Sounds like "Mission Impossible: Backwoods Edition!"
Brian Heyer
Greenville, Wisconsin
Only tending any garden/orchard once a year is a toughie. New plantings require not only good planting but weed reduction, watering and fertilizing. In most areas, you will also need to fence the plantings against deer, rabbits and other critters. If you are willing to plant, fence and mulch these plantings, maybe you could find a neighbor who would be willing to water for hire for the first summer.
Some of my first-on-the-homestead plantings include cherries, plums, apples, brambles, asparagus, and rhubarb. With good planting, a good soaking at planting, mulching with fertile, well rotted manure or other compost, and fencing from the varmints, all should do well…especially if a neighbor will help out and water periodically, as needed. — Jackie
Water boiling out of jars during canning
We love BHM and especially your articles. Rather than listen to the radio in the car, our first introduction to your articles was my wife reading from your articles as we traveled across the state. It was great! In no time at all we had driven for three hours.
Since then, we have started canning and preserving produce from our small raised bed garden. The raised beds have been very productive and eating our own produce is such a thrill. In the canning process, though, some of our jars have vegetables that are not immersed in the liquid after we remove the jars from the pressure canner. It seems that some of the water in the jars has boiled out in the process. Does this really matter that much? Also, could we be putting too much produce in a jar? Any suggestions would be appreciated. Keep up the good work.
We love the entire magazine and digest each article.
Bob Bundy
Lancaster, South Carolina
I'm tickled that you're growing great raised beds and canning up extra food. It's not a serious problem when water/liquid blows out of the jars; the food is still edible. The reasons can be: too much food, not enough headspace (read directions and don't pack in a "bit" more — I'm sometimes guilty of this one!), varying the pressure up and down during processing, or not letting the gauge return to zero before opening the lid.
Any one or a combination can cause liquid to blow out of the jars. No sweat but your food will look better if you watch these concerns. — Jackie