We have a new bottle calf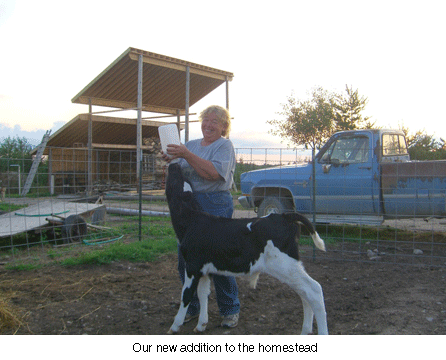 Our little homestead is again increasing. We have wanted to raise a couple of calves, both for beef and as a milk cow. But we haven't had adequate facilities yet. But now, as we have better, divided pastures, another goat barn and more room, we decided that now is the time. As milk replacer is expensive ($49 a 50 pound bag), and grain is also expensive, baby calves are really quite cheap right now. I used to raise many baby calves each year to use on the homestead, as well as to make some money on from sales, many years ago. We paid $55 for our new little guy — and he isn't very "little" — a price I'd have been glad to pay 20 years back!
Luckily, we have two doe goats milking, so I only have to give him a little of the dry milk replacer. So we are going to get another calf or two to raise with him. (I'm hoping for a pretty Jersey or milking shorthorn heifer calf for a future milk cow, too!)
Readers' Questions:
Making sauerkraut
My sauerkraut has blue mold floating on the top of the brine. everything looks good. The kraut is a little soft, but it all seems good. This is the second time I've made it. Does it sound ok? Should I can it or throw it out? Also I'd like a recipe for tomato soup to can.
Nicole Bramm
Narvon, Pennsylvania
If you followed a good recipe and instructions (which have you keeping the cabbage totally submerged in the salt brine by using a plate and weight or plastic bag full of the brine to weight the cabbage down), the mold is just part of the "scum" you need to scoop off daily. If you are unsure if your kraut is good, take a fork and dig out a few shreds. Smell it; it should smell like kraut. Feel it; it should be firm and kind of squeaky. If it feels okay, smells okay, taste a little bit. If it tastes okay, you have good kraut on the way. Keep the scum scooped off daily until it is finished. Here's a tomato soup recipe for canning that I've used from my Amish friends:
14 qts. raw tomato chunks
1 bunch celery, diced
9 onions, diced
3 Tbsp. parsley leaves, chopped
Cook together. When tender, run through a sieve. Set aside 1 quart of the juice. Add 3 Tbsp of dried parsley leaves.
In a small cloth bag, put:
14 bay leaves
21 whole cloves
2 Tbsp. paprika
Put bag into juice and boil for 15 minutes, stirring to prevent scorching. Then mix the following in a large bowl:
4 Tbsp salt
1/2 cup flour
1qt cold tomato juice
14 Tbsp. butter
1/3 cup sugar
Add this mixture to the boiling juice, stirring constantly to slightly thicken. Remove spice bag. Ladle into hot jars, leaving 1/2″ of headspace. Place in a boiling water bath canner and process pints for 40 minutes and quarts for 45 minutes. (If you live at an altitude above 1,000 feet, consult your canning book for directions on adjusting your processing time to suit your altitude if necessary.) You'll notice that this recipe does not contain much flour to thicken it, as does commercial condensed tomato soup. This is because a large amount of flour may cause the soup to not heat thoroughly in the center of the jars, which could possibly allow harmful bacteria to grow. If you wish a thicker soup, you can always add more flour when serving. When opening a jar, add equal parts soup and milk, plus a pinch of baking soda when it is hot. Do not boil when reheating to avoid curdling. — Jackie
Freezing green beans
Is it possible to freeze green beans without blanching them. I was wondering if you could just wash, break and freeze them?
Dena Elliott
Rossville, Georgia
Yes, it is possible. But you'll find sometimes that the taste is affected. The reason to blanch is to halt the enzymes that cause ripening in the vegetables. When the enzymes are left viable, they can cause off flavors in the frozen foods. If it were me, I would blanch. You go to too much work growing the beans, preparing them for freezing and packing them to have a product that is not top notch! — Jackie
Reusing pickle juice
I bought store pickles because we ran out of our canned ones. As I was dumping the juice (vinegar) I wondered about reusing it to can my own pickles. Is it strong enough or would I add more vinegar?
Gail Erman
Palisade, Colorado
No, this isn't a good idea, as you don't know the acidity of a vinegar that has already been used. You can use the juice in salad dressings, meat loaf and to marinate meat and poultry, with a bit of barbecue sauce added; it's quite good, actually. Vinegar isn't that expensive, so use fresh when you make your pickles. — Jackie
Bean recipes
My husband is a diabetic and can't eat much bread. And he also simply refuses to eat beans of any kind unless they are "baked beans." This is making it hard to develop a food storage plan, since beans and wheat seem to be the basis of home storage.
Do you have any recipes where you sort of 'sneak' beans in? You know…beans for people who claim they don't like beans?
Renee Glover
Sandia Park, New Mexico
While beans and wheat do play an important role in most folks' long term storage pantry, you can certainly use other foods, too. My late husband, Bob, was a diabetic, too, and we found that having him eat multigrain bread instead of white bread, kept his blood sugar even. Of course he didn't over-do the bread. We use a lot of dehydrated vegetables and fruit (as well as fresh and canned, of course) to round out our meat supply (also canned and fresh). Instead of a meal heavy on beans, why not make a casserole, using dehydrated vegetables, home canned ones, along with any meat you choose?
In an emergency situation, you'd be surprised at how a person's eagerness at previously unliked foods changes! That dish of refried beans MAY suddenly look awfully appealing! — Jackie
Canning Brunswick stew
I make a lot of Brunswick stew in the fall and winter. I have never canned it. I would really love to, because of freezer space. Is is hard to do? Do you have to put it in a pressure canner after you cook it?
Dianne Daniels
Fletchers Pointe Stem, North Carolina
No. Canning Brunswick stew is very easy. But, yes, you do have to pressure can it, as it contains meat and vegetables. Here's the recipe I use. Your recipe may vary some, but here's the basics:
BRUNSWICK STEW
¼ pound thick sliced bacon
1 chicken
2 cups water
1 cup potatoes, cubed
1 quart tomatoes with juice
2 cups butter beans
2 Tbsp. onion, chopped fine
1 ½ cups okra (optional)
4 tsp. salt
1 Tbsp. sugar
½ lemon, sliced thin
1 tsp. celery seed
½ tsp. ground cloves
1 tsp. pepper
¼ tsp. cayenne pepper
Cut bacon in cubes and fry until crisp and brown. Cut chicken into pieces, put into frying pan with water. Cook slowly until chicken falls from bones; adding more water if necessary to prevent scorching. Remove chicken from bones. Add chopped vegetables and rest of ingredients. Bring to a boil and pack hot into hot jars to within an inch of the top of the jar. Remove any air bubbles. Wipe rim clean and place hot, previously simmered lid on jar and screw down ring firmly tight. Process pints for 75 minutes and quarts for 90 minutes at 10 pounds pressure. — Jackie
Potato bugs
Hi, at our farm, (about 10 miles from your homestead) I'm having a problem with something eating the leaves of my potato plants. The pest is just eating the tender part of the leaf, leaving the veins of the leaf. I would like to keep my garden organic. I miss visiting with you when you would come into my shop.
Larry Barnes
Cook, Minnesota
Hi Larry! Sounds like you have potato bugs. When they are not too thick, you have to look for the fat, striped beetles or their orange egg masses on the undersides of the leaves. If you can find them, squash the eggs and pick the beetles. If they get too numerous, you can dust your potato plants with rotenone dust, which is an organic product. I miss coming in to your shop, too, for the good small engine repairs and enthusiastic conversation. — Jackie
Gray beets
I had the opportunity to can beets last month for the first time. I didn't pickle them I just cut them, add tsp of salt and sugar to each jar and then added the boiling water. Went through the canning process. Stored them in a cool dark area since then. I noticed yesterday in one of the jars, the beets have turned a dark gray color. But the others have kept the dark purple color. Please explain, what I have done wrong for I love beets and would like to try my hands at canning them again.
Deborah Hicks
Hillside, New Jersey
I'm assuming that you canned your beets with a pressure canner, using directions from a canning book. Beets can lose their red coloring. This is usually due to not leaving the root and an inch of stem on the beet when you boil them, in order to peel them. Leaving the root and a portion of the stem on during this initial boiling period prevents the beets from "bleeding," or losing their color during storage. If the seal is fine and you did use an approved canning method (not a boiling water bath — they're vegetables!), the beets will taste fine. To improve the looks, you can add a few drops of food coloring to the pale ones. — Jackie