It may be mid winter, but it's garden planning time here!
You may think I'm nuts, but I'm planning my next gardens right now, at -14 degrees, with a foot of snow on the ground. As it's cool in our greenhouse, I have to start my peppers and petunias in February to have big, sturdy plants to set out in early May. Then a few weeks later, the tomatoes and other plants need to be started. In order to have the best choice of seeds, I have to inventory my own saved seeds, then decide which new varieties I want to choose and most important, WHICH companies offer the best values on the varieties I want. Whew, is that a chore today! Do I get 10 seeds for $2.95 or 25 seeds for $3.49? Oops, one company offers free shipping; the other wants $8.99 for orders of $30. My poor head is swimming! We vowed today to gear even more into open pollinated varieties so we can save even more of our own seeds. Garden seed prices are getting NUTS! Some catalogs are asking $5.99 for a package of 20 tomato seeds. EEEkkkk!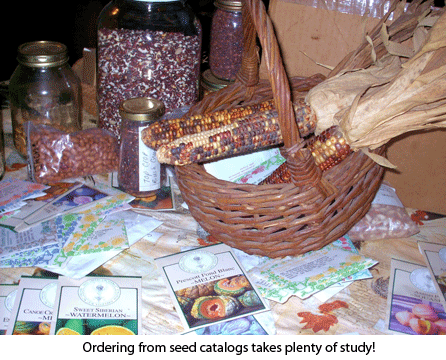 In the past, I've saved seeds from most of my crops, then things got hectic with a new place, Bob dying, my cancer scare, building the house, etc. But our New Year's resolution is to get back on track with seed saving before I have to sell my first-born child to be able to afford a garden! Besides, it's really a lot of fun to do, too. I have even bred back hybrids to open pollinated in a couple of generations. My greatest success was to breed back Early Cascade tomatoes from hybrid. These wonderfully early, tasty smaller tomatoes always make a crop for me, but have been dropped off the face of the earth by big agri-business. I do have a large pack, and will be saving seed again this year. Wish me luck!
Readers' Questions:
Canning ham
I was so thrilled when our local grocery store had bone-in hams on sale, and I started canning one of them this week. But the one ham I canned (shank ham) I was disappointed in the appearance after I took the jars from the pressure cooker. I processed them at 11-12 lbs pressure, according to my altitude. The jars were a dark brown, and didn't look too appetizing. I first baked the ham in the oven with lots of water to make a broth to cover the meat. The turkey that I canned looked better, and not so dark. Am I doing something wrong? Why would it turn so dark brown?
Linda Monfort
Cusick, Washington
The color is probably from the sugars in the smoke cure of the ham. Some of my jars of ham and Canadian bacon get dark brown too, kind of like molasses water…which it sort of is. If the jars are sealed and you followed directions, your ham is fine. When you open a jar, give it a sniff and see if it doesn't smell mouthwatering! — Jackie
Canning baked beans
I am looking for a recipe to can dried pinto beans so they resemble baked beans.
Jody Imme
Webster, Wisconsin
What I do with my pintos is to rinse them, then put them in a large pot and cover them well with water. Bring them to a boil, then remove from heat and let stand overnight. In the morning, drain and cover again with fresh water. I bring this to a boil, then add chopped ham or bacon and a little tomato sauce or juice, if you wish. I also add chopped onion to mine and a little mild chili powder. Pack hot beans into hot jars, leaving 1″ of headspace. Add 1/2 tsp salt to pints and 1 tsp to quarts, if desired. Ladle boiling cooking liquid over beans, leaving 1″ of headspace. Process pints for 75 minutes and quarts for 90 minutes at 10 pounds pressure. If you live at an altitude over 1,000 feet, consult your canning book for directions on increasing your pressure to suit your altitude, if necessary.
This makes a very tasty canned pinto. You can either heat them and use them like you would baked beans or do what I do and mash them and lightly fry them, making refried beans that taste MUCH better than store beans.
If you are looking for a "baked bean" taste, you can use a recipe for canning baked navy beans in your canning book and substitute your pintos; they work just as well. — Jackie
Storing dry goods
I was wondering the best way you would suggest keeping flour, sugar, pasta, and your dry goods for a long time storage.
Teresa
New Freedom, Pennsylvania
I keep my dry goods in their bag/package, packed in new garbage cans or other airtight, insect, and rodent proof containers, in a dark, cool, dry spot in my basement. This has not failed me yet. If you have a problem with pantry moths, I'd suggest freezing your bags for a few days first to kill any possible eggs present. — Jackie
Raising a dairy calf
The picture of your four steer calves in the snow was great. Are they dairy calves? Did you bottle feed them with goat's milk? I can buy bull calves (Holsteins) here from dairies for about $10-15 each; they have even been on colostrum for 24 hours in some cases, according to the dairy manager. I haven't raised one yet, but I'd like to do it in the near future, as young beef steers and heifers are so expensive these days. I have a couple of questions related to this. I've heard from several people that trying to bottle raise calves is really a game of chance, since many of them end up getting scours and dying. Have you done the dairy bull calf approach, and did you use goat milk in their bottles? Are calves on goat milk less likely to get scours and die than calves on formula?
Dallen Timothy
Gilbert, Arizona
The calves in the picture are Holsteins (one is Holstein/? crossed). We bought them at a few days old from a sale barn, which is a bad idea, especially if you don't have lots of experience doctoring calves. Luckily I do, as I used to be a veterinary technician and also bought calves like this every week to raise at home. Our calves were started on both goat milk and milk replacer. Yes, goat milk is better, but we didn't have enough milk so we had to resort to the best milk replacer we could buy; cheap milk replacer makes raising calves very hard!
If you buy calves from a dairy, your chances of success are much greater. We did have a problem with scours in our sale barn calves, but pulled them through with electrolytes, oral boluses, and lots of watchful nursing. (I called myself a "fecal monitor," as I checked their manure several times a day!)
Tips are: read my calf raising article in BHM, buy only one calf at a time and keep him isolated until he is eating grain and hay. Then, if you want, buy another. If you raise several at a time, you really need to keep them in individual stalls and pens so you can very closely monitor their stool and treat them with electrolytes at the very first sign of diarrhea.
We are already planning on our spring batch of baby calves and sure wish we could buy them as cheaply as you can! Our best deal right now is $50 each at a couple of days old. — Jackie
Chickens eating eggs
In a recent issue I read about a person having problems with their chickens eating eggs…. Yes, a sad problem indeed, but did you know that if you blow out an egg (take a needle and poke a small hole into either end, then blow on one end and catch the egg's contents coming out from the other in a dish ), then take a syringe (no needle necessary) and put Tabasco sauce in it and shoot it into the egg… Place the egg back in the nest. This has worked wonders for me. Usually 1 or 2 times of that takes care of the problem. (until the next batch of chickens comes along, then just repeat as necessary…)
Kat B. of Idaho
Yes, I've done that. Unfortunately, mine didn't seem to mind the Tabasco sauce; of course they were New Mexican chickens, and maybe they liked it hot. This is definitely a good idea and certainly would be worth a try. — Jackie
Canning broccoli and cauliflower
I am in the process of reducing the amount of food that I freeze. I have been canning more and more of my food. I was wondering, do you grow broccoli and cauliflower and if you do, do you can it? I am not sure if these veggies would work canned.
Robin Novotny
Ironton, Minnesota
Broccoli turns to nasty mush when it is canned. Because of that I dehydrate it, instead. It dehydrates very easily and is quickly rehydrated for use in casseroles and soups. Cauliflower does can up nicely. It does get a bit strong flavored, so I dump the canning water and heat it in fresh water. I usually use my canned cauliflower in a cheese or white sauce to further "tame" down the cabbagey flavor. Works good! — Jackie
Planting fruit trees in the chicken run
We have a large area that is fenced in for our chicken run. We would like to plant some fruit trees in the run because of our large deer population on our property. I realize that the trees would need to be protected until they are larger. Will the chickens roost in the trees and eat all the fruit when they are full-grown? Also, could you please comment on what size tree could work. We would like to buy semi-dwarf trees.
Deanna Deiters
Marion, Illinois

This is what we have done. We now have a chicken run with plenty of clover, bugs, and sunshine, plus the orchard gets manure. As for the roosting — few heavy domestic chickens will roost in trees, and if they should, simply cutting the long wing feathers short on ONE wing will quickly stop this problem. Same goes for eating the fruit.
We pile rotted compost around our trees and the chickens do dig in that for bugs. But they have never injured the trees. If you had a problem when the trees were young, you can easily fence around each tree with stakes and chicken wire.
A chicken orchard is a great idea! And we feel it will do a lot to help reduce the insect problem in the orchard naturally….and clean up any wormy or fallen fruit. — Jackie
Hole in the middle of the bread loaf
I have been making homemade bread in my gas oven and have used a few different recipes. Each time, it seems there is a "hole" that goes through the middle of the bread and prevents it from slicing without crumbling into a big mess. Do you have any advice on keeping "holes" out of homemade bread?
Katie
Leetonia, Ohio
Be sure that you thoroughly knock down your dough for its second rising. A lot of people are too gentle with this process. I whack it down on the breadboard real hard; it loves to be abused this way, which actually reduces gas bubbles which cause holes. Then place it in a warm place after you divide the dough, but DON'T place it in too warm a place; it wants to rise slowly. Bread dough should take about an hour to do its second rising. Too fast and you also may get a hole in the center.
Check your oven's true temperature with a removable oven thermometer. I had one that said it was 350 degrees; in reality, it was almost 450! A cooler baking temperature and I had no more giant hole in my bread. — Jackie
Canning on a ceramic stovetop
This isn't a question, but I wanted to share some information with your readers, as I am an avid fan.
I have been successfully canning on a ceramic stovetop with a presto "weighted gauge" canner for a while now. I started canning things after reading many of your articles.
I wanted to share what I have learned about canning on a ceramic stovetop. I have done much reading of the manual that accompany my stove and online sources. I believe the danger is not in the weight of the canner but in the width of the base being wider than the burner. When the width of the canner or any pot for that matter is wider than the burner portion of the ceramic stovetop it can transfer heat back to the stovetop thereby compromising the integrity or cracking it.
I purchased a Presto Canner that specifically stated it was safe for ceramic stovetops…and it has a wide body but the part that touches the burner is smaller…elevating the rest of the body about a quarter of an inch or less.
I have canned several of your recipes successfully including beef stew and a family favorite of ours now, your Chicken Ala King.
I wish I had a question…I have so many when I'm canning, but at this time I just thought I'd share what I have learned.
Aimee Herndon
Eastover, South Carolina
Thanks for the information; I do know that a lot of people can successfully on glass top and ceramic top kitchen ranges. I just pass on the information from the stove companies, regarding canning on them. I'm sure they don't want to be sued! — Jackie
Butchering chickens
We have butchered some of our chickens and in one of them some of its dung got on the meat, in another I think the liver burst, we immediately washed it off and the meat did not appear tainted, but are these safe to eat?
Also, what is a good chicken to raise for meat, we have raised batches from Murray hatchery their meat bird cross ready to butcher in 9 weeks, but they eat tons and tons, is there a cheaper way or cheaper chickens to raise?
C. G.
Lonoke, Arkansas

Yes, they are. In commercial chicken processing plants, they cool the birds in large vats of cold water. At night, they shovel over a foot of chicken manure out of them, after draining them. These are your nice plastic wrapped chickens at the store! (Yes, they were rinsed well after removal from the cooling vat.) If you cleaned the bird well, everything will be fine.
We have raised and butchered a whole lot of different chickens, from banties to cheap fryers that are lightweight breeds and mixed heavyweights, not to mention our favorites — Cornish cross meat birds. YES, those birds eat like crazy. They have to to be quickly grown to butchering size. But then you're done feeding. With other breeds, they eat less, weekly, but you keep them longer to raise up to butcher. And they don't weigh nearly what the Cornish crosses do. What we do to save a buck or two is to switch them to 18% poultry feed at about five weeks of age. This is cheaper and does slow down their growth a little. But it results in less problems with legs or hearts going bad on them, so you end up with more live birds. — Jackie
Storing cocoa
How long will Hershey's cocoa last, if it has been kept in the original box and kept cool and dry? Also, I have two boneless, fully cooked hams in my freezer, and would like to pressure can them to free up freezer space. Will they can okay, or will they cook to mush when I pressure can them?
Also, I would like to tell you about an okra you could plant in your short growing season, if you like okra! It's Cajun Delight Hybrid. I have grown it along with Clemson Spineless, and it out-performed
the Clemson Spineless 2 to 1! It's 52 days, and starts bearing when plants are still quite small. I planted my seeds in 6 packs then set the plants in my garden when the weather allowed.
It did well, even with our late, cold spring weather!
Carolyn Barr
Green Forest, Arkansas

Your cocoa will keep indefinitely under good storage conditions. I opened a container of mine that was 10 years old for the holidays and we enjoyed both fudge and brownies. It was perfectly fine.
Your hams will definitely can up perfectly. I often freeze different meats and poultry that we either hunt, buy on sale, or home butcher, so that I can process them as I have time later on. The results are always fine. Just thaw out your ham, roast it until nearly done, then cut it up and pop it into jars with broth from the cooking. You'll love the results!
Thanks for the okra tip. I'll give Cajun Delight a try this summer. — Jackie