Will and I took an afternoon off…to visit the bears
I finally talked Will into taking the afternoon off and driving with me north of Orr, to visit the Vince Shute Bear Sanctuary. It's only open during the summer, from Memorial Day until Labor Day weekend, evenings from 5 p.m. till dusk. You drive in a long, wooded driveway, then take a bus down another long wooded trail to a viewing platform. Here we got to watch wild black bears of all ages and sizes for several hours. There are no fences and these bears come and go, as they wish, knowing they are only safe when they come for the natural feed that is put out for them. Once they leave the sanctuary, they are on their own. In no way are they "tame" bears. Started many years ago by Vince Shute, a former bear hunter and logger who finally decided feeding the bears beat killing them, the sanctuary now has many improvements for both bears and viewers. We had a great time watching and learning about these fascinating animals, which movies and magazines often portray as savage man-killers. Both Will and I have lived in bear country for nearly all our lives. And neither of us has had a "bad" encounter with a bear. We really enjoyed our visit and will certainly be back next year to see how those nine little cubs have grown!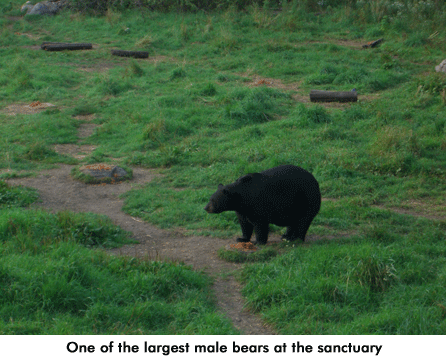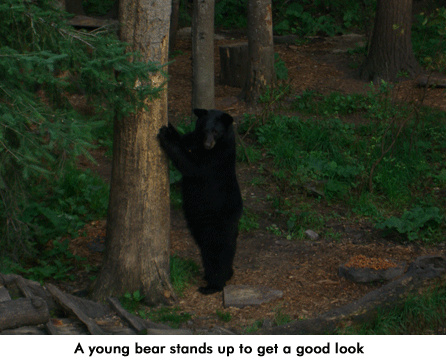 Of course, we are also canning like mad, as we just had a killing frost. We had pre-picked all we could, but there are lots of veggies out there yet, waiting to be put up in the pantry.
Readers' Questions:
Canning tomato sauce
My tomatoes didn't do well this year and I need tomato sauce etc. For this Fall/Winter. Can I buy the large cans of tomato sauce and diced tomatoes from Sam's and then re-can them into half-pint and pint jars. If so, do I need to add anything to it or just heat up and pour into hot jars? And how long do I process the jars? (Same as canning home grown tomatoes?) How about large cans of Ketchup (which take up a lot of room in the frig.) can it be re-canned into smaller jars and do I process the same as above?
Maria Day
Greenville, Florida
Although a lot of "experts" say you can't re-can food, I've been doing just that for years. (Come on, now, why should it be dangerous to re-can food, using the same processing methods/time as if it were raw, just because it has already been processed?) I heat the tomato product to simmering, then pack as if it were a freshly made recipe, processing for the time required. I don't re-can tomato paste, however, as it is VERY thick, and it is possible for it not to heat sufficiently in the center of the jars. Instead, I mix it with tomato sauce, making a thick tomato sauce that will pour slowly, as it will boil and WILL heat thoroughly in the center of the jar. — Jackie
Canning hot peppers
I am pickling some hot peppers using the recipe from your book Growing and Canning Your Own Food. Is there any stage that I could slice the peppers into rings? We like to add jalapeno slices to our food and I was hoping I could make the slices out of a jalapeno, hot banana, hot Hungarian wax pepper blend.
Marlana Ward
Mountain City, Tennessee

Yes, you can slice your peppers into rings instead of pickling them whole. Just slice them up raw and proceed with the recipe. The form doesn't matter. Enjoy your peppers! — Jackie
Hens not laying
I have some chicken issues I hope you can help me with. I have 4 older hens, well…2 have recently died (not quite sure of their age, may be 1 1/2 – 2 years old?) that have provided me with eggs almost every day…until early this summer. In March I got 6 new baby chicks which to my dismay I believe are mostly roos. Anyway, since early summer we have not gotten one egg. I'm sure the stress of moving 6 new chickens had an effect on the older gals, but I thought by now I'd have eggs again. They are not eating them as there are no signs whatsoever of any yolk or shell in the nest boxes. My new hens should be laying soon, but I'm thinking it's all the roos I have that's causing them to not lay. I saw this morning the roos attacking the other ones (even the older gals) when they came out into the run. Plus the heat we are having isn't helping either. Just wondered if you had any advice and if you think I'd be wise to get rid of my roos (I don't plan on hatching out our own chicks).
Jeannine Sikora
Panama, New York
I would reduce the rooster population in your coop by about six, I think, since you aren't going to hatch your own chicks. (But I DO love to hear a rooster crow, so you might save one…) I think when the weather cools down and the pecking stops, your girls will again reward you with eggs. — Jackie
Making peach jelly
I canned peaches last weekend. After dropping the peaches into the water with vitamin D in it to keep them from browning, I thought I could use it and the peach juice to make jelly. I boiled it way down and followed the directions in your book. It won't jell. It sealed but no jell, can I re-boil it with new pectin?
Jeff Gaskin
South Point, Ohio

Sorry to tell you that the watered down juice will never jell. It is just too watered down. Even if it did, the taste would be yucky. You can either make peach jam, preserves, or jelly, using chopped peaches, simmered down in a little water; emphasis on "little" water! Look on it as a learning experience. We all have them! — Jackie
Canned pickles "pinging" in the pantry
I am trying my hand at canning this summer. My first batch of pickles taste great! All the jars appear to have sealed properly but for the last three days in a row I have heard "pinging" in my pantry. It has been really hot and it happens in the afternoons. I cannot tell which jar is doing it. Have you ever had this happen? Are they safe to eat?
Mia
Lebec, California
If processed properly, once a jar is sealed, it remains so, no matter what. Do you have any boxes of new jars in your pantry? I've noticed that the new Kerr jars, which come in flat boxes, topped with plastic wrap, with the lids screwed down on the jars, ping when sitting in my kitchen! I thought, at first, that it was my processed food doing that, but found out that it was the new jars! You won't get sick from unsealed pickle jars, should one possibly seal and unseal. Just look at each jar before you open it, to make sure it looks fine. Then check the seal, which should be sealed. Open the jar and look inside; give it a sniff. If all seems fine, your pickles are good to go. — Jackie
Pumpkin preserves
I just love your canning book. I am getting ready to use up last years canned pumpkin in your pumpkin preserves recipe and the process time says 5 minutes. Is that correct or is it a typo?
Carole-Anne Hopkins
Riverton, Wyoming
This recipe is an old one and, yes, 5 minutes is the correct time. More recent recipes have a 10 minute processing time, I suppose for greater safety. A longer processing time won't hurt anything if you choose to use that, instead. — Jackie
Canning cream of celery soup
You mentioned it was very easy to can cream of celery soup. Please give me a recipe and directions.
Deanna Rider
Hanford, California
Sorry, but what I do is to can up the chopped celery in water then make the soup as I want, later on. Cream of whatever soups usually get curdled/separated appearing, which looks unappetizing. To make the soup, add 3 tbsp butter/margarine to a sauce pan and melt. Stir in 2 Tbsp flour. Then slowly add milk and heat until thickened, adding more milk, as needed to get the thickness you want. Drain celery and pour into soup. Gently simmer (don't boil) for 10 minutes and serve. — Jackie
Canning juice from elderberries
I was wondering if you ever canned the juice from elderberries? My husband had cancer twice, (from agent orange) he is in remission. I have read that drinking elderberry juice everyday is so good for you!
Janet Williams
McDonough, New York

Yes, I have. To make elderberry juice, add cleaned elderberries and a little water (I use apple juice.) to a large pot. Turn up heat and gently simmer the berries until tender. Mash them with a potato masher and continue simmering 5 minutes. Strain through a jelly bag into a bowl. Heat juice 5 minutes to simmering (don't boil). Add sugar if desired, to taste. Ladle hot juice into hot jars, leaving 1/4″ of headspace. Process pints and quarts for 15 minutes in a boiling water bath canner. If you live at an altitude above 1,000 feet, consult your canning book for directions on increasing your processing time to suit your altitude, if necessary. — Jackie