When you live in the backwoods, you live by the weather
The first thing we do every morning is turn on our little weather radio to see what the coming weather is going to be (or do to us!). And by that, we plan our days. Luckily, we had a bit of a stretch of fairly mild, quite nice weather right after Christmas. So Will and David made use of it. They went out into our big woods to cut and drag out more of the standing and blown down dead trees. Will cut and limbed the trees and David hooked onto them with Old Yeller, our bulldozer, dragging them out onto the horse pasture where we can get to them in the spring to cut up.
I was working on the computer in the morning then walked down in the afternoon to watch the process. They were having more fun than I was! Not only were they getting together a nice big pile of wood, but they were also clearing out large spots in the woods that had previously been only a snarl of tree branches. Very nice. I could see pasture in the making!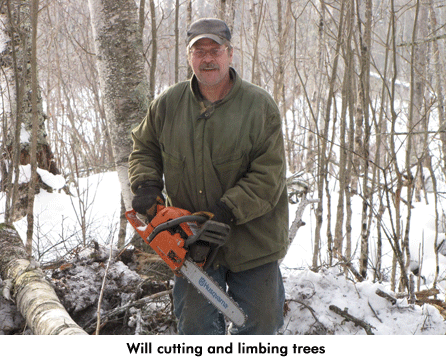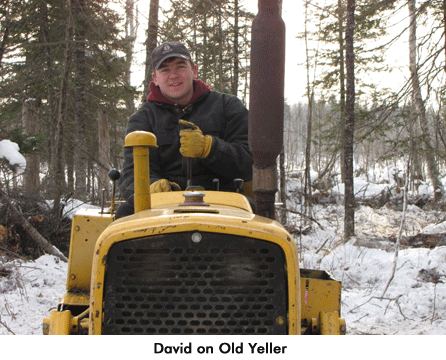 Unfortunately, our good weather only lasted those two days and we knew they probably would be the last for awhile as our weather radio predicted a major snow storm for Friday and Saturday. They were right! Darn! We got dumped on. Again. This time, it was between 16 and 18 inches of blowing snow. The storm stopped, finally, and we set about plowing and cleaning out not only our 1.3 mile long driveway, but also the yard, the trail to the goat barn, chicken coop, and various equipment.
Plowing the driveway went fine for a while…until Will got sucked off the road by deep snow and got stuck! While I waited in the truck, he and Spencer went back to get Old Yeller. Will pulled me out just fine and I finished plowing the drive while he cleared some tough hills with the dozer. Then I was pooped and we traded spots; I got on Old Yeller to clear deep banks so we had some place to plow the snow and he went to plowing, widening out the driveway as it was getting kind of narrow.
I pushed snow and pushed snow, always waiting for Will to return in the truck. No Will. No truck. Hmmmm, not good. I kept pushing snow, working toward home. Finally, after about an hour and a half, here comes Will. Walking. Definitely not good. Seems the transfer case on the truck went out. Big sigh. So I took the dozer back and pulled Will and the truck (Spencer rode in the truck; he likes the heater!) home. But while I pulled, Will was still able to plow. Boy did that look funny; bulldozer pulling truck while it plowed!
We'd been plowing from 10 a.m. to 4:30 p.m. with no break! Then we had to take Old Yeller down and haul two round bales of hay out to our horses so they had plenty to eat; they eat more hay when the weather's bad. We were so pooped by night that we could hardly move. But the next day went better and we used the snow blower to clean up the yard more and even clear a path all the way to the big steers (nearly 1/8 mile!) and to the deer, who were more than ready to be fed. Will had been trudging down to the steers with grain twice a day and it nearly killed him, so he figured that snowblowing would be a lot easier.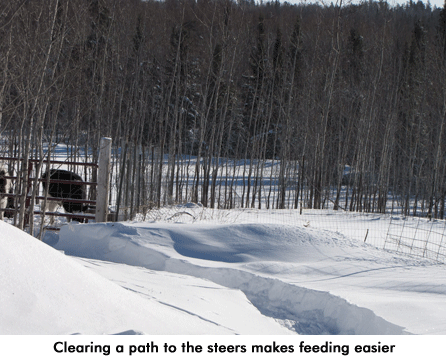 Now we're all clean and waiting for a warmer day so Will can pull the transfer case to take in to have rebuilt. I've figured it out; machinery always tries to keep you broke and crazy, not necessarily in that order!
Readers' Questions:
New to pressure canning
I just received a pressure canner for Christmas so I made a big batch of chili (no beans). I guess I filled them too full because they boiled over. After leaving them overnight to cool, 9 of them didn't seal. So I cleaned up the jars, put new flat lids on and now am in the process of re-canning. I got them out of the canner yesterday about 4 and back into the canner about 9 this morning. So do you think the produce will be ok…no bacteria. I didn't change jars, just put them in the sink with hot water to wait for the canner to be ready.
Julie Fluaitte
Sunnyside, Washington
What's best when you have jars that don't seal is to dump them out into a pot, rinse the jars out with hot water, heat the food just to simmering, then refill the hot jars. With meats and vegetables, always leave 1 inch of head room to allow for expansion during processing. Put a hot, previously simmered lid on the jar, then tighten the ring firmly tight and put in a warm canner. Process as before. No, you shouldn't have gotten any bacteria in your food and if the jars seal, they should be perfectly fine. The only problem with re-canning chili (pressure canned, of course), is that occasionally the tomato sauce in it tastes a little scorched from double heating. This doesn't happen often, only once in awhile.
Be sure your canner remains at the pressure during the entire processing period. Fluctuating pressure — too high, too quick a drop, etc. — often causes food to blow out of the jar, as does "hurrying" the pressure down to zero or letting off remaining steam at the end of processing before the pressure returns to zero. You'll get the hang of it very soon and become an old pro! — Jackie
Making chicken broth
What is the best way to clean chicken feet for use in making broth? We raise and butcher our own chickens, and those feet look really dirty and well not too appealing to use.
Bea Ward
St. Paris, Ohio
I, personally, don't use chicken feet for broth; too labor intensive for me. I prefer to boil up carcasses after baking for broth or use older chickens, boiled up whole (after cleaning, of course!) for broth. But if you want to use the feet, boil them for a few minutes. Then cool and scrub with a brush; nearly all of the yucky stuff, including a layer of skin, will peel off, leaving those feet a lot nicer than they were! — Jackie
Saving seeds
I want to start saving seeds from the veggies I grow. What is the best way to save, prepare, and store them for future use? Is there may a book or publication on how to do this?
Sue Miller
Sturgeon Lake, Minnesota
The best book on the subject that I have is SEED TO SEED by Suzane Ashworth. I also did an article on seed saving which is found in the 10th year anthology and another on plant propagation (including seed saving) which should appear soon in Backwoods Home. Most vegetables are VERY easy to save seeds from — just harvest ripe produce, remove the seeds, dry them well, and store in an airtight container in a cool, dry place. To save pure seeds, just don't plant varieties from the same species, as different varieties of the same species will cross. For instance, most winter squash are Cucurbita maxima. If you plant two different squash of this species, they will cross and the resulting seeds may not produce a squash like either of the parents…or be a mixture of both. To keep a pure line of squash, simply plant only one squash of this species. As there are several squash species, you can plant several different squash, each of a different species, and thus have a variety of squash and still save pure seeds. This may seem a little daunting, but seed saving is quite easy and straightforward. And besides being well worthwhile financially, it gives you great satisfaction and a whole lot of fun! — Jackie
Morel mushroom kit
I received a packet of ad postcards. One of the offers was for a Morel Mushroom Kit. Saw this offer last year but let it pass. Do you know anything about it? It's VERY pricey. But if it would work, one might get a patch started. Your thoughts, please.
J from Missouri
I know it's pricey; that's why I haven't gotten it yet! I love morels and we don't have many in our neck of the woods. I plan on getting a kit and trying it when I can afford it. I'd also like to plug some various mushroom spawn into logs so we have a "wild garden" in the woods. I DO love mushrooms! — Jackie
Brine recipes
I am looking for brine recipes to make bacon and ham, also venison.
Debbie Kornelli
Hillsdale, New York
A good all-around brine for brining meat before smoking is as follows:
3 gallons of fresh, cold water
3 cups non-iodized table salt
1 cup brown sugar
2 Tbsp spices to taste (cloves, garlic, onion, etc.)
Mix very well in STERILE plastic food grade bucket or crock. Cover meat well and inject this brine into the bone area of large hams for complete penetration. Cover container and soak meat for as long as you prefer; most folks brine for four or five days at a temperature of between 38-40 degrees.
Good smoking! — Jackie
Storage onions, tomatoes, and laundry soap
I have a problem this year of my storage onions rotting from the neck down into the center of the onion. The onion inside turns watery. What is that and why does this happen? Will Copra onions do the same? When do you start onions from seed?
Do you think the Punta Banda tomatoes that you like are worth the shipping prices? There are so few places that carry them. Otherwise what is a good paste tomato to grow that is comparable to this?
I make my own laundry soap. What can I use to brighten up the whites? Do you make bar soap? Is there a good place to find supplies for this?
Cindy Hills
Wild Rose, Wisconsin
It sounds like your onions were infected with a fungal disease, onion neck rot. We had it in our onions two years ago and it was frustrating as they did not store well and many were starting to rot when harvested and had to be thrown away. Do NOT compost these onions or toss them into the garden, as it may tend to spread the fungus. I'd plant this year's onions in a different spot as it could infect your crop this year. We did this and our onions were GREAT — no rot at all. The growing season has a lot to do with this disease; some years it seems to be bad, others not at all. That was our first incidence of it in six years and it's not shown up again, all without treatment of any kind. Our white onions seemed to be much more troubled by it than were our yellows. Neck rot often begins as the neck of the growing stalk does not dry down (often it is thicker) quickly. As Copra onions are very thin necked, they are seldom bothered by neck rot. Start your onion seeds 10-12 weeks before planning on setting out the seedling onion plants. If they get too tall before planting out, simply trim off the top of the plants; it won't hurt them a bit and will stimulate the roots to grow stronger.
I get my Punta Banda seeds from Native Seeds/SEARCH in Arizona. Yes, the shipping is expensive, (be sure to check out the SEED PACKAGES ONLY pricing above the "shipping costs;" it's much cheaper!), but the seeds are pretty reasonable in today's seed market. And you don't have to use ALL the seeds; using a third of them will provide you with plenty of plants, so you'll be getting three years' worth of seeds for one price.
Yes, I do make bar soap and laundry soap from it, when I have the time. You can buy lye from several soap-making companies, online, including Bramble Berry and Snowdrift Farm. If you check out soap-making supplies online, you'll come up with these and several other companies. Adding Borax to your laundry will help whiten it. Some people add it to their soap, but I prefer to add it to my wash; it's just personal preference. — Jackie
Canning veggie burger

My family and I are vegetarian and this will be the first year we will get to can our own foods. I was wondering though, if you knew if you could can veggie burger? I make some homemade spaghetti sauce with cooked Boca or Morning Star Farms burger and thought about making large batches and canning them, but did not know if that was possible.
Also, are there certain pumpkins that you like better to make pies and can or freeze? I love the sweeter pumpkin to make pies and other goodies with.
Catherine Rogers
Muskogee, Oklahoma
Yes, you can home can vegetarian burger. It is essentially a bean product, so just be sure to process your sauce for 75 minutes for quarts or 65 minutes for pints at 10 pounds pressure. If you live at an altitude above 1,000 feet, consult your canning book for directions on increasing your pressure to suit your altitude, if necessary. I'd advise canning up a smaller batch, then see how your family likes the end spaghetti sauce before you do a big batch.
Any of the pie pumpkins are great for use in pies and other baking. But I simply LOVE using Hopi Pale Grey SQUASH for "pumpkin" pies, bars, bread, etc. It's got a sweet and fruity taste that most pumpkins just don't have. I just bake up a big squash, then scoop out the leftover meat and refrigerate it with pumpkin pie or bars in mind. You can also freeze it or even can it up raw in chunks.
The larger pumpkins aren't really as good for pies as the smaller pie pumpkins are. One exception is Amish Pie pumpkin. I've grown that one and besides being a large pumpkin, it's also very good for baking. Otherwise, varieties such as Small Sugar (New England Pie), Long Island Cheese, Fairytale, and Rumbo are all good pie pumpkins. Be sure to save the seeds! — Jackie
Summer kitchen
My husband and I are tearing down an old attached garage this spring and are building a new one and we want to build a summer kitchen between that and the house. I have an old fashioned iron sink and a wood cook stove. I have all the stuff to put in it but we would like to have some building ideas. I would like to have it as close to the original old English ones as possible. Do you have any ideas?
Susan Carmichael
Houlton, Maine
I'm jealous! Wow will you ever like that. A summer kitchen is so wonderful and such a nice place to work and even picnic during the summer and fall. I would advise also putting in a propane range, even a well-used one, as well as your wood burner. It's amazing at how hot a summer kitchen can get on one of those 100 degree late summer days when you just have to get those green beans canned up! You'll be able to use your wood burner if you have to/want to, but will have another alternative, just in case.
I like an island with a butcher block top for additional work space, just off center of your summer kitchen. You'll have more space to prep foods, set jars and fill jars. A counter on either side of it also helps a lot. Cupboards are great for holding your food preparation equipment such as a tomato squeezer, canning kettles, jar lids, rings, stock pots, powdered pectin, sugar, vinegar, spices, salt, etc. Out of sight is nice and keeps things organized…and cleaner.
A medium-sized garbage can is great for holding your discards from vegetable preparation: carrot tops, corn husks, bean clippings, peelings, etc. Then once a day, you can take it out to the chickens, goats, pig, or compost pile, rinse it out after dumping it out and let it dry before bringing it back in for the next day's harvest.
Put plenty of windows in your summer kitchen, with screens to enjoy the breezes. You want as much natural (cheaper!) light as you can get. Having a door with a window in the top is great for the same reason; no sense to a solid door when you can have another window in the same spot. In the same vein, put plenty of overhead electric lighting in over your work spaces. It really helps to be able to see what you're doing and cheers you up on those tiring days. Use compact fluorescents and your light bill won't go up a bit.
Above all, enjoy your new summer kitchen! You'll love it, I promise you! — Jackie
Storing brown rice
I know that brown rice doesn't store well for long periods of time, however, I have an allergy to white rice (along with human hair, white potatoes, mold, etc, etc, etc). The allergy symptoms (sinus pressure, mucous, headaches) are getting worse as I age. Is there another type of rice other than white that stores well for longer periods of time? I am also allergic to corn products and would like to find a substitute for corn meal.
Ruth Dixon
Gold Beach, Oregon
If you can eat brown rice with no problems, I'd buy and use that. To store it, why not freeze it in the bag it comes in? That way, it'll stay fine for a year or longer, and then you can rotate it by using it up. No, there isn't another rice that I can think of that isn't processed. I would investigate using wild rice. Wild rice isn't a rice; it's a type of grass, although the use of the seeds is more like common rice. You might luck out there. Wild rice stores quite well for long periods of time in an airtight container, as it has been parched before sale.
I'd suggest trying some other flours, such as teff, quinoa, and amaranth. They are quite flavorful and are useful, ancient grains. While they don't taste like cornmeal, they may provide a substitute for it in your baking. — Jackie
Storing self-rising flour
I seem to have better luck making biscuits with self-rising flour. Why I don't know. My question is how long a shelf life does the self-rising have. Just wondering about the leavening agents.
B.A. in Arkansas
Self-rising flour is flour that has baking powder and salt already added to it. It is also sifted several times, making it lighter. You'll have better luck with "plain" flour if YOU sift it at least twice before using it. It's cheaper, too! Baking powder and salt are pretty cheap. Self-rising flour has a shelf life of at least a year, and probably longer than that, before the baking powder loses a little of its leavening ability. — Jackie