After hunting season we've still got plenty of deer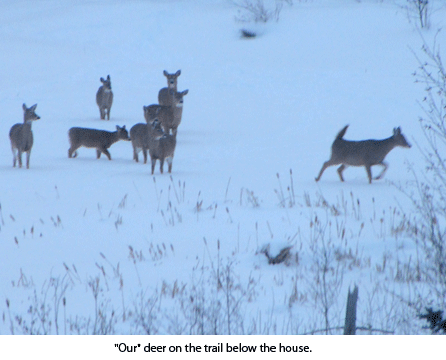 We just had a snow storm mixed with freezing rain. Several deer came down the trail below the house, heading for the horse pasture and the round bales of hay we have out there. The horses sometimes share their hay with the deer. So far, our deer herd is fat and happy with the relatively open winter we've had so far. We're several feet below normal snowfall for the year.
This fall the beaver were stockpiling tons of brush in the mud out in the beaver pond and I commented that I feared an open cold winter. And we've sure had an open winter so far. The cold usually comes right after Christmas. We have plenty of wood and food, so we're not worrying.
Today I helped a friend can up a deer he'd shot with his bow and arrow. He wanted to learn to can meat, so I spent the day giving lessons. He went home with lots of meat and was real excited about the possibilities! And that's exciting to me. — Jackie