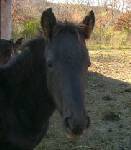 My Christmas/Birthday present to me is something I've wanted for a very long time.  A Friesian.  For those of you who aren't familiar with breeds of horses, a Friesian is a big, exciting black horse with a huge long mane and tail, prancing gait and beautiful feathers (long hair) on it's feet.  Friesians are a Dutch breed, going back to medieval times and even before that.  They are a powerful breed, but also very nimble and light on their feet.  Perhaps you've seen one in the movies and didn't realize it.  A Friesian was the hero's mount in Ladyhawke and The Mask of Zorro.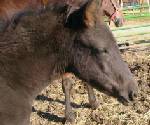 I'll be making payments on my baby Friesian filly all winter and get her home in the early spring, after she's weaned.
All of my horses are aged geldings, the youngest 18 in the spring, so I was hoping for a baby to raise.  And I found her on the Internet of all places!!!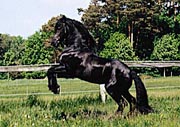 Purebred Friesians are very expensive, often $10,000 or more.  I can't afford that.  But the filly I fell in love with is a Frieisan Sport Horse; a nice term for a crossbred.  She looks Friesian, with a coal black coat, big eye and dainty muzzle.  And she'll find an appreciative home here in the Minnesota northwoods.
So now I'm thinking baby horse thoughts and have gotten out my good old planning notebooks and am sketching a training ring, small one-horse horse barn and a tack storage room.  I can hardly wait to start.  David has already got the area over half cleared.  It's all nice sand, so it'll be perfect.  No mud puddles or rocks.
Not only will I be training Ladyhawk to ride but also to drive and pull.  If the price of gas keeps going up, we may need a good driving horse!!!
Readers' questions:
Moldy spaghetti sauce
I have a question for you about canning. I canned homemade spaghetti sauce and used the hot water bath method for 20 minutes. All the jars sealed and were stored in the basement. A few weeks later, I went to get a jar and found white mold inside some of the jars and they were still sealed. Can you tell me what causes this? A friend had the same thing happen once, too.
Tom Doering
Sorry Tom.  I hate to have home canners have failures.  It's really so sad.  Your spaghetti sauce got moldy because you didn't process it long enough to kill mold spores.  You did process it long enough for the jars to seal, but each food has a certain time length necessary for safe storage.  In this case, you need to process your spaghetti sauce (provided you did not add meat!) for 40 minutes for quarts (which most spaghetti sauce is canned in), or 35 minutes for pints.  Unfortunately, you processed it for only 20 minutes.  Such a hard lesson.  I've had 'em myself.
Also, always count your time from when your canner returns to a full rolling boil.  That gets a lot of new home canners; they just start counting time from when they put the jars into the boiling water bath.  No matter how hot the sauce is when you ladle it into the jars, it quickly loses heat and when you put the jars into the canner it takes awhile for it to return to a full rolling boil again. — Jackie