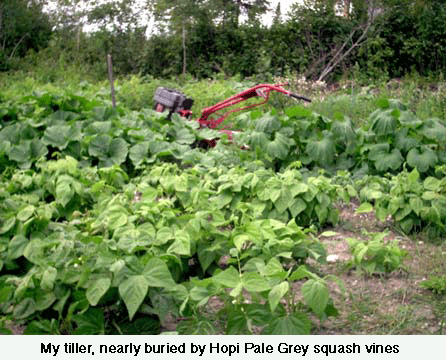 I left my TroyBilt tiller between my squash rows, after tilling in manure I'd hauled out there from the goat barn. I figured it was a nice, dry spot, where I could begin tilling in spent plants, after harvest. But that manure suddenly made my squash go wild! After two weeks, the squash were burying my tiller, winding around the handles and covering the tines! I had to gently unwind them and wade through the vines to start it so I could back it out to safety.
And boy oh boy are there ever squash in that patch! There are dozens of big grey lumps all over under the leaves. Great! My friend, Jeri's goats got out and ate all her squash. So not only will I have plenty for us, but for Jim and Jeri, too. I'm always happy to share my bounty with friends!
EXCEPT the deer! A few nights ago, it was supposed to get down to freezing. So I set my sprinklers again, covered the tomatoes and peppers and got up early to sprinkle, if necessary. But we had no frost; no freezing. I watered for half an hour, just to be sure, then, at 7 AM, I went out of the garden, leaving the gate open. (After all, the deer never bother the garden during the day….right?!)
Then later, went I went out to pick some tomatoes, I spotted an eaten mangle! EEEK! Deer tracks! Two had gotten in, munched on mangles, carrot tops, onions tops and a few plum tree leaves. They walked all around the garden, then went back out the open gate…with full stomachs.
The moral to this story? If you want to keep the deer out of your garden, CLOSE THE GATE!
Readers' Questions:
Food Storage
I am kind of new at storing food. Can you tell me if I can store dry goods with the new food savers, of course also putting them in plastic containers? Also I have Vicki Tate's cook book on using stored goods, can you suggest another book to answer more of my storage questions.
Liz Mullican
Decatur, Alabama
Yes, you can store dry foods in Food Saver bags or vacuum containers. But I just generally store them in gallon jars, popcorn tins or left in the store bags and stacked in new garbage cans. These have all worked well for me in the past. A couple of good books on food storage usage are available through Emergency Essentials. You also might like the BHM Emergency Preparedness book. It has lots of information on this and other topics you may find helpful. — Jackie
Canning cookbook
I have learned so much from you on canning and I was wondering if you ever thought of writing a canning cookbook with all your wonderful recipes and how you use what you can? I know I would be the first in line to buy it. Thank you so much for sharing your wealth of knowledge.
Tami Wagner
Manning, Oregon
Tami, I'll let you in on a secret; I've just begun a new, extensive book on growing and canning your own food, which will be published by BHM sometime next year. There has been such a demand for this book by readers, we thought it might be a good time to do it. Keep your eye out for more information down the line. — Jackie
Freezing yeast
Can we use frozen yeast? Will it do its thing as usual? How long will it keep if frozen?
Sharon McLeod
Wadena, Minnesota
Yes, you can use frozen yeast. I always have an unopened pound bag of yeast in my refrigerator's freezer. I've had it remain strong after 5 years in the freezer, although recommendations are for one year frozen. I've also had my dry yeast on the shelf, in a jar, stay strong for over a year. If after that, it begins to weaken, I just add a little more and that works just fine. — Jackie