You think we got a lot done when Will came to stay? Well this week, his son, Don, came for a visit from his home in Alaska. He is also a great carpenter and has plenty of hustle. So Will and Don have been REALLY getting things done. David, Don and Will took the bulldozer across our frozen creek and swamp, into our big woods across from the house, where they're refreshing our surveyor's flags on the property line and also dozing a trail along it so eventually we can fence it. You can only access that land with equipment in the winter as there's no dry access to it. In the summer you can canoe across the beaver pond, but you sure can't drive anything to it or even walk without major wet feet.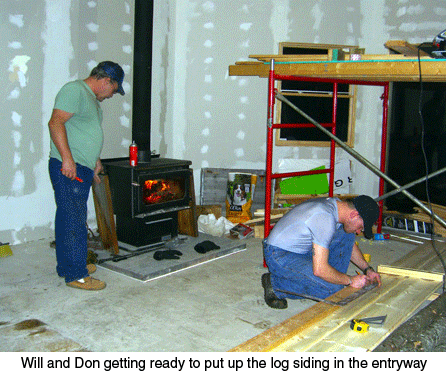 We're also taking out the wall between the greenhouse and the living room, which really opens up the house. This wall was temporary, as we had it planned all along. Now our greenhouse is part of the living room and the wall out makes everything seem so airy and light. We really like the look.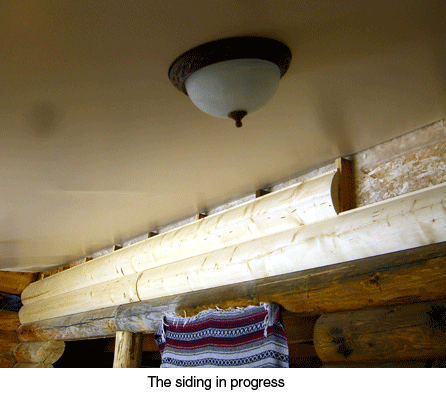 They're also tearing into the new addition, working on the tongue and groove knotty pine ceiling in the living room, adding long siding in the entryway, above the logs. This will also leave room to snake a water line up the wall, across the ceiling inside a hollowed out log beam, to the new laundry room. In this country, we don't do water lines under the floor or on an outside wall. We were up till 2 A.M. yesterday! And I'm not a night owl. ZZzzzzzz
But it's great and we're sure enjoying Don's company.
Readers' Questions:
Canning cherry juice
Do you have a recipe for cherry juice that I can put in jars. I have looked everywhere and cannot find one. My mom and aunt have an abundance of cherries and wanted to make juice. I found a lot of cherry wine recipes but no juice recipes.
Lynne White
Lacombe, Louisiana
Here's a recipe for you: Enjoy your bounty!
Wash cherries, remove pits and crush fruit. Heat to simmering (185 to 210 degrees F.). Strain through cloth bag. Add sugar if desired (1 cup to 1 gallon juice). Reheat to simmering. Fill hot jars leaving ½ inch headspace. Process in boiling water bath. Process time for both pints and quarts at altitudes of: 0-1000 feet: 10 minutes; 1001-3000 feet: 15 minutes; 3001-6000 feet: 20 minutes; over 6000 feet: 25 minutes. — Jackie
Using powdered cheese and milk
You mentioned that you buy powdered cheeses and milk. Can you tell me how you use them?
Bruce Clark
Interlaken, New York
Powdered milk can be reconstituted and used in cooking, baking and even drinking, just like fresh milk. You can even make cottage cheese from it. Or you can make your own baking mixes, like pancake mix, using it and just add water when you want to use it.
Powdered cheese is great to use as a cheese sauce (I make a simple white sauce, then mix in the cheese along with milk) or to sprinkle on popcorn.. I also use it in soups like cream of broccoli and cauliflower soup as an added flavoring. You can mix cheese powder with sunflower or peanut oil to make a spreadable cheese for crackers or breads, too. — Jackie
Growing potatoes in tires
Potatoes in tires–possible problem–there are some concerns about heavy metals from tires leaching into the soil and contaminating food plants. I received this from our extension service–everyone has to make their own decisions, but I thought the information worth considering.
"In terms of heavy metals leaching from rubber – there's no question that they do. The question is which metals potatoes will take up in significant amounts. All plants take up heavy metals – because many of them are essential nutrients. They often can't differentiate between necessary nutrients and toxicants. Furthermore, even needed nutrients can be accumulated in toxic amounts. Plants vary in where they store them – roots, stems, leaves, flowers, seeds – all are possibilities. The other important factor is pH. Heavy metal uptake increases with increasingly acidic soil conditions..
I did a quick search in the literature, and there are several studies that found potatoes taking up significant levels of heavy metals including lead, arsenic and cadmium. To me, the potential risk is just not worth using rubber products around food crops. There are many other sources of environmental contamination (e.g. lead from gasoline and paint), so my own choice would be to limit potential contaminants as much as I could."
WSU Puyallup Research and Extension Center
2606 W. Pioneer
Puyallup, WA 98371
Phone: (253) 445-4542
URL: http://www.puyallup.wsu.edu/~Linda%20Chalker-Scott/
Bob Taylor
Poulsbo, Washington
Thanks for the information. It is something to consider, for sure. — Jackie
Ceiling joints
Two questions and some comment, if I may, on the wood overlay ceiling, of your octagonally shaped, living room and the young man standing on the scaffolding? Is he applying some sort of gap-filling, yellowish compound, between the end joints? Second question; are those end joints of the wood ceiling overlay simple butt joints? If one were to assume the two bisecting angles of two sides of a regular octagon = 45 degrees,then each bisecting angle = 22.5 degrees. Also,instead of butt joints,which tend to leave gaps dependent on relative humidity, either from environmental, seasonal or human respiration/aspiration; scarf joints are preferred. Scarf joints allow for swelling and shrinkage of the wood without those telltale gaps of butt joints. If you're going through the trouble of cutting a 22.5 degree miter on one plane, home much harder is it to cut a second angle on a second plane? Rent a sliding compound miter saw or make friends with a handyman that owns one? You'll be pleased with the results and won't have to spend money on that yellowish joint compound that probably stinks forever!
Carl Goetz
Crestview, Florida
We will be putting 3/4 logs over the joints, so Will isn't fussy about using our miter saw on the joints. And he isn't putting Great Stuff between the joints of the tongue and groove, but the joints between the insulation board (Thermax). Then they are taped over the Great Stuff. There is a gap between the tongue and groove to allow for swelling/movement, which the log will cover. The log will not be fastened to the tongue and groove paneling.
Thanks for your suggestions. — Jackie
Freezing flour
I have been grinding my own wheat berries for the last year and was told last week that I should be freezing the left over flour. Is this true? I do freeze my ground flax, but did not ever think of keeping the flour cold. Can you help me with the answer and explanation.
Pamela Lawstuen
Alma, Wisconsin
While freezing will keep your flour from going rancid so quickly, it is not necessary. I don't freeze my home-ground flour and it's just fine. If you have the freezer space, go ahead and put it in; it will also prevent any from developing pantry moth larva; flour bugs. — Jackie
Canning milk
I tried canning milk last fall after my grandkids left most of a gallon (from grocery store) after a visit. When I got one out yesterday, it appears to be semi-solid. Like a large chunk of cottage cheese. Any ideas what happened? Is it still good or do I need to dump them? My cows will be coming fresh in a few months and I would like to try again.
Rosalie Secore
Crown City, Ohio
Don't give up. Open a jar of your canned milk. Many times, pressure canned milk ends up more like condensed milk; thicker like that, and sometimes a tannish color. It is still good for cooking/baking. If the jar is sealed, the milk smells good, chances are it is. If not, toss it. Better safe than sorry! I don't know how you processed your milk, so I can't give more advice. — Jackie
Keeping chickens in winter
How do your chickens survive (thrive?) in their winter quarters when the weather is below zero? How did our ancestors raise chickens in the cold Wisconsin Winters without generators for electricity?
Joyce Andrew
Hillsboro, Wisconsin
My chickens are doing great. My coop is pretty much draft free; I went around with insulation and caulking and did all the cracks early in the season. There are enough birds to provide body heat to help heat the coop. I do not provide any type of additional heat, although I would like insulated walls in the coop by next winter. When the snow came, I shoveled it against the walls to help hold the warmth. I also keep plenty of dry shavings on the floor to keep their feet toasty and the dampness down to a minimum. On warmer sunny days, they go outdoors to keep them happy. — Jackie
Planting celery
I noticed you are going to plant celery. I live in southern Iowa and would like to try growing celery. Is it too hot here? Do I plant them real close together?
Becky McKim
Ankeny, Iowa
You can grow celery in southern Iowa. Don't plant it too close together; a foot between plants is close enough. My little baby celery plants just came up today, so we're celebrating! — Jackie
Wallo' Waters
Jackie I read your book and you mentioned Wallo' Waters. What are they and are they home made or did you buy them. Can you tell me how to make them or buy them.
Lynne White
Lacombe, Louisiana
Wallo' Waters are 5 gallon bucket-sized poly tipis with water filled individual cells. No, you can't make them, but they are available through most seed catalogs such as Pinetree Garden Seeds (superseeds.com) and garden centers. — Jackie