We've been busy building. We needed a shelter for the goats in their new goat pasture, so we are finishing up our goat summer cottage. They seem to like it just fine and have "moved" right in for shade and shelter from light rains. We need to get tarpaper and shingles on it, plus a couple coats of paint and it'll be done. When we also get a solid door on it, we can leave them in the pasture at night, too, shut safely inside. We do have lots of wolves, bears, cougars, and other neighbors who might decide a tender goat might make a great supper. We've never lost an animal to a predator, but we are careful to keep them in at night. Having a big dog or two sure helps on that account
too.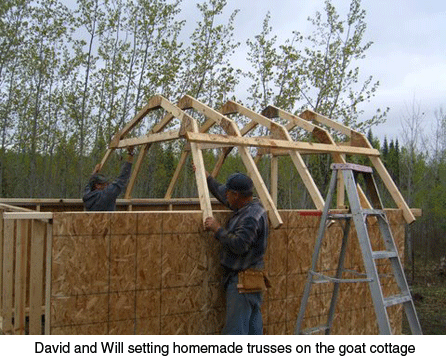 Spencer, our black Lab, is learning to "get 'em!" and is an avid ground squirrel-hunter. Not only does he protect our livestock and us, but our garden, as well.
We finally got all 2 million leaks fixed on the hot tub (where the PVC pipes had frozen) and it was ready for water. But we knew it would cost a bundle to heat it often with propane. So while Will was at the dump, he brought home two hot water heaters, an electric one and a propane tank. After removing the insulation and covering, he cut the bottom 18 inches off the electric tank, made a door and ash cleanout door in it, then welded it onto the bottom of the propane tank. (The propane tank has a chimney through the center). Now we had a wood-fired water heater. Will bought a new pressure relief valve so it didn't go into orbit if it overheated, then plumbed it into our hot tub, the top line going into the tub up high and the bottom one down low to create a thermosyphon. He fired up the heater, bled out the air from a faucet on top, and in a few minutes, we watched the ripple of incoming warm water from the tank into the hot tub. Wow!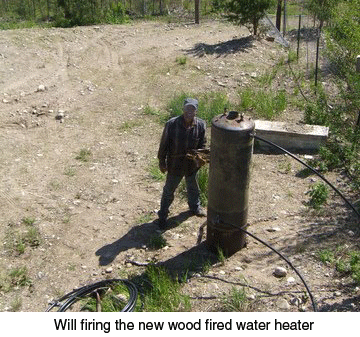 He later boosted the flow with a little 12-volt pump, run off an old lawnmower battery. It worked great and we had hot water in three hours. For free. That makes soaking our weary backs in that hot water even sweeter! Ah! Life on the homestead!
Readers' Questions:
Canning chili
I am new to canning and have read your blogs for lots of great ideas and help. I am a little confused by Presto as they have recipes for their 23 Quart Pressure canner that state that you only need to pressure can Chili for 15 Minutes at 15 Pounds. See their web site instruction manuals for confirmation. According to you and the USDA the correct amount of time is 90 minutes. Why would Presto go with 15? I played it safe and went with the 90 to be sure.
Bob Burbage
Belvidere, New Jersey
I really don't know, Bob. Why don't you give them a call or email and ask? I'd be interested in finding out their reasoning on that one. — Jackie
Watery tomato sauce and canning lemon curd
I have written before and I have to say that I love all the answers. We are currently getting all the veggies in the ground and so far we are seeing blooms on the Early Girl tomatoes! Yay! Only one question with that: last year I canned all this wonderful tomato sauce that I thought would be great. Just had to pour it out and heat it up for noodles and meatballs. But it was not to be. The sauce was basically watery and tasteless. What can I do to make it better this year? Can I make the recipe but not cook it down and just pack it in hot jars? Without water? And process it in a water canner?
Another question I have is that I love lemon curd. Can I can it in jars in the water processor? I hope I can, making it every week or so is getting a bit much!
Jonica Kelly
Randallstown, Maryland
I'm not sure what you did with your sauce. To make great tomato sauce, first either peel your tomatoes or run them through a tomato strainer like a Victorio Squeezo. Puree the tomatoes, one way or another, NOT adding water. Then add any spices you wish, just like you were making your sauce from fresh. If you don't know if your tomatoes are an acidic variety, add 1Tbsp. lemon juice to each pint jar and 2 Tbsp. to each quart jar before you fill them. Simmer the tomato sauce down until it is fairly thick; the thickness depends on your likes but remember the lemon juice will slightly water it down. Process. This sauce will NOT be watery and tasteless. Good canning!
I found this information for you from the University of Georgia and I know I'll use it too:
Canned Lemon Curd
2½ cups superfine sugar
½ cup lemon zest (freshly zested), optional
1 cup bottled lemon juice
¾ cup unsalted butter, chilled, cut into approximately ¾-inch pieces
7 large egg yolks
4 large whole eggs
Special Equipment Needed: lemon zester, balloon whisk, 1½ quart double boiler (the top double boiler pan should be at least 1½-quart volume), strainer, kitchen thermometer measuring at least up to 180 degrees F, glass or stainless steel medium mixing bowl, silicone spatula or cooking spoon, and equipment for boiling water canning. Yield: About 3 to 4 half-pint jars
Procedure:
1. Wash 4 half-pint canning jars with warm, soapy water. Rinse well; keep hot until ready to fill. Prepare canning lids according to manufacturer's directions.
2. Fill boiling water canner with enough water to cover the filled jars by 1 to 2 inches. Use a thermometer to preheat the water to 180 degrees F by the time filled jars are ready to be added. Caution: Do not heat the water in the canner to more than 180 degrees F before jars are added. If the water in the canner is too hot when jars are added, the process time will not be long enough. The time it takes for the canner to reach boiling after the jars are added is expected to be 25 to 30 minutes for this product. Process time starts after the water in the canner comes to a full boil over the tops of the jars.
3. Combine the sugar and lemon zest in a small bowl, stir to mix, and set aside about 30 minutes. Pre-measure the lemon juice and prepare the chilled butter pieces.
4. Heat water in the bottom pan of the double boiler until it boils gently. The water should not boil vigorously or touch the bottom of the top double boiler pan or bowl in which the curd is to be cooked. Steam produced will be sufficient for the cooking process to occur.
5. In the top of the double boiler, on the countertop or table, whisk the egg yolks and whole eggs together until thoroughly mixed. Slowly whisk in the sugar and zest, blending until well mixed and smooth. Blend in the lemon juice and then add the butter pieces to the mixture.
6. Place the top of the double boiler over boiling water in the bottom pan. Stir gently but continuously with a silicone spatula or cooking spoon, to prevent the mixture from sticking to the bottom of the pan. Continue cooking until the mixture reaches a temperature of 170 degrees F. Use a food thermometer to monitor the temperature.
7. Remove the double boiler pan from the stove and place on a protected surface, such as a dish cloth or towel on the countertop. Continue to stir gently until the curd thickens (about 5 minutes). Strain curd through a mesh strainer into a glass or stainless steel bowl; discard collected zest.
8. Fill hot strained curd into the clean, hot half-pint jars, leaving ½-inch headspace. Remove air bubbles and adjust headspace if needed. Wipe rims of jars with a dampened, clean paper towel; apply two-piece metal canning lids.
9. Process half pints in the prepared boiling water canner 15 minutes for 0-1,000 feet altitude, 20 minutes for 1,001 to 6,000 feet altitude, and 25 minutes above 6,000 feet altitude. Let cool, undisturbed, for 12 to 24 hours and check for seals. — Jackie
Spider mites
I have enjoyed your articles since I started reading Backwoods Home Magazine. I have a question about our garden:
We are new to Alaska and we are trying to get a nice little garden going to supplement our produce. We started all our seeds in little trays and have just recently moved them outside. The problem is that they are all starting to wilt at the stalk and shrivel into nothing. The only thing that happened while they were in the initial planters is that we had this interesting little spider web looking thing grow around the base of our plants. It it looking like this year's garden is going to be lost if we can't figure this out.
Thanks for your help. Any other advice about planting up north as opposed to the south (where me and my wife grew up) would be greatly appreciated.
Joel Ryals
Fort Wainwright, Alaska
You sound like you may have spider mites in your seedlings. These are tiny little "bugs" that suck the juices from the plant, much like aphids do. Use a mild insecticide spray, such as Safer or a rotenone based product to spray your plants. — Jackie
Metal to metal seal on canner
You talked about a canner with metal to metal seal. I have searched on-line looking for one and without a name I have had no success. Could you give me the name of one or more? It will be much appreciated.
Brenda Hudson
Calico Rock, Arkansas
I have two canners with a steel to steel gasketless lid. One is an old timer and I don't have the brand. The new one is an All-American. Lehman's Hardware also sells their own brand of this canner in several sizes. — Jackie