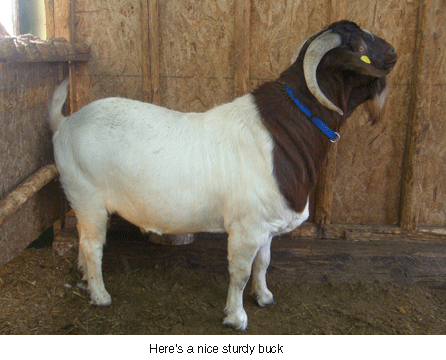 As several of our does and doelings are related to our Boer buck, Rocky, we decided to buy a new purebred Boer buck this summer. Well, we looked and looked and we couldn't find anything we liked or that was even as good as our own stock here on the homestead. We want to improve our little herd. I cross Nubian dairy goats with Boer meat goats to get a heavier, stronger body, yet retain the milking ability of the dairy goats. So far it's worked very well. I have two does that milk over a gallon a day and have produced stocky daughters and sons, too.
We were getting very frustrated after days of looking and having this and that herd not work for us. It finally looked as though we'd have to go to the Iowa/Minnesota border for a good buck when I spotted this GORGEOUS buck on the Internet. And he was only two and a half hours away, too! Let me tell you, it didn't take too long for us to get driving! Minutes after I talked to the owner, Will was building a stock rack for our pickup. That was yesterday. My friend, Jeri, took care of Mom and off we went to McGregor.
The goat belonged to a young man, Beau Sorenson, who has a nice small herd of Boers that he shows in 4-H. We love to support youngsters in their animal endeavors, so it didn't take long for us to strike a deal. We also bought one of this buck's doelings from this year.
We're so excited about this BIG, thick buck and all he can do for our herd. I could do without the horns, but most Boers come with them, so we'll just have to live with them. But all his kids will be disbudded for ease of handling and their own safety. Oh, yesterday was my birthday, so WHAT a birthday present, huh? Wow!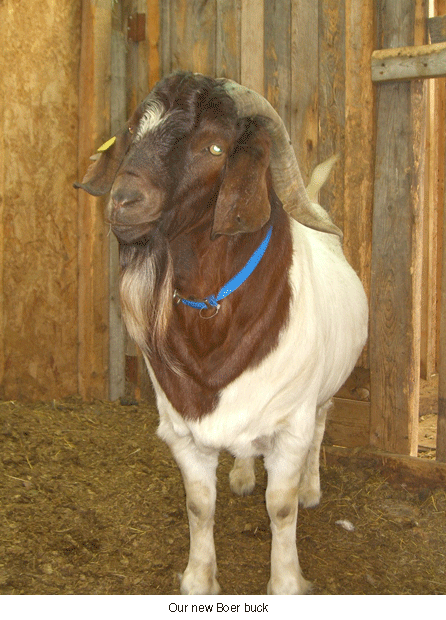 Readers' Questions:
Potato/tomato blight
I hope your weather is warming up for your garden. All of your projects seem to be coming along great. Enjoy watching your progress. I have a question about potato/tomato blight. Unfortunately, Pennsylvania has been experiencing this blight for several weeks. Do you have any suggestions for protecting the plants from this destructive disease? Several of my neighbors have lost their entire crops of tomatoes/potatoes already. I am looking for something homemade, if possible. Thank you for any advice you can give. Also, do you have a date yet for the release of your new book? I am really looking forward to getting it. I am "hoping" to give it as Christmas gifts.
Rosemarie Wesolek
Mahaffey, Pennsylvania

This is a highly destructive form of late blight, which was also seen in the Irish Potato Famine in the 1800s. It kills the plants, causing the fruit to rot in or on the ground.
It seems to have been spread this time by the sale of infected tomato plants. It can be wind-borne, settling out on various host plants, chiefly tomatoes and potatoes, causing outbreaks.
It is caused by a fungus-like organism and is susceptible to fungicides. The recommended combination is chlorothalonil and copper, with copper alone working in some cases; the combination is much better. It is recommended to treat gardens and commercial plants in the "danger zone," chiefly Pennsylvania, before any signs show in your plants, to protect them.
Annie Tuttle is madly at work finishing the last bits and pieces of editing and formatting the book so it can go off to the printers. (It may have already left; it's that close!) So it should be available quite soon. — Jackie
Canning coleslaw

I can everything under the sun. I want to make the best use of my cabbage which is having a great year due to the cool summer. I want to can coleslaw, but I am concerned about the amount of oil in it. Also how long would you can it for? I use 1 head cabbage, 1 green pepper, 1 onion, 1 carrot, 3/4 cup vinegar, 3/4 cup oil, 1 1/2 cup sugar, 1 tsp. salt, and 1 tsp. celery seed. Do you have a better recipe?
Patricia Harmon
Spencer, New York

Instead of coleslaw, why don't you try pickled cabbage, which is a sweet, pickled, shredded cabbage that is quite crisp. I then drain it, add mayonnaise and have a good "canned" slaw base. You're right; too much oil. — Jackie
Problem with gas stove burner
You responded to my question in the end of June, and I just got back from a trip and just now read it. You may remember that I was having trouble keeping the pressure regulated in my canner, that the pressure was too high with the burner all the way turned down. You asked if my stove was electric. No, it's not. It's gas. Turned down as low as it will go, it will scorch anything through the thickest cast iron I have, unless I keep half the pot off the burner, and continually turn it. I don't have a propane stove like you mentioned, however I do have a few Coleman stoves, so maybe I will try it on one of those. It's so frustrating for cooking, as well as now trying to pressure can on it.
Angela Billings
Stronghurst, Illinois

I would check with a gas repair person in your area. This is NOT normal and your burner may need an adjustment. I can just imagine how horrible it is to cook on it! — Jackie
Canning eggplant casserole
For the first time ever I'm growing eggplant (I'd never eaten it either). So I've been hunting recipes for it. I've finally found one. Now I want to know if there is any way I can can the ingredients. My major concern with this recipe is there's very little liquid.
Here's the recipe:
Eggplant Supreme
1 lg. eggplant
1 sm. bell pepper
2 celery ribs
1 lg. onion
1/2 stick of butter
1 Tbsp. Worcestershire
1 dash Hot Sauce
1 C. Grated Cheese
crackers or fine bread crumbs
Preheat oven to 375. Peel and cube eggplant. Cook in a little salted water on medium-low heat until tender. In separate pan, saute celery, onion, and bell pepper in butter. Add cooked and drained eggplant, Worcestershire sauce, hot sauce, salt, and pepper to sauteed mixture. Pour into casserole dish. Sprinkle cheese and bread or cracker crumbs on top. Bake at 375 for 30 minutes.
Of course if I was canning this I would leave off the crumbs and cheese until I was ready to eat it. Any help you can give on this is greatly appreciated.
Porsche Roth
Norfolk, Virginia
You're right; there is very little liquid and also the butter and green pepper. I think I'd pass on canning this recipe. If you have a freezer, why not make batches up and freeze it? Or can the eggplant alone and make your recipe as you wish? — Jackie
Ceramic laundry discs
Have you ever used the T Wave Ceramic Laundry Discs by Tsunami Wave or any other laundry discs and are they as good as they say they are? They sound like a great alternative to laundry soap.
Ken Smith
Shenandoah, Iowa

No, I haven't. Have any readers used this product? I'd like to know too. — Jackie
Using salt in asparagus beds
I have a 50-foot row of asparagus and it's a pain to keep weeded. A friend told me that his grandmother used to salt her asparagus bed to keep the weeds down. Does this work? What kind of salt and how much do I use?
Betsy Palmer
Saybrook, Illinois

I tried the salt and it really didn't help. Instead, I switched to a heavy mulch and that made a huge difference. Any weeds that do show up are easily pulled. You can use straw, pine needles, or wood chips. Then in the fall, after you weed it, spread a couple of inches of good rotted manure over that. The manure contains abundant nitrogen to feed the plants for next spring's growth. — Jackie
10 acres of wheat
My husband and I have recently purchased a home on 10 acres currently planted in wheat. We do not have the equipment nor are we interested in growing wheat in the future. We are only looking to transform 1-2 acres into a garden for our vegetables but plan on planting several fruit trees on some of the other land. The rest we will leave as is. Will the unused portion of land need to be cleared or will it eventually "grow over?" We both work full time now but in the future when we retire (10 years) we may use the land for future gardens and/or animals and would like to do what we can now to prepare. What would you suggest – we would be happy to let someone harvest the already-planted wheat at no charge but what after that?
Jacqueline Chivleatto
Troy, Idaho

If it were my land, I'd probably plant it to a pasture crop, such as alfalfa, clover, etc. mixed with orchard grass, timothy, or another grass that does well in your area. Ask a feed dealer in your area. This will help keep the weeds down, which will help your future homestead garden, and will provide a nice pasture for any animals you decide to buy later on. Just leaving it wild will work, but you'll end up with a lot of undesirables, weeds and other growth that you may have to deal with later on.
— Jackie
Canning green beans in the oven

Have you ever canned green beans in the oven? My mother use to can in her oven when I was little; she's gone now, and I have been trying to can. I can't remember how hot or how long you leave them in the oven.
Joyce Johnson
Inwood, West Virginia

PLEASE DON'T CAN YOUR GREEN BEANS IN THE OVEN OR IN A BOILING WATER BATH CANNER. I know in the past folks did these things, but it is not safe enough to continue doing now, especially the oven canning. Green beans must be pressure canned to kill the possible botulism spores that produce deadly toxin. — Jackie
Can pressure canning cause mushy food
Several of your recipes call for fully cooking foods before canning the food. Then during pressure canning the temperature is raised again and held at that high temperature. Does this not create mushy food?
Mary O'Brien
Nashville, Tennessee

No. If it did, I sure wouldn't do it. Some foods are not changed by "double heating," so to speak, where others do get mushy. Generally, the ones that do get soft are only simmered for about 5 minutes to heat them thoroughly before processing, but always check the directions on the food you plan on canning. — Jackie