So you think it doesn't matter what seed starting soil you use?
Last year I used Miracle Gro Mix to start seeds and have NEVER had such rotten plants — bad germination and terrible seedlings. This year I used ProMix, which costs $7 a 3 cu foot bag more than the former. BUT this year I had nearly 100% germination and the plants took off like rockets. Just take a look and see the difference! Of course, I've also made my own seed starting soil, using rotted compost, peat, and vermiculite, but I just didn't have time this year (again!). But at least I will have very strong plants to set out. Not like last year when I was embarrassed to have folks see "Jackie Clay's" puny seedlings. Thank God they did grow and produce for us, though.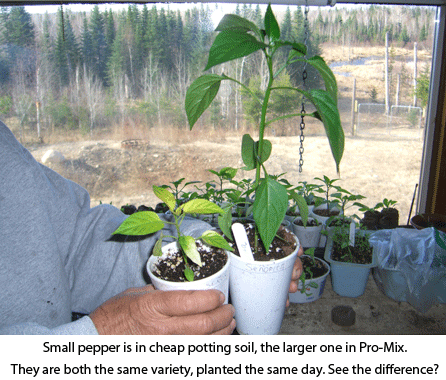 I got my comfrey set out and it is starting to come up already. Of course, when you get plants and roots from a friend they are always better than those you get through the mail, anyway. Today I also set out ten wild plum seedling trees from Fedco in my little garden/orchard north of the new training ring. Now we have horseradish, comfrey, blackberries, and wild plums down there. And our garden is 500 feet safe from being invaded by these great, but exuberant species!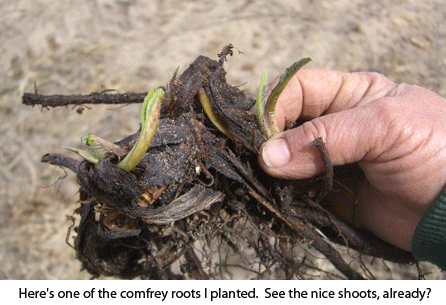 I saw Mama Fox today, twice, by her den where she has babies. I was planting those plum trees and she was hanging around in the woods, keeping an eye on me, but not real scared. I think she knows we aren't dangerous.
Readers' Questions:
Using an older canning book
I have a question in regards to canning foods. I'm VERY new at this endeavor and just wanted to clarify something. I've been reading BHM for about a year now and haven't come across the answer to this question so, I need to ask.
You've stated that when canning we need to get a recent canning book that discusses processing times, ect. I have a 2003 copy of the Ball Blue Book of Preserving. The book has lots of recipes that sound interesting, but the things I want to can the most are my family recipes, such as my mother's meat spaghetti sauce. Since I'm not following their recipes, how long do I process it and at what pressure? How do I learn that? Is it somewhere in the book that I'm overlooking? Or, am I only supposed to can recipes in their book?
Joanna Huffman
Port St. Lucie, Florida
When new to canning, it's best to follow tried and true recipes. But if you'll forgive me for plugging my own book, I really think you'll find it more down to earth useful than the one you're using now. You CAN use family recipes, but you need to process them for the length of time and method used for a very similar recipe (most ingredients, but for seasonings the same), to avoid pitfalls.
Never fear, the more you can, the more you'll learn and be able to spread your wings safely. — Jackie
Making beef broth
Just wanted to pass on a tip to make a great beef broth. A friend of mine years ago (she was in her 80's when she gave me this tip and it came from her mother) would always take all of her beef bones, carrots, celery and onion (I add a few pepper corns) and put them in a roasting pan and cook them in the oven on a low temp (250 degree's) for the whole day (12 hours at least and usually at night while she slept) and then cooked them in water as soon as she woke up in a large pot on a low simmer. She would cool and strain the bones and then chill the broth over night for the fat to raise to the top for ease of removal. (In the winter time I put my broth with a tight lid in my van to free up fridge space). Then she would take the fat off and bring the broth back to a boil and then can (omit the bring to a boil if you are going to freeze). I can honestly say that this is the best broth I have ever had or made. I am not sure what the baking of the bones do but somehow it intensifies the flavor of the broth and it is delicious. I use this broth in everything from soups to gravies to spaghetti sauce. I must admit that I have two roaster ovens (electric) and I make all of my broths in them due to the ease of the whole process. I brown the bones and vegies and then simply add the water which makes this a one pot wonder for me and frees up my stove and oven but I did make broth the traditional way on a jelly roll pan (instead of a roaster) for years and years. This extra work (which really isn't much) is well worth the effort. I am making a large batch of beef broth as I write this and I am fondly remembering my wonderful friend Marylin. The smell of Marylin's broth always brings back fond memories of a very special person.
Michelle Chapin
Fresno, Ohio
This is a great idea, Michelle. I do my tomato sauces this way to avoid all that stirring and standing over the pot. I'll sure use this tip myself! Thanks! — Jackie
Making pumpkin butter
My family loves pumpkin butter, but our pumpkins did not do well last year. We are running low and I need to make some more. I have no pumpkins and cannot find any for sale this time of year. I was wondering if I can make pumpkin butter from canned pumpkin? If so do you have, or know where I can get a recipe.
Sarah Jo Smith
Irwin, Pennsylvania
Yes you can use canned pumpkin for your pumpkin butter. (Remember that it is not recommended that you home can pureed pumpkin, though.) Either use store pumpkin or drain your cubed pumpkin, then puree it well. Add cinnamon, allspice, cloves, and sugar to your taste, then heat well in either a crockpot or in a double boiler to keep it from scorching. Stir well, then ladle into pint jars and refrigerate or freeze for longer term storage. — Jackie