CAN YOU FIND JACKIE?
With the heat and rain, our tomatoes have run amok. Although I put the rows four feet apart, staking and caging the plants, you can hardly fish your way though the plants. Yesterday, I canned 8 pints of tomato sauce, and there's probably another 10 gallons of tomatoes ready to do it again!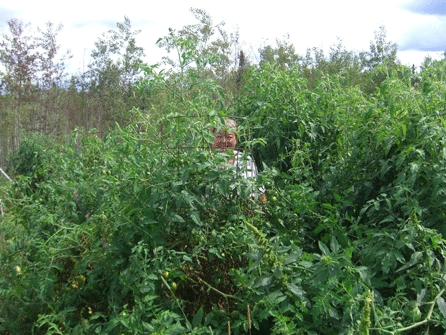 And the day before yesterday, two friends, Dianne and Jeri, came over to help me cut up green beans. From three rows, Will picked five huge baskets full of beans! While we cut, Will picked, and we got 28 pints done, plus I sent each of my friends home with a basket full, making 13 pints for each of them! It was a long afternoon, but we had fun and it felt good, getting back into the swing of things. My body still hurts all over. And so does Will's, but we're hanging in there and waiting for less pain in the (near, I hope) future!
Readers' Questions:
Buckeyes
I started subscribing to BHM this year and have bought several anthologies. I can't believe I've lived this long without you guys. It's great to read and learn from other people who think the same way you do. I have two questions, one that is serious and one that is not. Are buckeyes good for anything? (The nuts not the people from Ohio.) And is it possible to homestead in Illinois? When I think of homesteading I think of remote places like Montana, Alaska, etc.
Ben
Kankakee, Illinois
If buckeyes are good for anything, it's chucking at the squirrels in the walnut trees. (Anyone have a better use?) You can homestead ANYWHERE you want. A lot of folks think you can only homestead in remote, difficult places. But in reality, very few people actually succeed in them for those very reasons! I've met a lot of very self-reliant folks, living on an acre or two, in relatively urban places. Of course, I, personally, feel the "need" for more land (to do more things!) and to hear the cry of nature. But it's amazing at what you can do when you put your mind to it…no matter where you homestead!
One thought — if you plan on building your own place, you'd best check out building regulations/codes in any area you plan on homesteading. Some locations have so many rules, it makes doing it yourself very difficult…and expensive! All the best of luck and welcome to the family! — Jackie
Processing time for pickle recipe
I have been trying to find a recipe for Giardiniera to can. I found the following one, and it does not list the time to process. Can I just process it like another vegetable pickle recipe? Thanks! Maybe you would include a recipe in your next cookbook hint hint.
RECIPE FOR CANNING
Italian Giardiniera
1 large head of cauliflower, separated into small florets
6 large carrots, peeled and cut into coins
4 red bell peppers, seeded and cut into 3/4 inch chunks
2 green bell peppers, seeded and cut into 3/4 inch chunks
1 cup pearl or button onions, peeled and left whole
2 jalapeno peppers, seeded and sliced into thin strips (use more if more heat is desired)
1 cup chopped green pimento olives (optional)
4 cloves garlic, peeled and sliced thinly
1 tablespoon dried oregano
1 1/2 teaspoons red pepper flakes
1/2 teaspoon black peppercorns
8 bay leaves (1 per jar)
2 quarts white vinegar
1 cup salt
Combine all vegetables (except for olives) in a large bowl with salt. Cover with water and refrigerate overnight. After soaking overnight, drain the vegetables and rinse lightly with fresh water.
Heat vinegar, garlic, and all herbs and spices together in a large stockpot until boiling. Turn off heat and add vegetables, stirring thoroughly. Set aside for 15 minutes. In the meantime, sterilize 8-12 pint jars in boiling water or in the oven on 250 degrees Fahrenheit for 15 minutes. Pour hot giardiniera into jars, leaving a half-inch headspace. Make sure that some of the spices get into each jar along with one bay leaf. Secure lids and can using the water bath method.
Natalie Dimitruck
Los Alamos, New Mexico
I've made a very similar pickle, though in the final directions, I pour the drained vegetables into the pickling solution and bring just to a boil, then pack into hot jars.
Note: it is not recommended to heat/sterilize your jars in the oven, although many people do. They can break from dry heat, I'm told.
You would process your pickle for 15 minutes in a boiling water bath canner. If you live at an altitude above 1,000 feet, consult your canning book for directions for increasing your processing time to suit your altitude, if necessary. — Jackie
Squash vines dying
It has been very hot here this summer and my winter squash vines are dying fast even though I water them. The squash are not ripe, how do I get them ripe after the vines die?
Charles Britton
SouthWest City, Missouri
Once the vines completely die, you won't ripen your squash further. Keep watering and hope that the vines will pump out enough nutrients to ripen the squash, even though the leaves are drying up. — Jackie
Rose hip jam and syrup
I have a couple of recipes for making rose hip jam and syrup. Can I can these using the water bath method? If so how long? The syrup includes the watery mush of the hip and honey. The jam is 2 c. of pulp, 1 c. sugar and 1 tsp. lemon juice.
Bea Ward
St. Paris, Ohio
Generally, you can water bath process all fruit syrups and jams/jellies to ensure a good seal. You would process for 15 minutes. (If you live at an altitude above 1,000 feet, consult your canning book for directions for increasing your processing time to suit your altitude, if necessary.) As neither of these recipes is a "tested" one, I can't recommend you canning them, but, personally, I wouldn't be afraid to do either. — Jackie
Canning pickles with hot peppers
Jackie, My brother and I have been canning pickles from our homegrown cucumbers like mad the past few weeks. We decided we wanted to utilize an abundance of cayenne and jalapeno peppers. We pureed 17 large jalapenos and 10 large cayennes in vinegar and substituted this liquid for one-half of the water in a bread & butter recipe as well as a polish dill recipe. We wanted HOT, expected HOT and received superb quality pickles but very little heat. We only made a small batch (7 pints of each recipe) to test our heat…..What did I do wrong? What do you recommend for MORE HOT and still maintain a quality pickle. This is our first year at homecanning….so far pickles, beans, potatoes, peach and plum jelly and preserves adorn our pantry. Thanks for all you do and the information that you so willingly share with all your readers.
Kevin Davis
Elk City, Oklahoma
What I do to increase the heat in pickles is to slice up very hot peppers in place of some of the cukes or green/red sweet peppers in a pickle recipe. I've never had wimpy hot pickles yet. You might try this. Don't remove the seeds, as a lot of the heat is in them. I'm always nervous replacing a vegetable (pepper) puree for part of the water in a recipe; the sliced peppers pickle safer. — Jackie
Growing and Canning Your Own Food
After reading the last "Ask Jackie" I made the correction to the Amish Relish recipe. Was hoping, for those of us who have already purchased your canning book, if you would pass along the other corrections so we can update our canning book. Thanks so much for taking your time to pass along your knowledge.
Betty Anderson
Berryville, Arkansas
The corrections we've found so far, but for the alphabetized index and yields of each recipe readers want, the errors are: The Amish Relish recipe needs 3 pts. of vinegar. The salt listed for the mustard bean pickles is only the salt added to the water in which the beans are simmered to become tender. It is drained off with the water prior to pickling. Also on pg. 150, you might like to add "pour boiling water over peppers, leaving 1 inch of headspace". Other than this, I can't think of any boo-boos. — Jackie
No-sugar jellies
My question is related to the fact my husband is a diabetic and I want to prepare jellies, preserves and other sweet things using Splenda. Can I do this? If so what is the shelf life?
Resa Sharit
Gardendale, Alabama

Better yet, use low-sugar or no-sugar powdered pectin products, such as No-sugar/low sugar Sure-Jell or Pomona's Universal Pectin. This doesn't affect the shelf life, when water bath processed properly. Welcome to the family! — Jackie