Last week, we had an unexpected, early snow. Twig, south of us, got over 8″ of snow and it's still partly on the ground! Luckily, we didn't get much, so we kept splitting and stacking wood. Unfortunately, we had to pull our old stack of wood apart in the storage building, as it slid sideways, pushing out the OSB on the walls, near the corner. So as Will pulled it out and hauled the old, very dry wood into the house, I stacked it on the back porch to use for our "emergency" wood (for when we're sick or when it's blizzarding out and we don't want to go to the wood shed!). We've got about 2 1/2 cords in there now, and the new, dry wood we are splitting is being stacked again, in the wood shed so it can't push against the walls, no matter what.
I'm working, daily, on the new recipe book, which promises to be a good one. I plan on giving one to my son, David, as next year he'll be off to college. He plans on becoming a heavy equipment operator, and the only school is in Staples, about 4 hours southwest of us. So he'll have to learn to really cook. And he's not used to frozen TV dinners, either.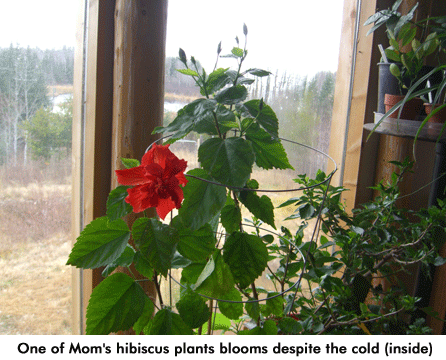 Readers' Questions:
Freezing french fries
How do I go about making french fries from my potatoes, but still freeze them?
Meredith Wendt
Rockford, Illinois
To do this, cut your potatoes, then soak them in ice water for a couple of hours, covered. Dry them by tossing them lightly in a thick towel. Heat a deep fryer to 360 degrees and fry a few at a time, just for a few minutes. Then remove from the oil and drain well. Repeat until your batch is done. Then freeze on a cookie sheet until frozen and repack in airtight freezer containers. — Jackie
Bitter orange marmalade
I am on vacation and at a historic mansion I found and gathered what I learned to be about a peck of trifolate oranges. (With the permission of the docent.) I understand that these fruit are very bitter, but that they make good marmalade. Do you have a recipe? And also, do you have any thoughts on growing these trees indoors?
Celeste Reese
Sarver, Pennsylvania
BITTER ORANGE MARMALADE
3 lbs. of bitter oranges (about 12 oranges)
4 cups water
2 lemons
4 to 5 cups sugar
Cut the oranges in half and juice them, one by one, until you have 2 cups of juice. Set aside the juice. As you juice the oranges, also save the seeds and the membranes – put them in a separate bowl and set them aside. The seeds and membranes will be used for making pectin.
Taking a clean juiced orange half rind, use a spoon to dig out as much of the white pith as you can. The pith is bitter, so the more you can get out the better.
Use a sharp chef's knife to thinly slice the peel. Once you slice all of the oranges that you juiced to make 2 cups of juice, you should have about 4 cups of peel. Set these sliced peels aside.
Juice the lemons and add this juice to the orange juice. Save the seeds for making pectin. Remove the seeds and as much of the inner membranes as you can easily remove. Cut the lemon segments crosswise into triangular pieces. Add the lemon seeds and membranes to the orange seeds and membranes.
Put all of the citrus seeds and membranes into 4 layers of cheesecloth, tied up tightly with string, or into a muslin jelly bag.
Place the orange and lemon juices into a large thick-bottomed pot. Add the sliced orange peels and lemon pieces and the water.
Place the cheesecloth or muslin bag containing the citrus seeds and pulp into the pot and secure the string at the other end to the pot handle. As the mixture cooks, the pectin from the seeds and membranes will be extracted into the mixture.
Bring mixture to a boil. Let boil, uncovered, for about 30 minutes, or until the peels are soft and cooked through. Remove from heat. Remove the pectin bag and place it in a bowl to let cool until it is comfortable to touch.
Pour out the mixture from the pot into a large measuring cup. Measure how much of the mixture you have. Add to the mixture 7/8 cup of sugar for every cup of mixture. So, if you measured 4 cups of mixture, add in 3 1/2 cups of sugar. Once the sugar has dissolved, taste the mixture. Add more sugar depending on how sweet you want your marmalade to be.
Once your pectin bag has cooled to the point you can handle it, squeeze it like to extract extra pectin. Squeeze the pectin until you have released anywhere from 2 Tbsp to 4 Tbsp of pectin. The pectin has the consistency of sour cream. Add it to the orange mixture.
Heat the jelly mixture on medium high and bring it to a rapid boil. The marmalade may take anywhere from 15 to 30 minutes or so to jel. After about 10 minutes, start checking it frequently. When it is jelling, a spoonful, turned sideways will start sliding off the spoon in a sheet instead of drops.
When it reaches the jelling point, quickly ladle it into hot, sterilized canning jars, leaving 1/2 inch of headspace. Place a hot, previously simmered lid on the jar and screw the ring down firmly tight. Process jars for 10 minutes in a boiling water bath canner.
You can sure try growing bitter oranges indoors; I'm always trying something different. (Who'd think you can grow lemons indoors in Minnesota? I have a ripening one right now!) Good luck. — Jackie
Killing red wasps
I am purchasing land and building a home. Our first shot at homesteading and looking forward to it. Deer stands on property all have red wasp nests. Here in Texas it may not get cold enough to kill them before deer season. Plus I am allergic to bee stings. How can I kill wasps without poisoning wildlife, and preferably (if possible) without leaving too much odd scent to scare off the deer? How can we kill the fire ants near the house without killing/poisoning wildlife? We plan to get guineas soon, but need a way to deal with at least the wasps before then. I heard corn starch would kill ants, but wouldn't it also kill birds and other small wildlife? Or maybe it was cornmeal? I don't remember which now.
Donald Branch
Fort Worth, Texas
Two of the best organic ways to kill fire ants are dumping several gallons of boiling water down the center of each hill and mixing boric acid with sugar and sprinkling it around the mound. The ants eat it and the boric acid kills them without harming the surrounding area. Fire ants are tenacious and it takes a while to get rid of them, so be sure to keep at it.
I wish I knew an organic "magic bullet" for your wasp nests. But I don't. If it were me, I'd get a long-distance Raid wasp spray, wait until late in the evening, just before dark, and spray the nests well from a distance. Move on to your next nest, etc. The next night, do the same. Then check for activity in the nest. There should be none. With a long pole and wearing long sleeves and a scarf, poke the nest down, armed with your spray, just in case. No activity? Poke the nest into a plastic bag and tie it tightly shut. Repeat with the other nests. Then burn the whole works. It may smell for awhile, but it's surprising what deer consider a threat smell and just a peeweee smell. — Jackie
Winter squash not ripening
This year, we didn't have a lot of luck with our winter squash so many of them are green and look like little tiny "mini-squash". We have a bunch. So my question is, are they edible?
Judy Sloan
Spokane, Washington
Certainly, they're edible! Just treat them like summer squash and cook 'em up. Native Americans used those green squash, as well as squash blossoms and, of course, the mature winter squash, getting three different crops from each vine. — Jackie
Canning stuffed cabbage
I wonder if there is a certain cabbage that I can get that will hold up better in my canning stuffed cabbage? I used to have no problem but lately the cabbage leaves seem to get transparent in canning and fall apart when I take them out of the jar. I never use to have this problem can you suggest a cabbage with thicker leaves?
I love your canning book and use it all the time for everything! It is wonderful.
Judy Mimranek
Live Oak, Florida

I use Late Flat Dutch cabbage for canned stuffed cabbage. It does have larger, thicker leaves than does Danish Ballhead, the common commercial cabbage. I'm tickled you like the canning book. I'm working hard right now (which is why I'm having a hard time blogging more regularly!) on my new recipe book using all those home canned, storage pantry, and homegrown foods. I think it'll be a great book, too. — Jackie
Chicken a la King recipe in Jackie's canning book
I tried this last evening and after cooking the chicken (6 lbs in 3 quarts of water); I had 3 quarts of broth; your recipe states I am only to use 1 quart of the broth to the 4 tablespoons of flour & 1 tablespoon of salt; what do you do with the extra broth? I put all the broth in and doubled the flour, but not the salt and followed the rest of the steps in the recipe. It tasted delicious (had to sample it!) and got 5 quarts
Mary Helwig
Red Lion, Pennsylvania

That's great. I usually just can up the extra broth separately, but at the same time I can the chicken a la king. I can always use extra broth! But by doing it your way, you got more end product, although a little less chicken in it. — Jackie
Green potatoes
My potatoes did well this year, but I have a question — after I pulled them all up, I put them out in the house to dry for a couple days before putting them up, and they are all turning green! Do you know what causes this and how to prevent it? I grew Russian bananas in grow bags and russets in the garden. They all looked fine when we dug them. Also what is the easiest way to dig them out of the ground?
Natalie Dimitruck
Los Alamos, New Mexico
Potatoes turn green from being exposed to the light. Even light in the house will do it. You prevent it by drying them quickly outdoors in the wind, then bringing them inside to store in enclosed containers out of the light. I store mine on the floor of my unheated pantry in plastic tote bins with covers. I only remove the covers to retrieve potatoes, then the covers go right back on.
The easiest way to dig potatoes is either a shovel or spading fork, held out about a foot from the plant. Dig deeply, straight down, then pry upward and pull the vine with your other hand. Then go through the hill by hand because you probably missed a few potatoes along the way, usually the big guys! — Jackie
Tattler lids
I have gone to your blog to try and find the (I think they are called the forever rings and flats) but have been unsuccessful. Can you give me the name of them and where I can find them? Thank you! I love looking at your gardens and harvest. Maybe this coming year I will have some of the success that you have had.
Lynne White
Lacombe, Louisiana
The brand is "TATTLER" and the company advertises in Backwoods Home Magazine and also on my blog. I'm using them and am real satisfied with the product. — Jackie
Canning eggs
I have just started to can eggs and as I peel the egg some of the whites come off with the shell and you can see the yolk. So I am wondering is it okay that the yolk is sticking out when I can it with your recipe?
Christopher Bekkering
Allegan, Michigan
No, that won't hurt anything but appearances. — Jackie
Water in pressure canner
I just bought a great old Burpee pressure canner which has 2 racks with 2 pans. I am wondering if you or some of your readers have instructions on where to put the water. I just tried it out and put about a pint of water in bottom of pot and water in each of the pans, which are about 3 inches deep. My beans came out well, but I'm just not sure about the water in the pans.
Betty Downs
Covington, Georgia
Generally you put 2″ of water in the bottom of the canner; putting some in the pans won't hurt anything. Good canning! — Jackie
Growing vegetables in Minnesota
We've been growing some of our own food for about a decade, and this past year we decided to take it up a notch. We have a 21′ square community garden plot, upon which we built raised beds, and we have three small raised beds at home (where shade is a problem). Our primary goals were to grow all of our own onions and to can enough tomatoes that we'd be able to eat at least one tomato-based meal per week throughout the upcoming year. Early blight and indeterminate heirlooms wreaked havoc on the tomato plan, and our two pounds of onion sets produced roughly five pounds of onions. Now we're planning for next year.
Since we live in Minnesota — and you live in Minnesota — we were hoping to tap into your regional expertise. What are your favorite determinate romas? (in terms of flavor, reliability, and productivity). Other sauce tomatoes? I already noticed that you concentrated your onion efforts on Copras and Stuttgarters. Did you start them from seed? Did you buy sets? And where did you get your initial seed for the onions and the tomatoes?
Melinda Harris & Sarah Marquardt
Minneapolis, Minnesota

My favorite paste determinates are Principe Borghese and San Marzano. But don't discount indeterminates. I grow several on very sturdy 8′ steel T posts, caged with concrete reinforcing wire cages that take little more space…and produce much more than do determinates. Some of my favorite indeterminate varieties are Rocky, Polish Linguisa, and Punta Banda (a wild Mexican tomato I bought seeds from Native Seeds/SEARCH). You can find a lot of widely different tomato varieties in the Totally Tomatoes and Tomato Growers Supply catalogs. It gives us plenty to discuss during the winter!
I raised my Copra onions from seeds, as I don't know of a source of commercial sets. The Yellow Stuttgarters are the common yellow sets available nearly everywhere, including WalMart. I got mine at L&M Fleet Supply early in the onion-planting season. — Jackie