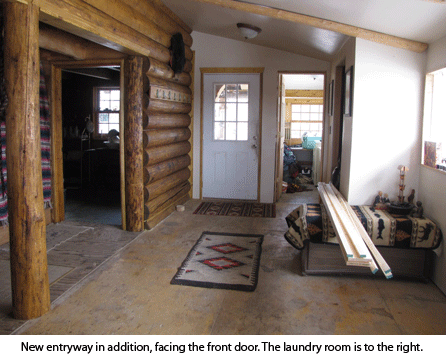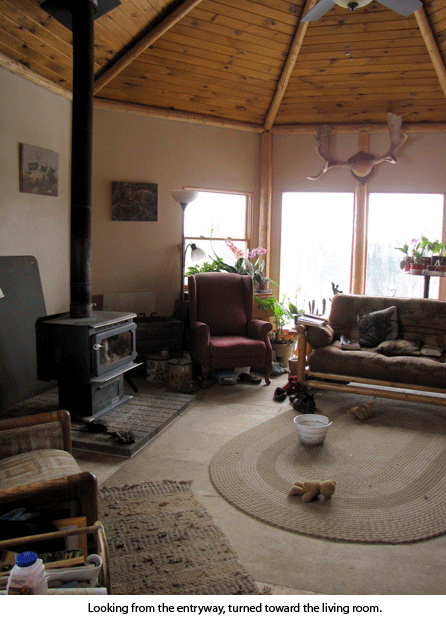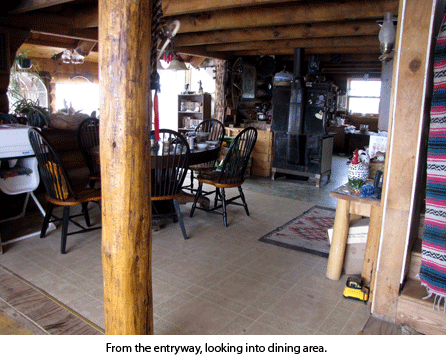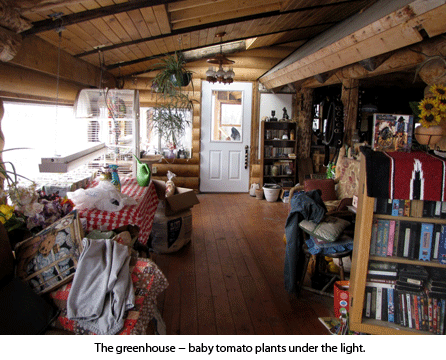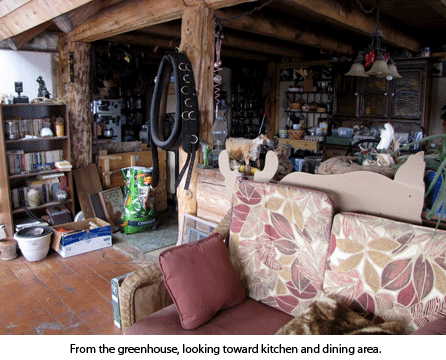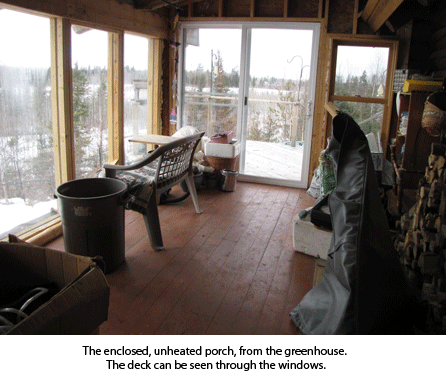 I just thought you'd like to see it, as it is, right now. A lot's happened since two years ago!
Readers' Questions:
TV in the woods
I don't see archived any articles regarding TV Antennas. Since the Gov mandated the discontinuance of analog signals, we were forced to purchase EXPENSIVE satellite service… and we are sick of it. Any tips on what types and manufacture to use in a heavily wooded area 80 miles from the transmitting stations?
Patrick Tanner
Stephens, Georgia

We have a basic Hughes Net, as we are 2 miles away from landline phone service. This could probably get us many extra stations on the TV, but because we only watch two shows per week, we don't want to bother. For an antenna, we just have a small "rabbit ears" round booster antenna in the house. We also live in the woods, far from stations, yet still receive four stations very well, plus others periodically. In the past, we only had a TV in order to watch VHS movies a couple times a week and never missed it a bit…and got more done. TV kind of sucks you in. You don't plan on watching for hours, but it happens. We feel our time is better spent doing constructive things — even if it's just sitting in the quiet, enjoying each others company. — Jackie
Planting Hopi Pale Grey squash
This year I have decided to try the Hopi Pale Grey Squash that you write about. I understand that I shouldn't plant any other squash in the garden if I want to save some seeds, which I do. My question is can I still plant a pumpkin patch? I think pumpkin is in the squash family. Is there a "safe distance" that one can plant other squash?
Ralph Armstrong
Marana, Arizona
I'm glad you're giving Hopi Pale Grey squash a try. I doubt that you'll be disappointed! It is one great squash. You can still plant a pumpkin patch, if you choose a pumpkin that is a C. pepo, not a C. maxima, which is the species Hopi Pale Grey belongs to. I raise several different squash each year, but only one C. maxima. This lets me grow summer squash (C. pepo), pumpkins, butternut squash (C moschata, and others). But I only grow Hopi Pale Greys until I definitely have enough seed. Right now I have two quart jars full, so we're lookin' good! A mile is the distance they need to be separated, so that doesn't work well in most gardens. — Jackie
Canning cake
A friend of ours "cans" cake. She cooks it in the oven in jars and then applies the seal and ring to form a vacuum. Have you ever done this? Is it safe? We pressure can a lot, however, I am hesitant to try this. She found the how-to article in Countryside Magazine.
Becky in Alabama.

I used to do this all the time. However experts tell us that it is not safe, because of possible botulism. So I've quit because it's not really a case of a survival food. Instead, I just store the dry ingredients. — Jackie
Dehydrating soup
I read your article "Sitting Pretty" in #127 (Jan/Feb 2011) and started to write you then, but quit because I thought it was stupid, well things in the world and here at home are getting worse by the day. So I read your article again and thought I would leave it up to you if it is stupid or not. I found a way to make split pea soup that is close to instant…
…What I have been doing for the last number of months now is dehydrating split pea soup. When I make it for supper I use ham or a hock, onion, carrots, celery, and seasonings. I don't do that when I make it for dehydrating (long term storage) maybe I should call it survival soup. This is what I do:
1 gallon water
6 cups split peas (sorted by my Mom)
Ham base to taste (optional) I like it
Salt, pepper to taste (I don't use these, the ham base is enough)
Boil the water, then add peas. Cover and bring back to boil. Stir, cut heat to simmer and cover. Stir every 20 to 30 minutes or so. I use a STAR WIRE under the pot to help keep it from sticking.
I cook it very slow (some times 3 hours), as I am doing my other work, I walk by and stir. I like it well done. When it is nicely done, let it cool till it is cool enough to put in frig. As it is dehydrating it will form a skin if you don't cool it first. The skin does not rehydrate as easy like the rest of the soup and just doesn't taste as good. I usually try to make a pot every day, having one in the dehydrator, one in frig, and one on stove.
I use 9 x 13 x 5/8- inch lip metal trays. I don't like the plastic sheets for this because as it gets dry it blows out. Stir the soup, Divide it between the trays, it should fill 8 trays, smooth it out. Set your temps and start it up. After 3 to 5 hrs, break and mix it up, I use my hands for this, I rotate the trays once or twice also.
When it is dry let it cool completely, then put in a blender and make it into a powder. To rehydrate add about 1/4 cup powder to 1 cup hot water – its soup again.
The best way to store it is to use a vacuum sealer for extended storage or in an airtight container for shorter storage.
My 86 year old Mom and I have worked together all my life, she taught me to bake when I was a little girl, we still work together today, she does sort all the peas, that saves me so much time. We also share what we make. If you can find a helper — family, friend, or neighbor, the work goes faster and you both benefit…
Connie Mellott
Brunswick, Ohio

There is absolutely no dumb question! I've never dehydrated split pea soup, but sure don't find anything wrong with what you're doing. A person could also make their own dehydrated onion soup by mixing their own dehydrated onion pieces with beef soup stock and bagging that. You've given me good ideas here! Thanks. — Jackie
Railroad ties
I know you have answered this question a dozen times but rail road ties — can they or should they be used for raised beds for things like broccoli, cauliflower, and Brussels sprouts?
Nancy Foster
Dallas City, Illinois
Yes, it's possible; I've got raised beds in the front yard made from them. And, yes, there's a possibility that they might leak chemicals into the soil, but I feel that this is very unlikely. After all, there's a possibility that a meteor might strike us any morning. But I still go outside to greet each day. — Jackie
Planting potatoes and cabbage
I have been planting potatoes the last couple of years (different varieties) without much problems. However, this year, my potatoes started to sprout in early -mid Feb. I had russets and white potatoes stored together, would that cause the early sprouting? I separated them, and snapped the eyes off, and then used some for making mashed potatoes, but all the same they are already sprouting, and probably won't make it until May when I can plant them. Should I store them separately, or leave them in the ground longer? Or was it a fluke? The temperature where I store them is around 50 degrees F. Second question is about cabbage. Do you grow that? If so, how long will it store for or do you just can it up? I love sauerkraut, but don't know if I can eat all that much! Just trying to decide if it is worth the garden space or just to buy it on sale at the store?
I live in the St. Paul area, so even though we gotten some warm weather, it is probably going to be early May before anything goes in, with the winter we have had. I have just started my peppers along with some of my flowers, so they should be ready.
Lisa Basso,
St. Paul, Minnesota
Potatoes begin sprouting because of a combination of warmth and light. Of course, the later you dig your potato crop, the later they will sprout, also. So if you don't rush to plant your potatoes in the early spring, as most folks do, you will still harvest lots of large potatoes before freezing in the fall. We've found that our potatoes really like being stored in dark colored large plastic storage bins or coolers. The humidity remains good, so the potatoes keep very crisp for nearly a year. If the humidity gets too high, I just prop up the lid for a day. Potatoes are sensitive to light and can get light from a light bulb in the basement, even through white or clear lids, so it's important to block out even this light. Mixing potato varieties does not make a difference.
Yes, we do grow cabbage. It stores for us until about late January. I can up quite a bit and we really like it in mixed vegetable dishes or alone. (Dump the canning liquid, rinse the cabbage, and heat it in fresh water or milk.) I also make Amish canned coleslaw (cabbage, sugar, vinegar, and spices). And, of course, there's sauerkraut, which can be canned. Cabbage doesn't take much room and can be crowded together to prevent weeds. I like to make coleslaw during the summer with a few heads, as well! — Jackie
Feeding baby poultry
When I raised game birds (quails and pheasants) several years ago, I learned that they could be fed chicken feed if it were supplemented by high levels of protein, such as boiled eggs. They seemed to thrive on chicken feed and boiled eggs, rather than the more expensive game bird/turkey starter. Do you think turkey poults could also be raised on this kind of diet? How are your young turkeys doing?
Dallen Timothy
Gilbert, Arizona
Yes, baby poultry of all kinds can successfully be raised on ground grains with added protein such as chopped eggs or milk. With today's escalating grain prices, especially soy, it makes a lot of sense. After all, in the old days, folks didn't have access to — nor could afford — processed, commercial feeds. It is important for the young birds to be able to be outdoors whenever the weather is nice. — Jackie
A work in progress
Thank you for the updates and pictures of your log home. It is really cozy and homey. I was wondering if you could do a video with a walk through of your home, room by room. We see bits and pieces but it would be a real treat to see the whole home. I understand that it is a work in progress but for all of us who are just getting started it would be a great lesson of how much a family can do with elbow grease.
Deb Motylinski
Brecksville, Ohio
We can't do videos anymore, but the photos in this blog will give you some idea of what we're doing with our house. I hope you like them. — Jackie