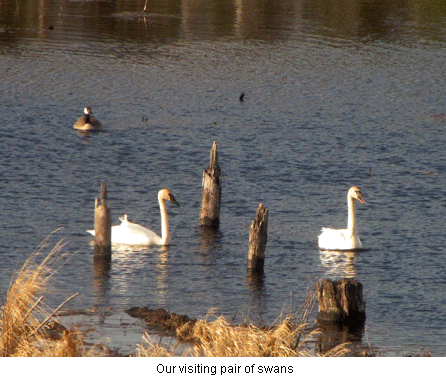 We had a pair of swans stop on our beaver pond for a visit this weekend. They are so gorgeous but I didn't get a close enough look to be able to see if they were Trumpeter Swans or not. We watched them for more than 30 minutes before they decided to fly off on their migration journey. How we wished they'd stay and join the ducks and geese who nest on our ponds!
Meanwhile, I'm canning leftover home-raised Easter ham plus a 99 cent ham I got on sale the week before Easter, as well as working on the computer and doing daily homesteading chores. And Will? He's working both on the barn and on our new front porch. This weekend, he dug and framed in the forms for the footings for the slipform stone and concrete wall on the front of the porch and today he's out in the woods cutting some dead trees that will be peeled and used for support posts on the porch and rafters. We'll be using tongue and groove 2x6s for the roof so the ceiling of the porch will match the house ceilings.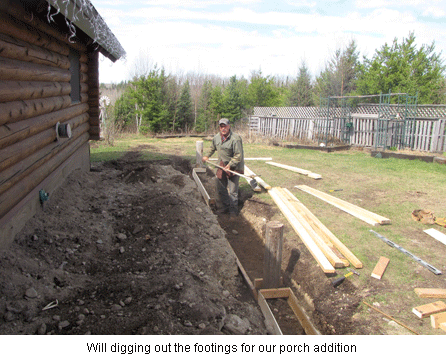 I've wanted a front porch on the house since we built it, seven years ago, and it's real neat to finally see it happening. But like everything we've done, we'll be building it in stages, as cash becomes available, as we have to buy 5/4 treated decking for the floor, treated 2x10s for the floor joists, and the materials for the roof.
We're going to have our carpenter friend, Tom Richardson, do the roof as he's already done the house roof and the roofs on the addition and greenhouse. We want all of the roofs to match. (Besides, Tom can use the cash to work on some of his own homestead projects!)
We were able to buy a maple butcher block counter top from Tom for the counter over most of the kitchen cabinets we now have. I can hardly wait until that goes on. We'll even have enough left over to use for the small island. Won't that be handy for canning, processing tomatoes and meat? Slowly, slowly, our kitchen is also creeping toward completion. And when we get all this done, we won't owe a cent. What a great feeling that is!