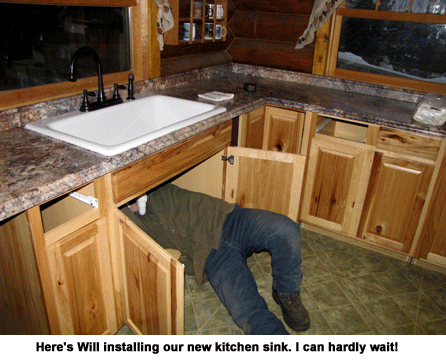 Since it was cold and windy yesterday, Will spent the day working on our new countertop, sink, and kitchen cabinets. By evening, the faucets were on and the water running. No leaks! Of course our "building inspector," Mittens, was involved with every step. She walked around the cabinets, popping in and out from under the sink, peering down off of the countertop, and sitting by Will as he assembled the various pieces on the kitchen floor.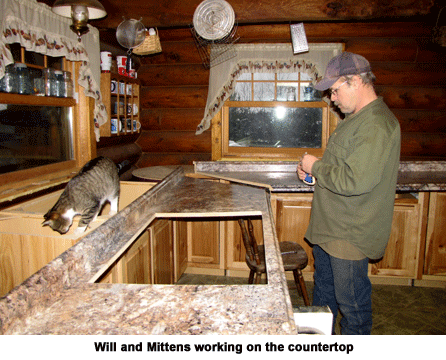 I spent the day packaging seeds to mail out on Tuesday. I took a batch in to the post office in Cook on Saturday but then found out that they were no longer open on Saturdays! Now I have two big bags full of orders to go out.
Because Hopi Pale Grey squash seeds were in nearly everyone's order, I cut open two more squash today to harvest more seeds. It takes about a week for them to dry completely as they are fat seeds. So I've got two plates full sitting in the greenhouse drying nicely. The chickens got the squash "guts" and I'm baking the squash. Some will be for dinner and some to make a couple of "pumpkin" pies. I've found that I just toss the ingredients in my blender and whiz it awhile. The squash blends down velvety smooth and you've never had a better pie!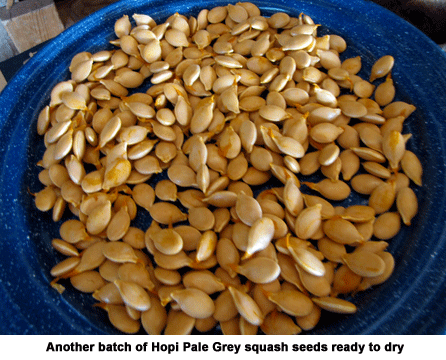 We're running low on the Bill Bean tomato seeds so have pulled them from the seed listing to avoid disappointing people. However, I DO have quite a few Cherokee Purple tomato seeds if anyone is interested. These are a very large red with dark mahogany overlay. The tomatoes are the most flavorful of all we raise and sauce made from them is a beautiful rich dark red.
We're looking forward to spring so much, especially with the intense cold weather we've had this winter. We're looking at another week of highs that are below zero. Depressing! But I bought some on-sale paper white narcissus and amaryllis at WalMart after Christmas for $2.50 a pot and they are already starting to bloom. Today I have Ziva paper whites in bloom and boy do they smell like spring! A few flowers make a huge difference in one's outlook. — Jackie