Sure it's cold, but the sun's out and it looks beautiful today. We had 40 mph winds with snow yesterday and there's lots of drifts. I noticed how pretty they were when I drove out of the driveway this morning to go to the post office to ship two big bags of seeds. The graceful sculpturing the wind had done to the snow was simply amazing. It was like an artist had spent the night on our driveway. I hate to think of how it looks now, after Will plowed it.
I'm getting used to washing my hands in the new bathroom sink. How wonderful it looks! Now Will is going to begin work on the other larger antique dresser we bought on Do-Bit, which pretty much matches the one he just finished. That one is going on the other wall, making a corner of vanities. This vanity/dresser with large mirror will be used to store towels, washcloths, and other things.
I've been busy with our little seed business. Since I nearly ran out of Hopi Pale Grey squash seeds, I cut another three big squash and squished out the seeds to dry. I'm going to can up the squash so we can have "pumpkin" pie during the summer. Of course some of the squash will still be left so I can always use fresh squash (it's stored more than two years for us!) but it's nice to have extra canned squash. The goats and chickens appreciate the "guts" and any squash I can spare for them.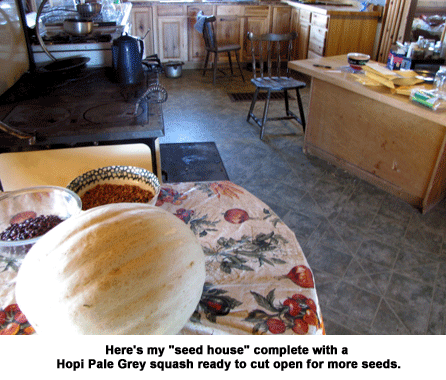 Our new kitchen is great for packaging seeds as I can sit next to the end of the island and package them easily. Will's helping by packaging the tomato seeds, which are quite small. Then I only have to grab bags out of individual bowls to fill orders. We're getting into a groove here.
I'm sure that all of you across the country are looking forward to getting in the dirt again. I know I sure am! — Jackie