Well, here it is, the official, non-official beaver weather forecast. My furry buddies out on the pond are saying that it is going to be another hot, dry summer. We'll see how that turns out as the human weather forecasters are calling for a cold, wet summer. Hmm, man or beast?
We've been planting tomatoes like crazy! So far, we have 26 different open-pollinated tomatoes in the garden and more looking at me from the greenhouse. I wish I were triplets and that it would drop below seventy and sunny. Sweat drops right off my nose and burns my eyes! Yuck! As hot as it is (days in the 80's!) I feel a rush to direct seed squash. Sometimes it gets a little overwhelming.
Will's been working at setting concrete footings for the rock walls of the barn and has 30 feet finished, so far. But he hurt his shoulder (he wouldn't have over-done it, would he?) so he had to slow down on that. Now he's building a tub-style chicken plucker (Will's famous TORNADO CLUCKER PLUCKER) in his "spare" time. And he's hauling manure. And grading our mile long driveway. And building two 12'x32′ hoop houses … I'll bet he wishes HE were triplets too.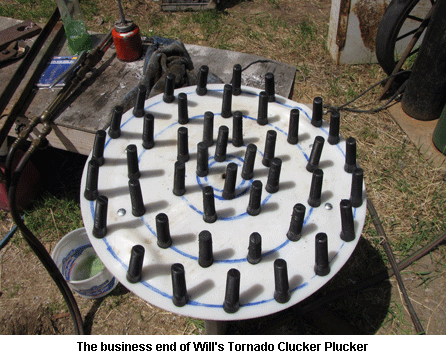 Hondo is becoming quite a herd dog. He even herds our chickens and turkeys. We have a few escapees and he thinks it's his job to herd them back into their pen. He gives them the "eye" and walks them right back to the gate of their pen. Pretty smart dog!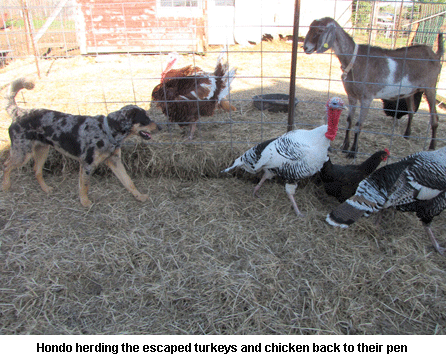 Our asparagus came up like lightning bolts. One day, tips … the next it seemed to shoot up to 18 inches tall. I picked two big baskets full. We had a huge batch for supper and I canned up six pints. I could eat it every single day!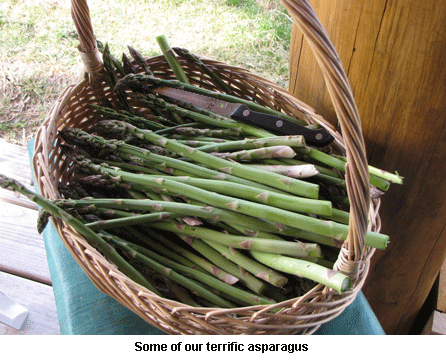 I hope you all had a great Memorial Day weekend and remembered the men and women who died keeping us free. Remember too, the men and women who died as a result of illnesses and injuries following their service and caused by it, as did my late husband, Bob, who died as a result of Agent Orange in Vietnam. — Jackie