Because we know the "other season" is roaring down on us like a freight train, Will's still busy working on the water line insulation. And because last year our neighbor ran over our frost-free hydrant next to the driveway and bent it over flat, Will decided to dig it up and move it further away from the driveway. We were able to straighten up the hydrant and we used it for a year afterwards, but when Will dug down, he discovered that the pipe was bent like an S! So instead of buying a new hydrant (the top and bottom along with the inside rod were okay) I ran to Menards for a 10-foot length of pipe. It was pre-threaded on both ends.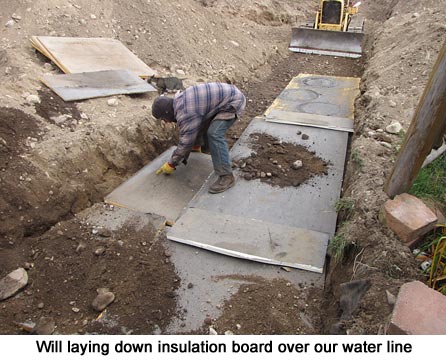 But that wasn't the end of the story. The 10-foot frost-free hydrant was 10 feet long overall. So Will had to cut the pipe and we don't have a die. So I took the pipe to town to get it threaded. Still not the end! When I got it home again, Will discovered that he had made an error in measuring. So I ended up taking it back to town after running to the neighbor's first (he has a machine shop, but no pipe dies!). Now it's back together and has passed its inspection by Mittens. She closely follows everything we do.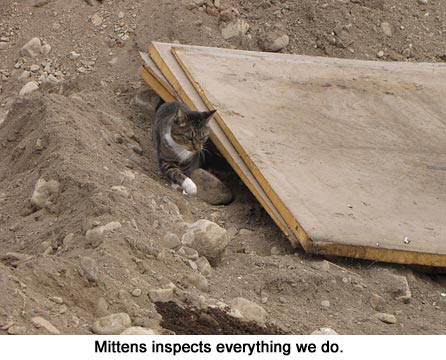 Whew! Hopefully now that it's back together, we can soon bury everything with plenty of insulation over all and no more frozen water.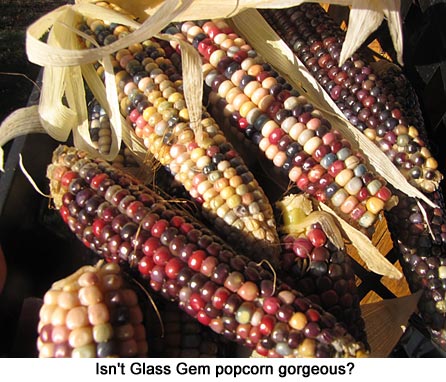 Yesterday I harvested the last of our Glass Gem popcorn. It's just beautiful. And because each plant stooled out and made multiple tillers, each plant produced up to five ears each on 10-foot tall stalks. Amazing, and truly beautiful as there are colors you seldom see on Indian Corn: pink, baby blue, lavender, and mauve. I love it! — Jackie