Although we have the woodshed stuffed full, which is about two years' worth, we are now filling our enclosed back porch with small wood. (This is the popple sapling poles that Will saves when he clears or thins a patch of woods.) This small wood is often just piled and burned by those less frugal. But we find it such good kindling and kitchen stove wood we just can't do that. We usually pile about a cord and half on the enclosed porch plus a little bigger split wood for nasty days or when we are sick and don't feel like bringing in wood from the wood shed.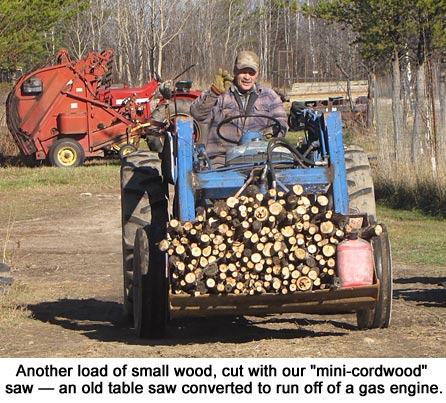 Of course, Hondo and Spencer help by carrying in wood. They love it and the small wood is a light burden for them. Mittens is there too, supervising from a spot above the noisy, panting dogs, just to make sure it's stacked just right and that no mice get in while the door's open.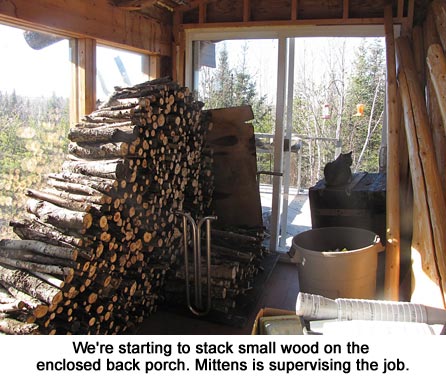 My oldest son, Bill, works for Oak Lake Campground and RV, a quite large RV dealership. A while back, a man with a big motor home bought a new high-end double door propane/DC refrigerator as his older one had issues when he wintered in the South. In the North it worked just fine. As we live in the North, Bill thought of us and when David went down to visit, he brought the fridge up. Wow! After living years and years with a small propane fridge, a BIG, two-door refrigerator with a double-door freezer looks like heaven to me!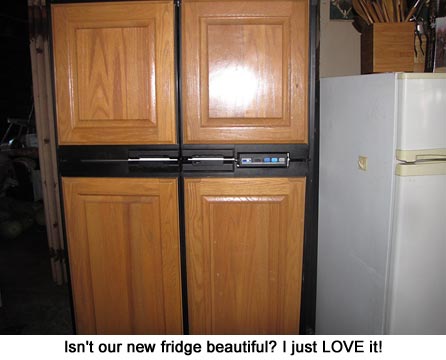 Will is putting it together and working on how to best fit it into our kitchen. We'll keep the small one too but I'm thrilled to soon be able to have plenty of refrigeration without having to stack things precariously. Thank you Bill! — Jackie