Although we use winter as our resting season, a lot still gets done. This is the time I do my catch-up canning. As we usually have butchered chickens, turkeys, pigs, and beef, I have a lot of meat in the freezer, which we can only run during the colder months. Our wind and solar don't produce enough electricity to run our greedy freezer, and running the generator is expensive. Then there are always on-sale foods that I buy extra, usually at holiday season. For instance, during Thanksgiving/Christmas, both ham and turkey were on sale, so I bought a few of each and when Easter approaches, the ham will again be on sale.
So with all this cheap meat, I am slowly beginning to can it up. I just finished a turkey and am thawing out a ham. I can the meat and also, in the case of turkeys and chickens, the broth. And with ham, I use the ham bone and bits of meat to can up baked beans and bean and split pea soup.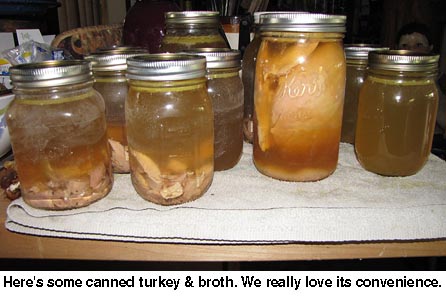 And every day I'm taking seed out of our stored squash to dry for our seed business, Seed Treasures. I'm able to not only feed the goats and chickens the "guts" but also am canning up lots of squash for future pumpkin baking.
Also, during the rush tomato season, I can up quarts of plain tomato puree. Then, when I have more time, I open jars, cook it down, add peppers, mushrooms, spices, and meat and make lots of spaghetti sauce. I do this to make enchilada sauce and barbecue sauces, too.
It makes winter go by much more pleasantly, with a warm kitchen and no rush at all. You ought to give it a try! — Jackie