It's early spring and I'm going through our onions and potatoes, checking for soft veggies. Luckily, I've only found a dozen onions softening up. The Dakota Pearl potatoes are just barely getting sprouts and are still as hard as rocks. So far, we've had hard, juicy potatoes all the way till fall when we dig our new crop. Now THAT'S a storage potato. We simply love them.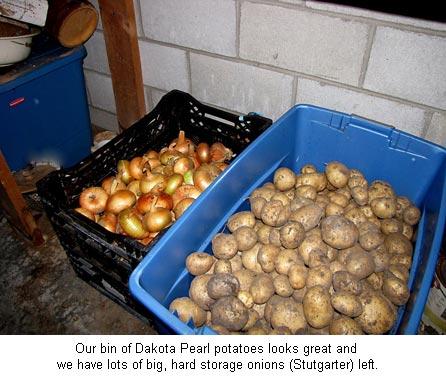 I'm going to start dehydrating onions soon. They are pretty much all hard and fine — no sprouts. But I know they will not last too much longer and dehydrated onions and onion powder are SO handy in the kitchen. We've got four big crates of onions left so I'll get to dehydrate a lot of them. I'm happy about that!
Will continues to work on the barn as the sun's out today although it's a little cold. He has also been reading up on operating the John Deere corn planter he rebuilt. He has an owner's manual that assumes you know how to use a corn planter — it's very vague in places!
I'm planting tomatoes this afternoon as soon as I get done running seed orders to the post office. We pride ourselves in getting them in the mail the next day after receiving the order, except weekends as we have no post office open on Saturday.
We recently found out that one of our battery chargers in the basement was not working. (We wondered why our batteries would go dead enough to trip the inverter overnight after a sunny, windy day and running the generator for a couple of hours!) Now we know. — Jackie