Yesterday was mine. Early in the morning, Will sent me to Hibbing, 30 miles away, to rent the 2-inch trash pump again. First off, he needed it to draw down the muddy ground water around the base of our well so he could access the outside of the pitless adapter to hook up the water line to the new well for the barn. I asked him to call first to make sure they had it. He did, so I started off. Then he got a call that the replacement belt for the grain swather had come in at Hongistos Implement, in Cloquet (80 miles in another direction!). I figured I'd get the pump, deliver it to Will, then head to Cloquet. The rental company didn't have a 2-inch pump; it was either a huge 3-inch pump (overkill) or an 1½ inch pump. (Was it big enough?)
I chose the 1½-inch pump. Drove home, dumped off the pump and headed for Hongistos. Will called. The pump worked fine, however the inside of the pitless adapter had somehow gotten knocked off and was now in the bottom of the well casing and, being brass, there is no way to retrieve it.
Okay, maybe we'd buy another $60 pitless adapter and just use the inside part. As there is an L & M farm store in Cloquet, I got the belt for the swather then headed for L & M. They didn't even know what a pitless adapter was. But finally a more knowledgeable man said the only one they carried now was a "complete" kit with a well cap, adapter, etc. $159. No way!
I called Will and he made several phone calls and finally located one at Menards in Virginia (on the way home!). Only it was not a 1″ outlet but 1½". Maybe it would work? And it was only $62; I got it. Meanwhile, he'd called L&M in Hibbing (30 miles west of Virginia) and the guy said they had the right one. So with the "wrong" one in tow, I also stopped at the L & M in Virginia, just in case. No dice. They said they'd discontinued the one Will had bought there a year back and now only sold the same "complete" kit I'd seen in Cloquet.
Off to Hibbing! Got to Hibbing and guess what? The only one they had was the "complete" kit for $159. But at least Will had been able to finish insulating and hooking up the water line and running the electric line. He also graded the ditch in so the well's ready to go. As soon as the new pitless adapter comes in the mail…
This morning Will tried the wrong sized one from Menards. It was too big to slide into the half of the pitless we already had in place. So it was first off to Hibbing to return the pump. Then off to Virginia to return the wrong pitless adapter. Whew! All done. Will ordered the right one online.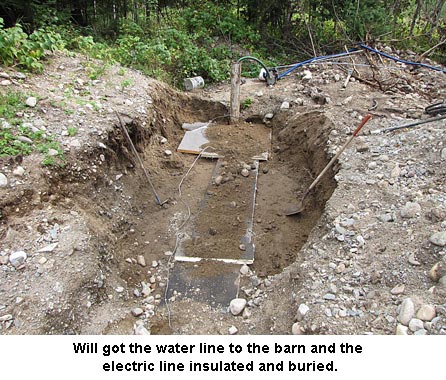 Meanwile, the blessed man picked our wild plums. They were falling off and the deer were eating them! Luckily they spit out the pits. Now I have nearly a five-gallon bucket waiting to make plum jam and harvest pits which we'll offer on our Seed Treasures website. This is a wonderful wild plum; so sweet inside but with tart skins. They make great jam, if I ever get to it!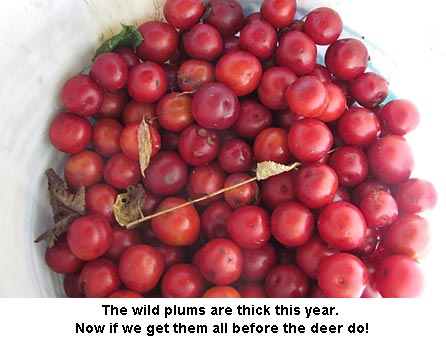 We just had a beautiful heifer calf from our half-Jersey, Surprise! I think Will wants to call her Lady and she looks like a Jersey although her sire was a Gelbvieh beef bull. (Gelbvieh is pronounced Gel-fee and is a dual-purpose German breed, bred for meat and milk as well as draft.) Lady is a beautiful little girl!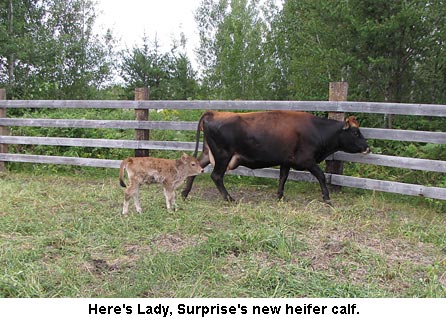 I also picked some gorgeous Morovsky Div tomatoes. These are definitely one of our favorites; smaller mid-sized, thin-skin tomatoes with wonderful productivity and flavor. They just glow!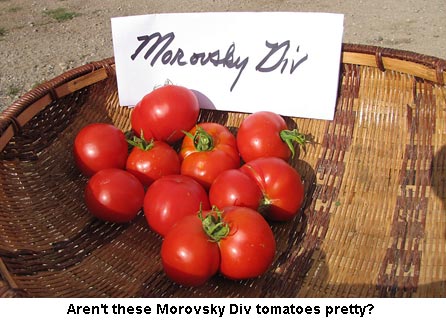 — Jackie