Winter finally hit with a huge bang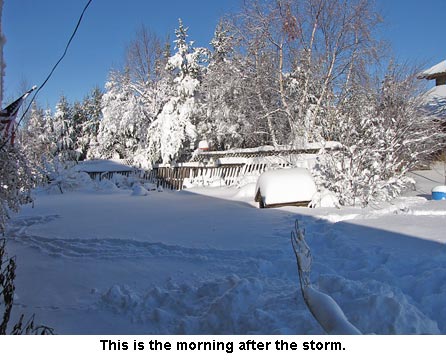 Although we've had a fabulous fall, with hardly any snow and cold, Old Man Winter finally arrived all at once. We were expecting 8-12 inches which the weather radio updated Thursday evening to 12-18 inches. Well, it began snowing and blowing, then REALLY snowing. We ended up with more than 24 inches of heavy, wet snow. Then it got cold. Will had to wade out through knee-deep snow in the evening to sweep off our solar panels so the heavy snow didn't break down the rack as the wind was also pretty stout. It was very nearly a blizzard but the 40 mph wind came in gusts not steady winds as in a true blizzard. At any rate, we couldn't even see the storage building from the house which is only about 50 feet away!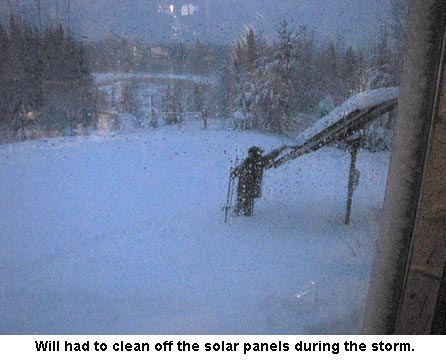 Luckily, we'd spent two days picking up tools, hoses, firewood, etc. in preparation for the snow or we'd have been in a fix. Will also got our plow truck ready. He found out the smog pump was seized up, making the fan belt screech. He spent all day Thursday working on getting that fixed and didn't have time to put on the plow.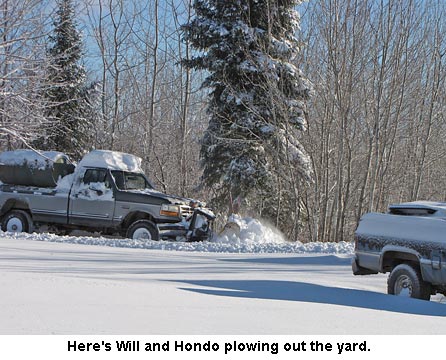 Well, the storm finally blew out and do we have snow! It took Will an hour to hook up the snowplow, which was buried in snow, of course. Then he worked for nearly three hours to just clean out our yard and make a couple of passes up our mile and a half long driveway. (We had small trees down all along the drive, due to the heavy snow and wind.)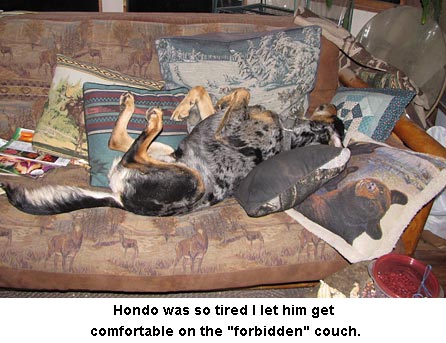 Meanwhile, I shoveled out a path to the goat barn and chicken coop. Luckily, I'd brought the goats up from their pasture on Thursday, before the storm — just in case. All of us, including Hondo, were pooped. Now we just have to continue cleaning out to get ready for the next snowfall on Wed. Hopefully it's not so much. — Jackie