On the first day of spring, we reflect on how grateful we are. Our weather's turned nice again, into the forties with sun. Will and David managed to haul more than 9 full truckloads of firewood logs home from the logging site before thawing started. Will and I were able to cut up, split, AND stack away a whole cord, plus more into the wood shed. That's a full cord, mind you (8'x4'x8′). Then it snowed and rained. Today Will's out cutting up more logs to get ready to split as it's again dry.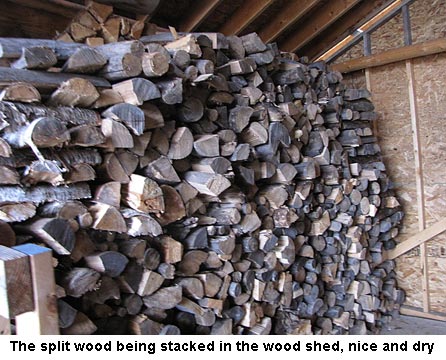 We heard and saw a Canada goose yesterday morning. Yea! Spring's really coming. No robins yet, though.
I got all of our tomatoes planted. That's three full flats of 66 plants each, plus three smaller flats. Hmmm, that's a lot of tomatoes, isn't it? (Will, get out the bulldozer…)
Our chickens are starting to lay with the warmer weather again. I can't wait for my first rhubarb pie, topped with four-egg-white meringue.
I checked our fruit trees in the orchard and can't see much, if any, winter damage or vole activity. We did have a very mild winter for northern Minnesota. We only hit -35 twice for a short time and we had plenty of snow cover.
Yesterday, Ashley and I painted the living room walls. Actually, she did most of the painting and I refreshed the paint roller for her and helped move things out of the way and position the ladder. I did buy a new ladder as the one we were using was totally unsafe and wobbly. So wobbly it scared the you-know-what out of me to step up on it. Now the old ladder is a pole bean support and we have a new, solid, safe ladder! The room looks wonderful. Will has to get busy and re-cut the logs which framed the walls and octagonal ceiling. It'll look so pretty, all finished. — Jackie