Our faithful "BIG DOG" Black Lab, has Spencer, had a tumor on his hind leg. Although it was relatively small and didn't seem attached, we opted to just leave it alone. But over the years, it grew slowly and finally developed a cyst, which broke and drained. So we decided it was time to have it removed. While he was at the vet's, he also had a small skin tag removed from his right upper eyelid. It was causing his eye to matter in the mornings but didn't seem to be bothering him, but we decided to have it taken off before it caused trouble for our friend.
The surgery went well and Dr. Fisher, our vet, said it didn't appear to be cancer. So we were happy and Spencer was too when I drove to McDonalds and bought him two cheeseburgers to celebrate. Now he has a cute "little piggy" Vet Wrap on to cover the stitches. But I have to change it soon as he and Ashley's Golden Retriever snuck down to the spring basin for a swim while she was brushing the horses. Bad dog! Otherwise, he's good about leaving wounds alone so thankfully he doesn't have to wear an Elizabethan collar, which is clunky and dogs hate wearing. (The collar keeps dogs from licking and chewing at stitched wounds or other sores.)
The garden is mostly fantastic! We've got White Flag cauliflower, Magpie bush beans and Iroquois pole beans. The corn is covered with big ears and the silks on some are starting to dry down. Our first ripe tomatoes are on the vine and we're anxiously waiting for a taste test. (The garden is late this year, probably due to all the early high heat.)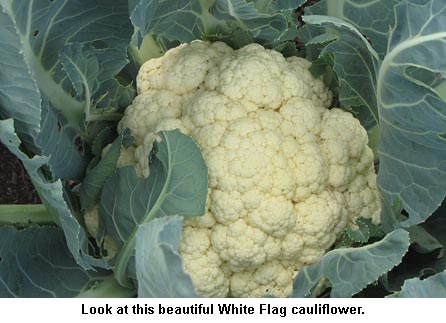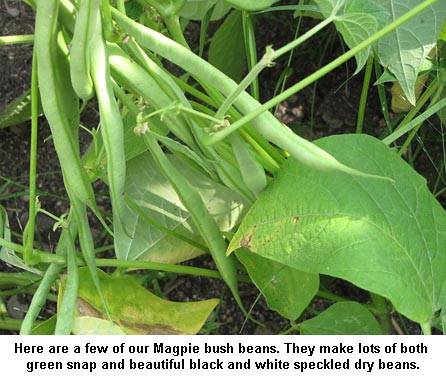 This weekend, Will and I will be at the Orr Homesteading and Self-Reliance Expo in Orr, MN. I'll be speaking on seed saving, heirloom seeds, and canning. And we'll be at a booth, promoting our Seed Treasures seed business as well. If any of you can come, we'd love to have you drop by for a visit! And next week is our homesteading seminar. We're busy getting ready, deciding menus for our afternoon lunches and other getting-ducks-in-the-row stuff. We did have one cancellation due to a lady's back going out on her so if anyone would like to fill her spot, let us know. (218) 780-4902.
Our Hansen's Bush cherries are getting ripe and I'm looking forward to making jam. They are SO good! This year, I'm saving their seeds to add to our seed listing next year. They are very easy to start from seed. A bird dropped one in an empty pot on our deck and now we have a bush cherry started. (I also saved seeds from our huge rhubarb. Right now, the stalks are two inches in diameter and the leaves are thirty inches across!)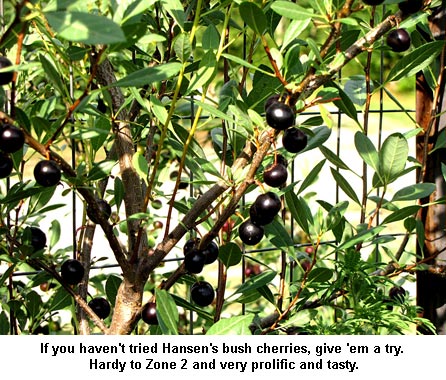 I'm really enjoying our flowers this year. So far, my favorite is a daylily called Seashells and Lace, a very ruffled pink with a yellow throat and lighter edge. Mine came from Dancing Daylily in Georgia.
Becky has WONDERFUL flowers at reasonable prices.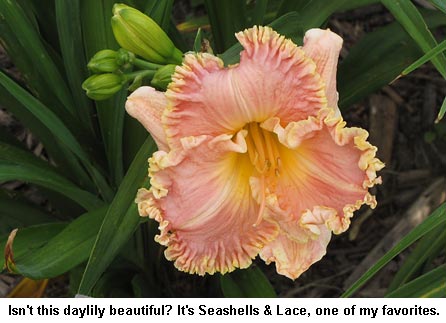 Gotta run. I've got some shelves to put together for our front closet. Right now our winter boots are piled and overflowing onto the floor! Hopefully tonight it will be much more organized. Well, maybe… — Jackie