After such a rainy early summer, it has finally dried up. It's supposed to be sunny for a whole week so we're making hay like crazy. Will baled up two small fields with the big round baler then went on to cut a very big field. He cut all day and finally finished up by bringing home a transport load of bales that he had baled earlier.
But all is not perfect on the Clay-Atkinson homestead. Last Friday, I went to town to buy Will more baling twine and since gas is fifteen cents cheaper there than locally, I let our truck run to less than a quarter tank. I got the twine, then stopped to fill up the pickup. I squeezed the nozzle and gas gushed out beneath the truck. I replaced the nozzle, thinking somehow I must have screwed up. But with a little squeeze, more gas splashed to the pavement. (I only dumped about a pint on the ground but was horrified!) Knowing I had a major leak in the gas tank/filler tube, I got in the truck and headed home — 32 miles away. As I left town, the "low fuel" light came on. I called Will, who was on the hay field and told him what happened and told him the route I was taking home … just in case — there are some areas with no cell phone reception I had to pass through. I said a quick prayer and headed home, trying not to look at the gas gauge. Whew! I made it and parked the truck off the gravel driveway where Will could crawl under it.
To make a long story shorter, not only was the gas filler tube shot, but when Will pushed up on the gas tank the remainder of the gas poured out on him. So we have to replace the gas tank, the filler tube, and pressure switch, which is made of plastic and when Will tried to remove it from the old tank, of course it broke. The reason the filler tube broke, besides being rusted out, was that the box of the pickup had rusted so badly it dropped down onto the filler tube. So Will is in the process of hoisting the box up and shoving in oak 4x4s to hold it up, plus all the bolting, screwing, etc. that goes with such a repair. (Okay, sometimes I do lust after a newer truck.) But we'll get this old '99 back on the road sometime soon and not have horrendous truck payments.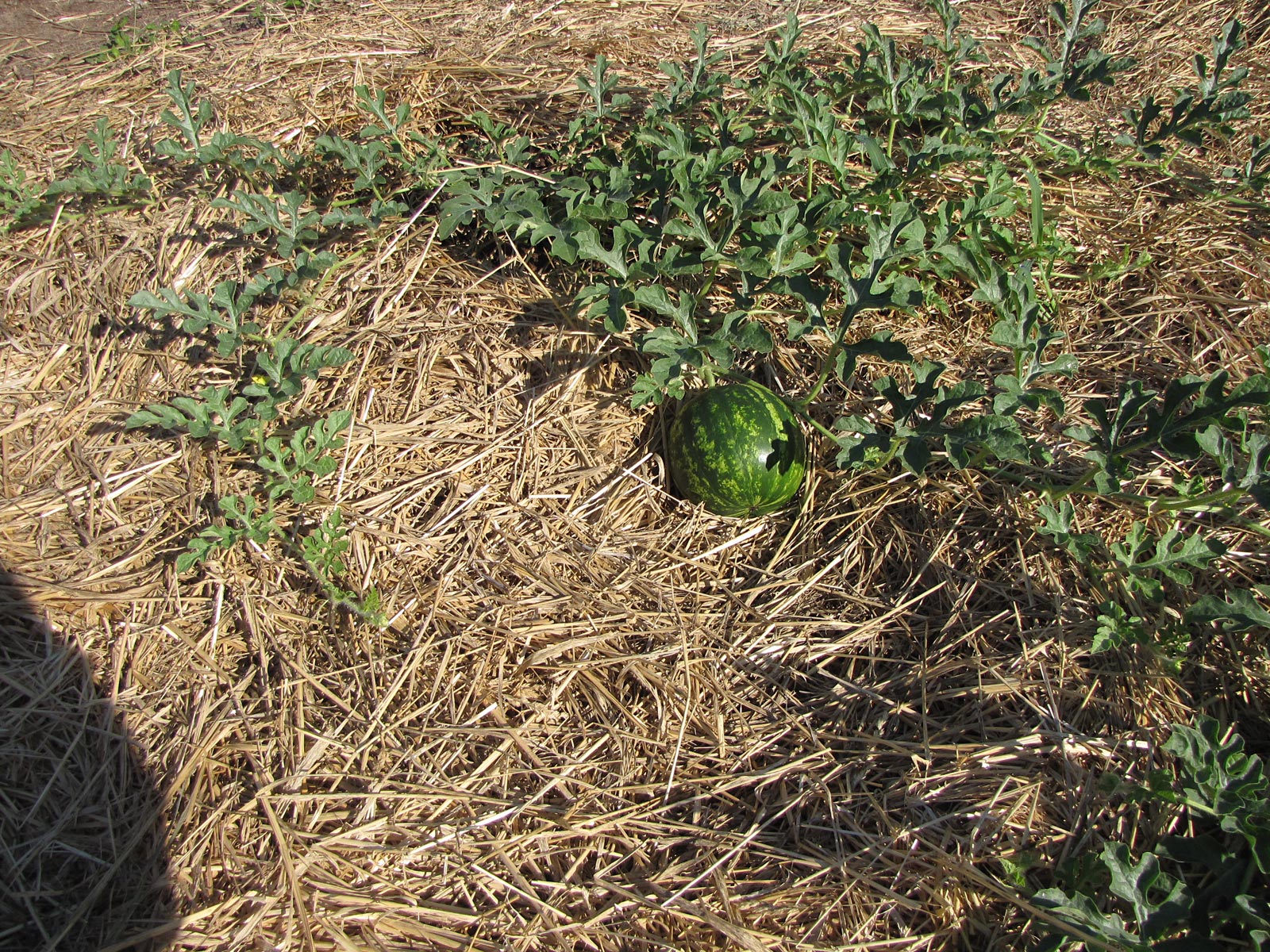 Our melons are terrific this year. We're trialing several new muskmelons and watermelons and all are doing very well. In our main garden, we're growing a longer season muskmelon, Oka, and it's doing very well, with larger than softball sized melons. In the Sand garden, we've got soccer ball sized Bozeman and Katanya watermelons, as well as various new muskmelons. Meanwhile, our super-girl, Alisha, has gone home for awhile. Boy, do I miss her enthusiastic and fun presence! She has some family commitments and has to fly to Seattle. So today I picked a basket and half of Provider beans and am busy canning them up.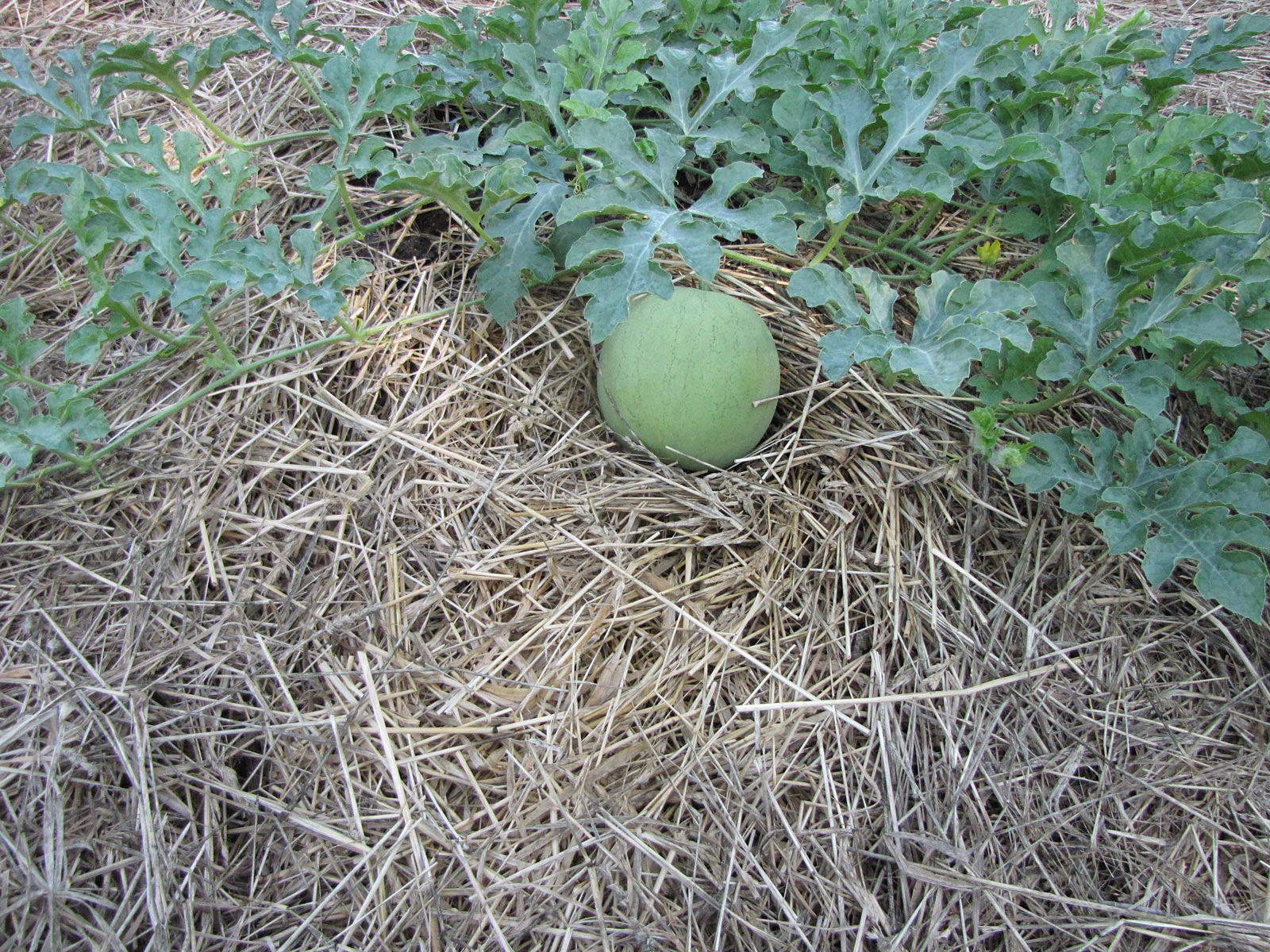 I also canned up a new jam recipe I concocted, which I call Muy Bronco Black Cherry. This has 2 cups of pin cherry juice, 2 cups ground black cherries and 3 seeded, ground jalapeños, plus a box of pectin and some sugar. Yep, it's got a little kick and I really love the ground fruit and peppers. For you non-Spanish-speaking readers, this translates to "Very Wild Black Cherry." And it is! Our peppers are out of this world this year and we're enjoying them a lot. I'll be making batches of Cowboy and Cowgirl Candy (candied, pickled jalapeño slices and sweet pepper pieces with some of the jalapeño-flavored syrup). If you'd like lots of tips on growing your own hot peppers, check out my article Grow and use hot peppers this year in the Ninth Year Anthology. — Jackie